3PL Automation for Overcoming Labor Shortages
Originally published on April 18, 2023 by Erhan Musaoglu, Updated on April 21, 2023
The third party logistics (3PL) industry may be entering its most challenging era yet. In addition to heightened competition among 3PL providers and surging ecommerce sales, 3PLs are facing industry-wide labor shortages and high rates of employee turnover.
According to TotalRetail, warehouse working conditions, low wages, and record-low unemployment rates (3.4%) are all contributing to this industry-wide phenomenon. With the 3PL market projected to reach $1.41 trillion in market value by 2026, it's clear that operators will need to do more than pursue new hires and reduce employee turnover to succeed.
In order to keep up with consumer demand and overcome labor shortages, 3PL operators must find ways to maximize throughput and order fulfillment without the need for additional workers. Luckily, 3PL automation technology can optimize high-volume fulfillment without adding headcount.
Let's talk through some of the primary solutions for 3PL automation and how they can help you mitigate the effects of labor shortages.

In this blog, we will discuss:
Benefit of 3PL Automation During Labor Shortages
The adoption of 3PL automation technology is arguably the most effective way to maintain fulfillment excellence during labor shortages. Not only does it improve the efficiency of warehouse processes, but it streamlines the day-to-day tasks of workers as well. This helps to reduce employee turnover and entice potential hires, as well as meet the growing needs of your clients with greater ease and fewer workers.
By automating your 3PL operations, you not only increase employee satisfaction by expediting certain tasks, but you increase the productivity of your fulfillment network without taking on additional labor costs. While your non-automated competitors are forced to focus on staffing, you'll be equipped to boost fulfillment results and increase business with the team you have.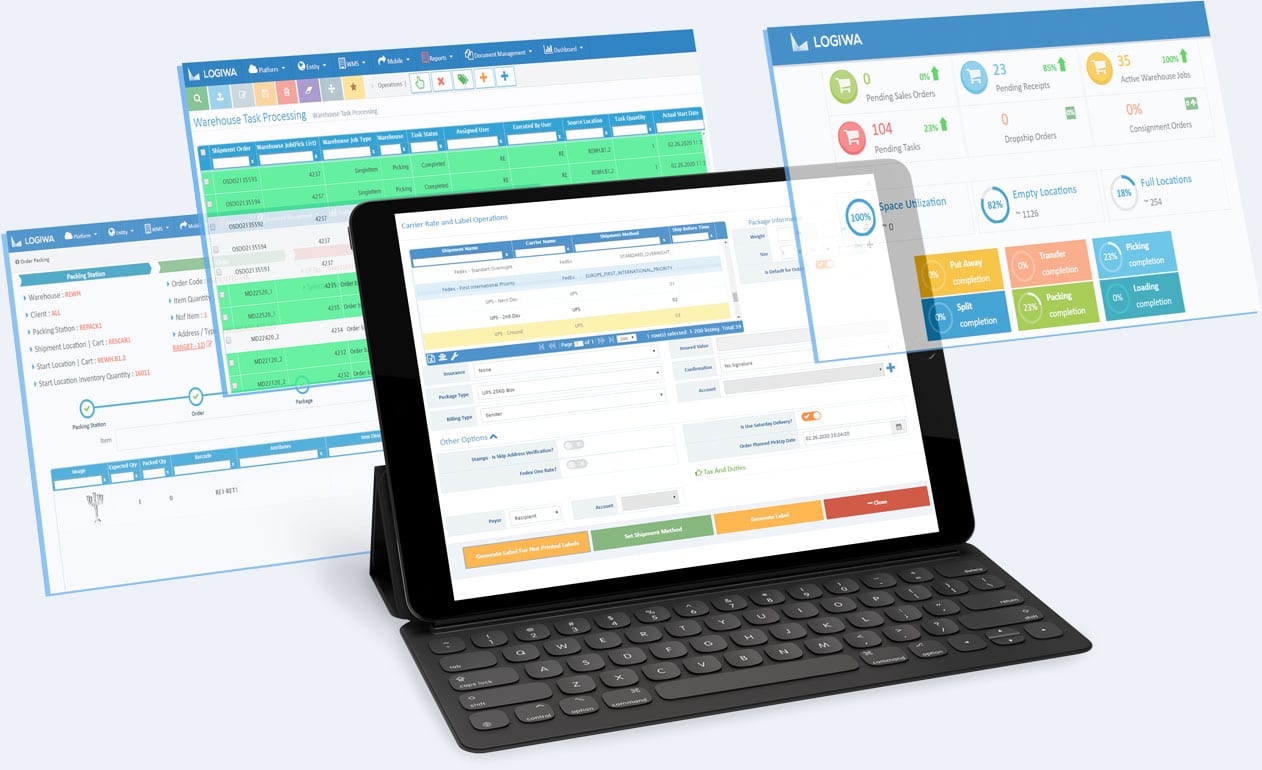 Transform your warehouse to a DTC fulfillment center
Smart Inventory Management
When it comes to overcoming labor shortages, automating inventory management is a crucial way to succeed with fewer employees. Whether it's with a cloud-based warehouse management system (WMS) or AI-powered inventory management tool, these 3PL automation solutions help keep inventory highly organized for accurate resource management and effortless order processing – all without the need for additional staff.
With automated inventory management, you know exactly where items are located within your warehouses. You can automate replenishment, cycle counting, and alerts when discrepancies occur, so your workers can focus on more meaningful tasks. In addition, you can organize your facilities and formulate picking orders based on optimum efficiency – leading to fewer trips up and down your facility floor and the ability to get by with fewer workers.
Automated Workflows
Automated workflows are another valuable form of 3PL automation. This approach streamlines fulfillment processes for end-to-end logistics management. From creating jobs based on incoming ecommerce orders to selecting shipping carriers and dimensionally appropriate shipping boxes – automated workflows provide the ultimate asset when labor is scarce and consumer demand is high.
Using AI-powered algorithms and integrations to your ecommerce stores, shipping carriers, accounting platforms, etc. today's 3PL automation solutions can help all your fulfillment processes flow as one. Some examples include: routing orders to the closest fulfillment centers, moving items through various sorting systems and conveyor belts, grouping like orders for internal picking jobs, and directing operations to avoid bottlenecks, shipping delays, and missed SLAs.
Walking path optimization improves 3PL operations by ensuring jobs are completed as quickly as possible. It goes without saying, but the faster items are picked, the faster orders can be assembled and shipped on behalf of your clients. During labor shortages, faster pick times also means more orders picked and with fewer employees. Even when understaffed, warehouse teams can manage fast and accurate order fulfillment with the help of these 3PL automation methods.
Robotics & Automated Machinery
3PL automation goes beyond warehouse management and supply chain management tools. It includes robotics systems and automated machinery as well. Autonomous mobile robotics (AMRs), are particularly beneficial for facing labor shortages as they provide an adaptable, tireless workforce whenever you need them. Plus, they can operate without the help of humans.
Analytics features like demand forecasting can help you assess how many supplemental AMRs you may need to meet your future operational needs. From there, these modern robotics solutions can automatically direct employees, flag mis-scanned items during picking operations, retrieve items on behalf of stationary employees, carry out replenishment tasks, sort items, and more to help during labor shortages.
Warehouse control systems (WCS) and warehouse execution systems (WES) are additional forms of 3PL automation. Both oversee different types of automated machinery and equipment related to storage and retrieval systems, conveyor belts, and materials handling processes. Like AMRs, they are able to transport inventory intelligently around your distribution and fulfillment centers without the need or help of employees.
Cloud Fulfillment Solutions
3PLs need flexible solutions when it comes to overcoming labor shortages. Without the ability to adapt fulfillment processes and automate processes proactively, you put the success of your business and your clients' reputation at risk. Logwa WMS was built specifically for the needs of high-volume fulfillment and with 3PL automation in mind.
Our software makes it easy to bring on new clients, add new product lines, and expand 3PL networks with ease. With our automation features, you'll be able to optimize productivity without needing to take on additional employees. Learn more about our 3PL features at: https://www.logiwa.com/solutions/cloud-3pl-software.
Looking for more insights on warehouse automation and how to get started? Reach out to our fulfillment specialists or request a demo today.
Grow your 3PL business don't let your existing WMS technology hold you back
Warehouse Management
Modern digital WMS powers a modern fulfillment experience