2023 Warehouse Operations Outlook: Insights from Peak Season
Originally published on January 5, 2023 by Erhan Musaoglu, Updated on March 3, 2023
It should come as no surprise that ecommerce trends from the past year continued through 2022's holiday peak season. Online shopping continues to be the preferred method of shopping for many consumers. And it is clear that to successfully manage high-volume direct-to-consumer (DTC) orders in 2023, fulfillment operations cannot stop evolving .
Here are the top 4 takeaways from peak season in 2022 and what they mean for warehouse and fulfillment service providers this year. 
In this guide, we'll explore:
Ecommerce is slowly overtaking in-store shopping.
When it comes to online ordering, there will be multiple peak seasons to plan for.
Smart inventory management is key as ecommerce orders become more complex.
Digital warehousing technology is crucial for ecommerce competitiveness.
Ecommerce is slowly overtaking in-store shopping. 
The future of ecommerce is bright, and the numbers prove it. Even though the year over year growth percentage for online sales has slowed compared to previous pandemic years, the world of ecommerce is still growing in size and complexity. Here are some of the key statistics for last year's holiday activity: 
From October 1st through November 28th (Cyber Monday), $210 billion dollars were spent by consumers in total.

¹

That's $5 billion more than 2021 and $22 billion more than 2020. 

According to Adobe Analytics, online Black Friday sales rose by 2.3% to $9.12 billion, and Cyber Monday sales rose by 5.8% for a total of $11.3 billion.

²

Cyber 5 (Black Friday through Cyber Monday) online sales increased by 4% in total ($35.27 billion in total spend).

³

Black Friday was the most popular day during Cyber 5 2022, with 88% of consumers making purchases that day and 50% making purchases on Cyber Monday. 37% of consumers said they purchased more online and less in-store than during the Cyber 5 in 2021.

⁴
Even though more than 122.7 million people visited brick-and-mortar stores over Black Friday weekend (up 17% from 2021), 2022 witnessed an impressive 130.2 million online shoppers.⁵ According to Placer.ai, a group specializing in consumer traffic metrics, Black Friday store foot traffic in the U.S. decreased among most categories and retailers compared with 2021 and pre-pandemic 2019.⁶ Meanwhile, 41% of Cyber 5 consumers made most or all their purchases online.
The rise for both online and in-person shopping indicates that the Cyber 5 period will continue to prompt consumers to take advantage of retailers' deals and participate in future peak seasons as well. This is good news for the future of consumerism as a whole, but especially ecommerce operations. For warehouses considering taking on direct-to-consumer (DTC) or business-to-business (B2B)/DTC hybrid order management, it's clear there is a market need and that ecommerce will support growth in 2023.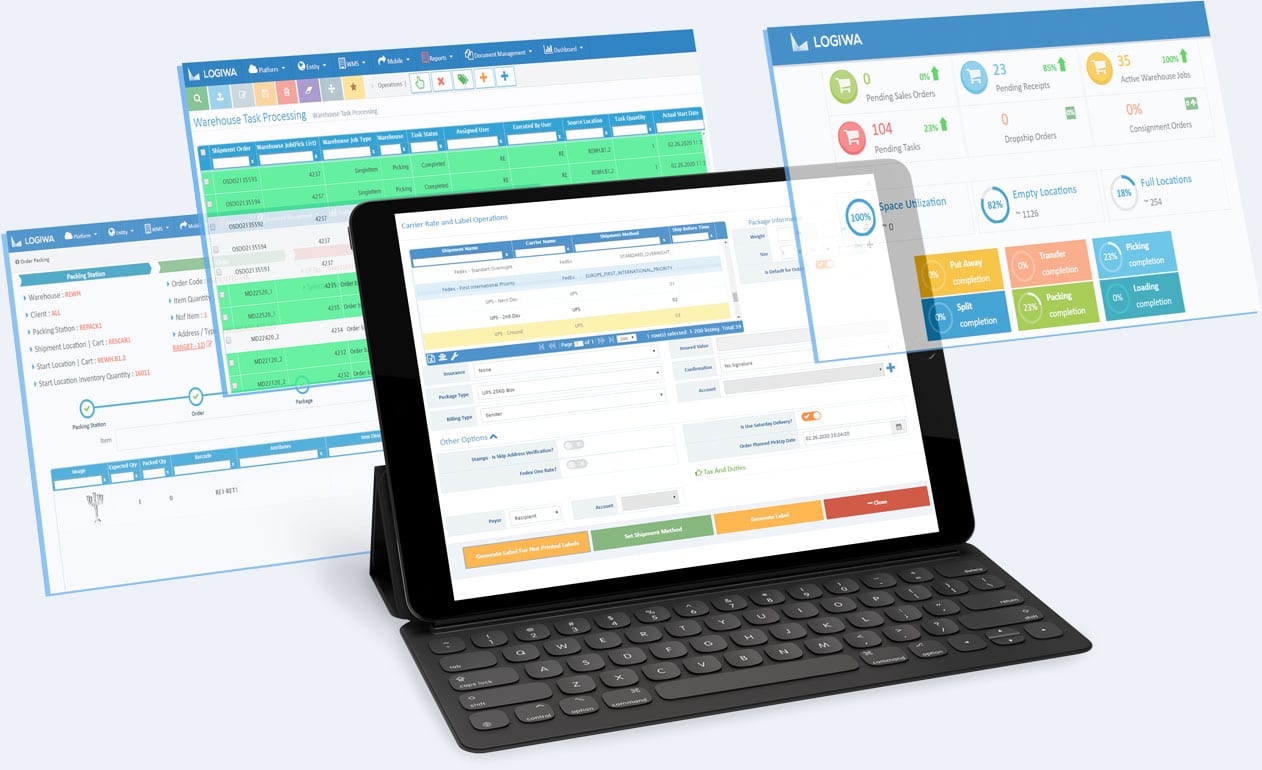 Transform your warehouse to a DTC fulfillment center
When it comes to online ordering, there will be multiple peak seasons to plan for. 
While peak season is commonly thought of as 'the holidays' (particularly Black Friday and Cyber Monday), retailers and 3PL (third-party logistics) warehouses actually went through multiple peak seasons last year. In fact, Digital Commerce 360's research has found that there are at least five peak order seasons to plan for: Valentine's Day, Mother's Day, back-to-school season, Halloween, and the Christmas and Hanukkah holidays.⁷
These peak seasons do not last the same length of time, but they do provide significant opportunities for taking on more orders and growing operations. For the sake of managing supply chain logistics and high-volume ecommerce ordering efficiently, you need to prepare your fulfillment network for each of these peak seasons to ensure efficient warehousing and fulfillment excellence year-round. 
Smart inventory management is key as ecommerce orders become more complex.
Fulfillment operations will not only need to ready themselves for more online orders in 2023, but more complex ones as well. The average number of items in each ecommerce order during the 2022 peak season had at least 4 products.⁸ If you are not yet using modern inventory management systems or a modern warehouse management solution, you will inevitably face costly setbacks, including: mis-shipments,  unfulfilled delivery timelines, and the loss of future shoppers. 
In addition to lowering your operational costs, being able to assemble and ship multiple items in the same order will be more than an advantage for warehouses in the year ahead: it will be a matter of survival. Luckily, modern inventory management and WMS software are equipped with smart putaway functions, tailorable algorithms, and automation tools to streamline picking and packing operations and help optimize fulfillment accuracy. 
Digital warehousing technology is crucial for ecommerce competitiveness. 
Keeping a competitive edge is every warehouse's goal for the new year, but the key to getting through peak seasons is not working harder: it is working smarter. Having the right fulfillment technology will make all the difference in 2023, especially when it comes to customer satisfaction. 
Top tier warehousing solutions provide real-time inventory monitoring, demand forecasting, effective labor and storage management, process automation, and integrations that connect your fulfillment operations directly to online ecommerce sites, shippers, billing and invoice systems, and the other fulfillment partners you need for your operation to be successful.
Creating a digital warehouse also allows you to track product life cycles, automate replenishment systems, and boost efficiency with live reporting and analytics throughout your fulfillment network. In fact, warehouses that use Logiwa WMS have experienced a 40% increase in labor efficiency, 3x more shipment orders, and 8% lower shipping costs thanks to our technology. 
Meet the demands of 2023 with Logiwa's warehousing experts. We make high-volume, DTC order fulfillment easy. Learn more about our industry-leading Cloud fulfillment platform at: www.logiwa.com. 
¹ Adobe Experience Cloud, "2022 HOLIDAY SHOPPING TRENDS & INSIGHTS REPORT."
https://business.adobe.com/resources/holiday-shopping-report 

²  CNBC, "Shopper turnout hit record high over Black Friday weekend, retail trade group says." https://www.cnbc.com/2022/11/29/shopper-turnout-hit-record-over-black-friday-weekend-trade-group-says.html 
³ Digital Commerce 360, "Strategy Insights: The 2022 Cyber 5 Report." 
https://www.digitalcommerce360.com/industry-resource/strategy-insights-the-2022-cyber-5-report/
⁴ Digital Commerce 360, "41% of Cyber 5 consumers make most or all their purchases online." https://www.digitalcommerce360.com/2022/11/30/41-of-cyber-5-consumers-make-most-or-all-their-purchases-online/ 
⁵ National Retail Federation, "Record 196.7 Million Consumers Shop Over Thanksgiving Holiday Weekend." https://nrf.com/media-center/press-releases/record-1967-million-consumers-shop-over-thanksgiving-holiday-weekend 
⁶ Digital Commerce 360, "Black Friday store foot traffic slows in 2022." https://www.digitalcommerce360.com/2022/12/21/black-friday-store-foot-traffic-slows-in-2022/ 
⁷ Digital Commerce 360, "Executive Report: Ecommerce Peak Seasons."
https://www.digitalcommerce360.com/industry-resource/executive-report-ecommerce-peak-seasons/ 
⁸ Adobe Experience Cloud, "2022 HOLIDAY SHOPPING TRENDS & INSIGHTS REPORT." https://business.adobe.com/resources/holiday-shopping-report 
Run a digital fulfillment experience with a fully integrated Cloud Warehouse Management Software