Your Essential Guide to DTC Shipping for Direct-to-Consumer Fulfillment
Originally published on December 8, 2022 by Logiwa Marketing, Updated on March 3, 2023
Shipping is a critical function in any fulfillment operation, but in the DTC shipping environment, this part of the fulfillment process can be incredibly complex.
With careful planning and the right tools and technology, your DTC shipping operations can run smoothly, ensuring your customers get their orders quickly and allowing your clients to see their profits grow.
In This Guide, We'll Learn
The components of DTC shipping

Challenges and pain points of DTC shipping

How to reduce the cost of DTC shipping

The role of smart order picking in DTC fulfillment and shipping

How Logiwa can solve your DTC shipping problem

FAQs
What are the Components of DTC Shipping?
Shipping doesn't begin when you seal a package. It starts when an order is placed through an online store or ecommerce marketplace and continues until the customer is satisfied (which may include the return process).
Receiving: What happens once a customer clicks "purchase" on a website or online store? Is that order available immediately in your system? Do you have enough stock on hand to cover the order?
Packing: Are your packing stations set up correctly to scan and review all items for order accuracy? Can you ensure the accuracy of a delivery address, and are you using an appropriately sized box or mailer to ship the order?
Tracking: Can customers track their order once it leaves your warehouse?
Returns: If there are errors in an order, are you making the return and exchange process as easy as possible for customers?
When DTC Shipping Operations go Wrong
One of the biggest challenges of DTC shipping is when systems don't speak with each other. If a customer places an order, but your warehouse is out of stock, you can't fulfill that order. Ensuring your inventory systems provide real-time data to online stores is essential to prevent out-of-stock or low inventory messages or stockouts.
Warehouse layout is also essential when managing high-volume DTC order fulfillment. If employees have a hard time locating stock or are picking the wrong item for an order, it causes delays in the rest of our outbound processes. Evaluate your warehouse layout to uncover bottlenecks and pinch points and identify ways to make the picking and packing process more efficient.
Not having enough staff available to meet the demands of DTC shipping operations will also impact the time it takes to complete an order. Having enough pickers, packers, and shippers on the floor, especially during peak seasons, will guarantee you can keep up with demand.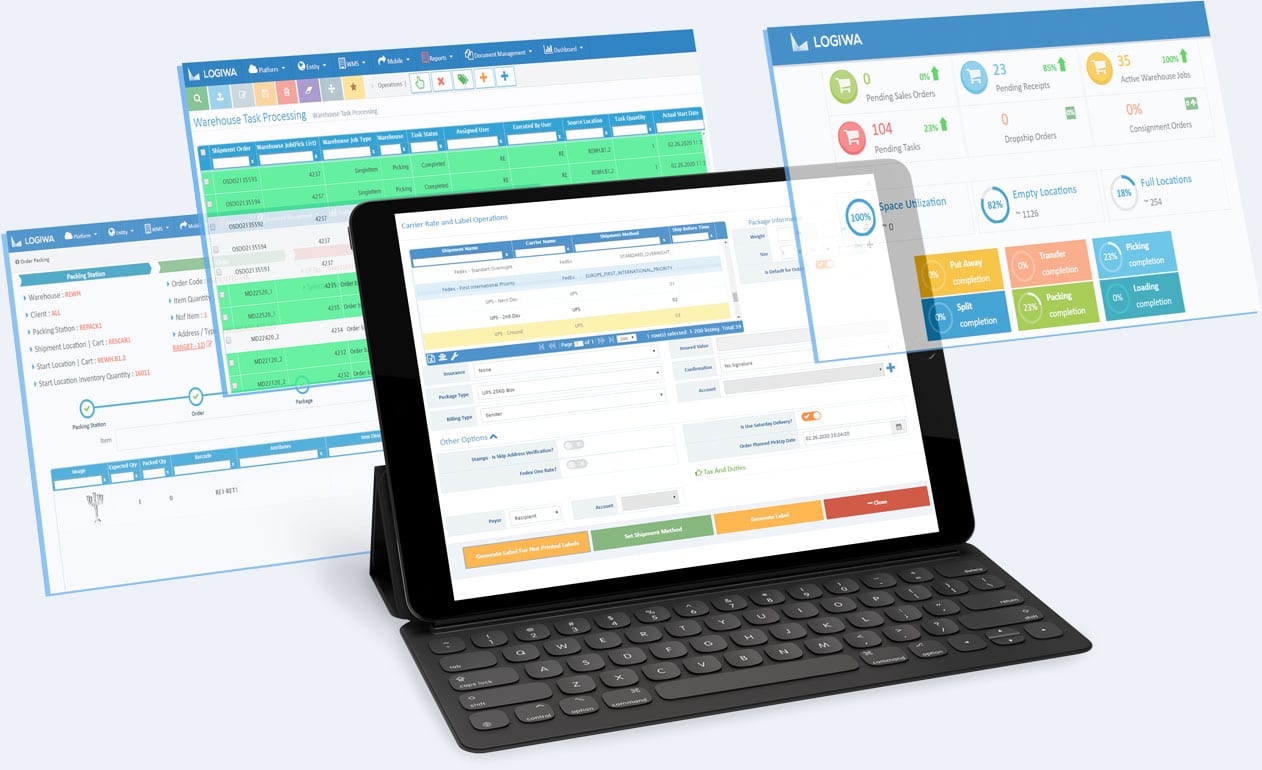 Transform your warehouse to a DTC fulfillment center
Reducing the Cost of DTC Shipping
Adopting smart shipping functionality in your warehouse systems is the easiest way to reduce costs associated with DTC shipping, specifically in the areas of time, shipping costs, and order accuracy.
Save Money on Time Spent Shipping
Smart shipping can help you reduce the amount of money you spend on labor associated with your DTC shipping operations. Using a warehouse management system, employees can quickly and easily choose the best box or mailer based on product dimensions and print shipping labels in bulk for identical orders. You can also automate the shipping process with rules for auto-printing labels, packing lists, and custom forms.
Save Money on Shipping Costs
Rate shopping can save you and your clients thousands of dollars annually. How? Rate shopping lets you find the best shipping method and price for each order and helps you connect with carriers who specialize in DTC shipping. Additionally, using a WMS software that integrates with popular DTC shipping carriers lets you view the best shipping rates and delivery times available for each order.
Save Money by Processing Fewer Returns
The demand for next-day and same-day shipping has exploded in DTC shipping operations. However, the need to get orders out the door quickly can often result in errors and orders being returned.
Smart shipping can verify order details before employees seal a box or mailer, reducing the likelihood of a customer receiving the wrong product. If errors occur, your WMS can create return labels for each order, making it easier for customers to return an order if required.
Learn more about Smart Shipping in our recent webinar and review our blog on calculating shipping costs.
Smart Order Picking and Improving DTC Fulfillment
In addition to smart shipping, smart picking algorithms and processes will help improve your DTC shipping operations. You may already use an established dtc picking strategy in your warehouses, such as wave picking, zone picking, order-based picking, or cluster picking. On the other hand, smart picking is a methodology that uses advanced algorithms and certain attributes from your orders to optimize the picking process.
An example of a smart picking algorithm is as follows:
Pull all single-item orders, split them by SKU, create tasks for single-item orders for SKU A. Then create tasks for multi-item orders with SKU B.
Within your WMS, you'll have a list of orders that have come in. The algorithm will map the orders based on different attributes, then assign teams or robotics within your warehouse to complete the picking process. In fact, Logiwa customers who use smart picking algorithms in their warehouse save up to 48% of the time spent on picking and 69% of time spent on packing versus using cluster picking methods. When customers demand orders on their doorsteps faster than ever, the quicker you pick and pack those orders, the better!
Watch our April 2022 webinar to learn more about smart picking.  
Logiwa Solves DTC Shipping Problems
It is expected that ecommerce sales will grow by 50% by 2025, reaching about $7.4 trillion US worldwide. Customers want those orders in their hands quickly. Using the best WMS software available, you can decrease the time required to complete your DTC fulfillment process with smart picking and smart shipping tools. Our cloud-based systems can ensure inventory levels are up-to-date on ecommerce platforms and marketplaces and that you can integrate with popular DTC shipping carriers to get the best rates and quickest shipping times.
To learn more about Logiwa's systems and how we can help you better serve your brands and customers, connect with a member of our team or request a free demo.
FAQs
How does smart picking affect DTC shipping operations?
Using the smart picking algorithms and processes found in Logiwa's WMS software, operators can reduce fulfillment times by nearly 70%.         
How do packing materials affect DTC shipping costs?
The larger the box or mailer, the more expensive it can be to ship. Smart shipping algorithms will use available product data to determine the best box or mailer to ship an order, allowing you to spend less on shipping.
How does smart shipping reduce order returns?
With smart shipping processes, every item of an order is scanned before a package is sealed to ensure it is the correct item for the order, reducing the likelihood of sending a customer the wrong item.
Ship more with a fully integrated Logiwa DTC Fulfillment Solution that connects with 200+ integrations