What Warehouse KPIs to Track Depending on Your Fulfillment Goals
Originally published on February 3, 2023 by Erhan Musaoglu, Updated on February 3, 2023
Each and every warehouse is different, from its floor plan and inventory to the software and automation supporting its workflows. But regardless of whether you are a retailer, online merchant or third-party logistics (3PL) provider…  small, midsize or enterprise level… or overseeing business-to-business (B2B), direct-to-consumer (DTC) or hybrid operations… the aim remains the same for modern order fulfillment: optimize warehouse processes to ensure cost-savings, customer satisfaction, and long-term growth.
In order to meet today's growing ecommerce trends you must be able to root out operational inefficiencies and take corrective measures to keep complex logistics and fulfillment operations on track. Key performance indicators (KPIs) provide one way to measure the health of your warehouse processes and assess whether or not you are aligned to meet your desired outcome goals.
Just as your warehouse runs in its own unique way, in support of specific fulfillment goals, each KPI focuses on a unique aspect of your operations. That is why it is important to identify what your current goals are and which KPIs to track in order to support achieving them.
In this guide, we'll explore:
The Importance of Aligning Your Goals with the Right KPIs
Tracking warehouse KPIs is key to maximizing cost efficiency, productivity, and stability throughout your supply chain. KPIs measure what is most important to your business, and empower your team to work on the macro- and micro- level issues inhibiting success. With KPIs, you also get clear snapshots of exactly where your operation stands on meeting goals, allowing you to address bottlenecks and performance issues, replace ineffective technologies, and maintain adaptability.
But KPIs only benefit your business so long as you know what data to prioritize and how to act on them. For instance, if your warehouse is experiencing an abundance of order returns, you may want to focus on your "returns rate" and "fulfillment accuracy rate" KPIs while making adjustments to your order picking and packing strategies.
Learn how to get more out of your warehouse data approach and warehouse KPIs in Logiwa's 15-minute QuickTake webinar, "Winning DTC Fulfillment with Analytics."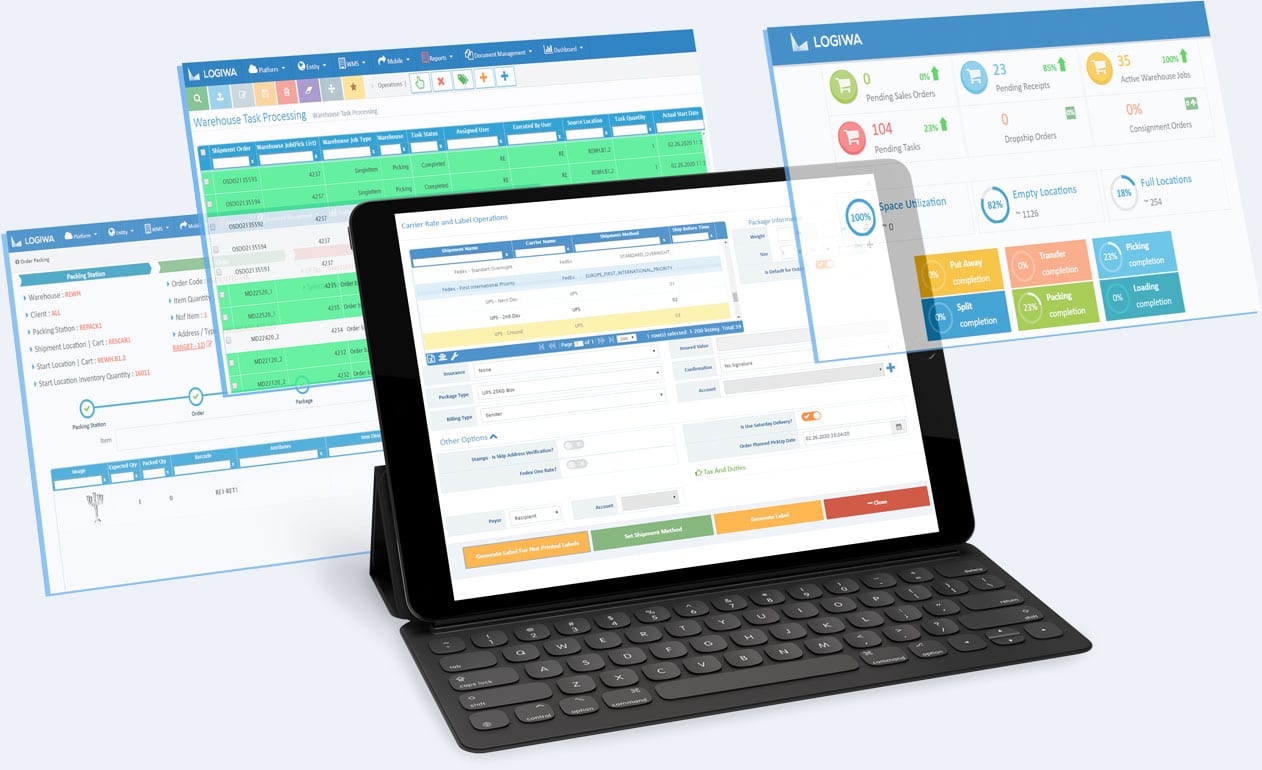 Transform your warehouse to a DTC fulfillment center
Warehouse KPIs for Improving Operational Efficiency
Efficiency KPIs focus on how productive and cost-effective your operations are, particularly in relation to order management and end-to-end fulfillment results. If your goal is to improve warehouse efficiency as a whole, or grow your fulfillment network, consider focusing on the following KPIs:
Cycle time(s) – measures the amount of time or the speed with which your warehouse process completes a specific process (ex. receiving cycle time, putaway cycle time, etc.)
Picking accuracy – measures how accurately your items are being picked from your warehouse for packing and shipping operations
Fulfillment accuracy rate – measures the ratio of error-free orders over the total number of orders shipped
Inventory turnover – measures how often, in a given time-period, your organization is able to sell your entire inventory
Space utilization – measures the percentage of space occupied by inventory out of your total available space
KPIs for Improving Inbound Logistics
If you are concerned about your receiving operations, you are not alone. Inbound logistics set the tone for the rest of your operations, and the KPIs related to processes like receiving and putaway can have major implications on the success of the processes to follow. Consider monitoring the following warehouse KPIs to improve inbound logistics:
Receiving efficiency – measures the volume of received goods over the number of labor hours expended in the same timeframe (also determined by measuring the volume of goods received per warehouse worker per hour)
Cost of receiving – measures the total expense that your warehouse incurs during the handling and receiving processes
Putaway accuracy rate – measures the percentage of items put away correctly the first time
Putaway cost per line – measures the cost of putaway (of putting away a whole line of product)
KPIs for Improving Inventory Management
Perfecting inventory management is vital to managing high-volume ordering and fluctuating demand. As supply chains try to keep up, and orders become more complex, the risk of making fulfillment mistakes increases. You need accurate visibility into all product-related data to come out on top . Take guesswork and inaccuracies out of the equation by tracking these inventory KPIs:
Inventory accuracy – measures the accuracy of your inventory by taking a count of items in stock and comparing it to what's recorded in your WMS
Shrinkage rates – measures the rate at which the value of inventory has been reduced due to loss, theft, or inaccurate record keeping
Carrying cost of inventory – measures the total expenses related to storing unsold goods
Inventory to sales ratio – measures the amount of inventory in your store compared to the number of sales you're fulfilling
Back order rate – measures the rate at which orders are coming into your warehouse to replace items that are out of stock (how many orders cannot be filled at the time an order is placed for that item)
KPIs for Improving Customer Satisfaction
Improving consumer satisfaction is one of the quickest and most effective ways to work on growing your business. Keeping today's consumers satisfied requires a high level of accuracy, speed, and dedication to customer happiness. To improve customer satisfaction, track the following warehouse metrics:
Total order cycle time – measures the total time it takes to process an order (from the moment it is placed to delivered)
On-time shipping rate – measures supply chain efficiency or how many shipments are executed perfectly (maintaining promised delivery times)
Cost per order – measures how much it costs to fulfill one order, from the moment the order is placed to the time it reaches your customer
Rate of returns – measures the rate at which shipped items are returned to you (can include the reasons for returns, as well)
Leveraging Warehouse Metrics with Reporting and Analytics
As your warehouse and fulfillment network grows, you will inevitably take on more inventory, customers and facilities. With that expansion, comes the expectation that you will be able to maintain fulfillment excellence. KPIs are the only way to ensure your operational speed, accuracy and profits. Learn more in Logiwa's blog, "Warehouse Management System KPIs."
Logiwa's cloud fulfillment platform was built for a robust analytics and reporting capability. Our WMS helps deliver your most valuable warehouse metrics in a variety of formats and visuals, so you can easily improve the efficiency of your fulfillment operations from one easy-to-use interface. Learn more at Logiwa WMS Analytics.
Turn High Volume DTC fulfillment excellence into your competitive advantage
Warehouse Management
Modern digital Cloud WMS powers a modern fulfillment experience