8 Effective Warehouse Automation Examples
Originally published on May 9, 2023 by Erhan Musaoglu, Updated on May 10, 2023
Increasing efficiency and reducing costs are goals shared by all B2C, DTC, and 3PL companies. However, costly challenges such as human error and increasingly complex shipping processes can be difficult to overcome, especially with rising consumer demands.
To overcome these challenges, many companies are turning to warehouse automation. In this guide, we'll define warehouse automation, discuss how it works, and dive into various warehouse automation examples. Plus, we'll guide you through how Logiwa can support you in automating those key processes within your warehouse.

In this guide, we'll discuss;
What Is Warehouse Automation?
Warehouses can automate various processes through the use of WMS software, robots, and other tech tools. We can automate many tasks, including packing, order completion and even choosing delivery companies.
Warehouse automation enables B2C, DTC, and 3PL companies to automate mundane and tedious tasks to eliminate the need for human intervention. The results include benefits such as increased productivity and reduced costs, as well as fewer human errors and a better customer experience.
How Does Warehouse Automation Work?
As we prepare to look over some of these warehouse automation examples, we need to discuss how warehouse automation works.
The simplest way to break it down is to use an example. Consider inventory management. Automation can ensure that when you scan a product out of inventory, it is packaged with the best packaging, shipped with the appropriate carrier, loaded on the right truck, and tracked until it reaches the buyer.
We make all of this possible through integrating tools such as your WMS software, WMS robotics, and other services. For example, while your WMS software shops for the best shipping rate and automatically prints the order's shipping label, robots can help pick and load the products.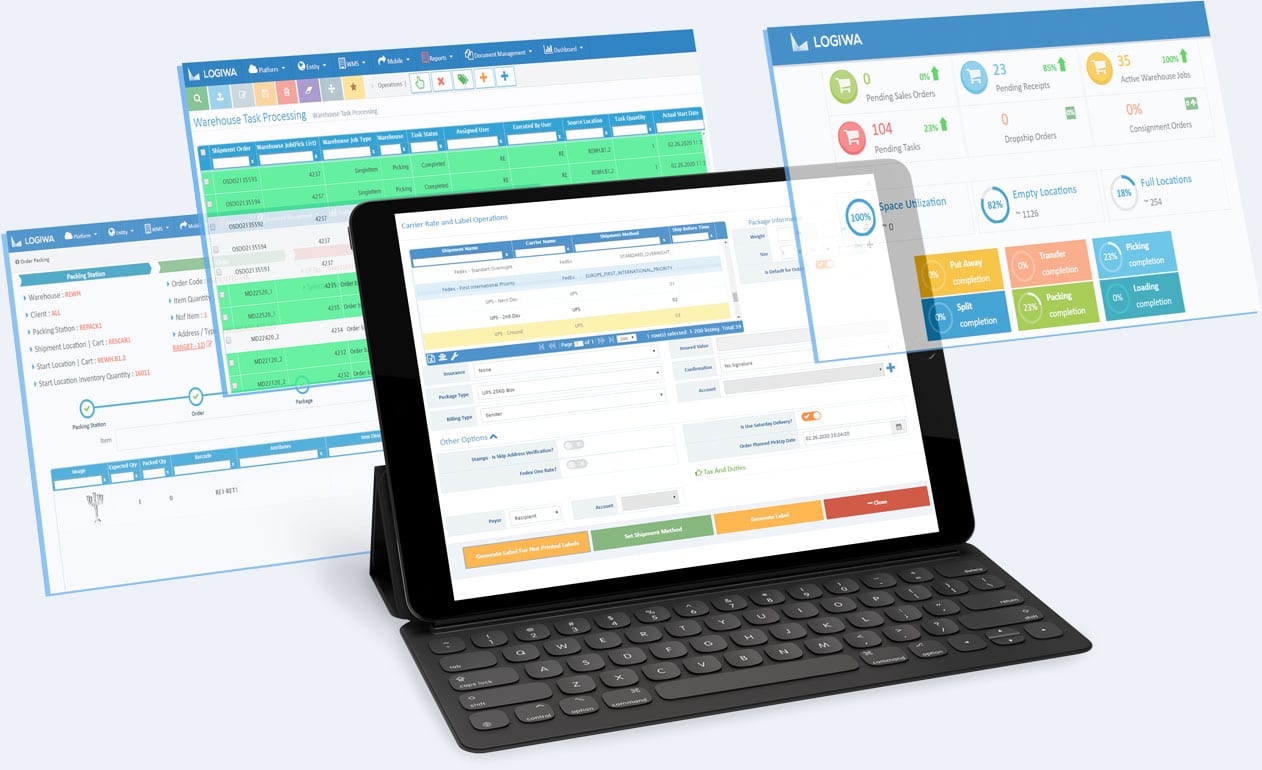 Transform your warehouse to a DTC fulfillment center
Types of Warehouse Automation Tools & Services
Automation takes many forms, spanning from internal software automations to goods-to-person systems. Some of the most common automation tools and services used in warehouses include:
WMS automations: These automations are almost entirely internal and take place inside your WMS software. They include examples such as automated inventory tracking and rate shopping.
Machine learning: Machine learning uses the power of artificial intelligence (AI) programs and algorithms to streamline certain functions of warehouse management.
Collaborative robots: Also known as co-bots, are robots designed to work alongside human workers to increase efficiency and productivity while reducing opportunities for error.
Storage and retrieval systems: These systems store and retrieve products from inventory using machines, such as conveyor belts and product lifts.
Wearable technology: Products such as smart glasses can incorporate augmented reality to help maintenance teams and inventory staff navigate warehouses more efficiently.
Predictive maintenance automations: These automations continually check on internal and external systems and monitor them for potential issues. Once they find issues, they order repairs to prevent costly downtime.
Goods-to-person systems: These are inventory retrieval systems that bring products and inventory directly to human staff.
Pick-to-light and put-to-light systems: Using lights and barcode scanners, these systems show workers where to store or retrieve items at a glance based on their orders.
Automated sorting systems: These systems use technology to scan barcodes on products and orders. They then sort them in the WMS and the warehouse.
8 Warehouse Automation Examples
What can these various automation tools and systems do for your warehouse? Below, we've outlined several warehouse automation examples to illustrate the benefits.
#1. Fulfillment
Order fulfillment, especially high-volume order fulfillment, is difficult without some amount of warehouse automation. This is exactly why we kicked this list off with fulfillment.
We can automate the order fulfillment process in many ways. This includes virtually every manual task, from picking and packing to shipping.
For example, through integrations built into your WMS software, you can automatically print shipping labels for all orders. And WMS robotics can help pick and pack products.
#2. Product Inventory Management
Managing product inventory is a headache, but it doesn't have to be. Tech tools such as wearable technology, sensors, and automated storage systems can keep track of every moving piece in your warehouse.
Plus, WMS integrations automatically update your inventory data, so you can see current inventory in real-time at a glance. Other use cases include forecasting future inventory needs, automatic reordering, and inventory management across multiple warehouses.
#3. Shipping & Receiving
Shipping and receiving create plenty of opportunities for human error to slip in. However, automation can reduce human error and improve productivity.
For example, you can institute automated shipping rules that ensure your workers don't enter information such as product categories or order tags (like "fragile") manually. These rules can also split orders into multiple packages automatically, use third-party billing information, and more.
As another example, you can also automate selecting the most cost-efficient shipping route for each order using a variety of shipping carriers. This makes multi-carrier shipping much easier by eliminating the need to shop for the best shipping rates and routes manually.
#4. Shipping Rate Shopping
Shipping rate shopping, while critical for cost efficiency, is a difficult and time-consuming task. However, it's easy to automate the shipping rate shopping process.
For example, through the Logiwa WMS, you can see current rates from a wide range of top carriers automatically. This allows you to select the best carrier at the best price for every single order shipped, resulting in cost savings for you and a better experience for your customers.
#5. Shipping Label Creation
Shipping label creation is a process ripe for automation, as it's a task your warehouse workers must complete multiple times each day. Through tools such as WMS software, you can print labels automatically as each new order comes in. Combine this automation with other processes, such as shipping rate shopping, to boost fulfillment efficiency.
#6. Dimensioning
Dimensioning is a process that can take up serious time for your staff. Automated workflows enable them to complete dimensioning automatically with each new order. This eliminates the need to measure products manually in order to determine the right size of packaging, reducing human error and saving on packaging costs.
#7. Picking & Packing
While we typically think that picking and packing is a human process, there are still ways to introduce automation.
Through the utilization of storage and retrieval systems, as well as goods-to-person systems and automated dimensioning tools, the right products are picked and packed every single time.
The correct products simply come to workers, who then pack them using the suggested packaging method. As a result, the picking and packing process can be free of human error.
#8. Complete Warehouse Optimization
You can combine these examples to create a fully optimized warehouse, from inventory management to order fulfillment. By optimizing your warehouse, you benefit from enhanced efficiency, reduced costs, fewer order errors, a better customer experience… the list goes on.
How Logiwa WMS Can Help You Automate
Logiwa has developed a WMS with connected ecommerce fulfillment solutions to maximize productivity and efficiency for those in the B2C, DTC, and 3PL spaces. The way Logiwa WMS powers these solutions is by leaning into warehouse automation examples like the ones listed above.
Our ecommerce software solution provides built-in automation tools you can take advantage of immediately, including automated labeling rules, automated rate shopping, shipping box suggestions, and automatic dimensioning. However, we also take automation to the next level by integrating with world-class robotics providers.
Logiwa offers free integration with robotics systems. This includes integrations with our partners like Locus Robotics, Dematic Robotics, and 6 River Robotics. We also offer more than 200 integrations with a wide range of apps and services to make automating processes at every level of warehouse management simple.
These features and integrations help you maximize your warehouse productivity while decreasing costly errors and financial losses.
Harness the Power of Warehouse Automation With Logiwa WMS
If you're searching for ways to reduce costs through the use of warehouse automation, you're in the right place. Logiwa is a robust WMS software that offers a wide range of built-in automation tools to help you streamline your operations. Plus, we integrate with a wide range of apps, services, and providers to help you optimize your entire warehouse.
To learn more about Logiwa and how it can support your B2C, DTC, or 3PL warehouse, book a demo today!
Run a fully digital warehouse with mobile apps, smart job batching, automation rules
Warehouse Management
Modern digital WMS powers a modern fulfillment experience