Top 3 Challenges of 3PL Billing and How a WMS Can Help
Originally published on July 18, 2023 by Erhan Musaoglu, Updated on October 16, 2023
Inaccurate billing is one of the fastest ways to lose clients and damage the reputation of your business. Unfortunately, many third-party logistics (3PL) operations still depend on manual processes as part of their 3PL billing and invoicing process.
Manual billing practices tend to have a 10-15% error rate. In the age of competitive warehousing, that simply won't do. Luckily, warehouse management systems (WMS) can automate the process and deliver much higher rates of accuracy.
With the help of sophisticated integrations and billing rules, modern WMS solutions can optimize 3PL billing and invoicing practices. In this blog, we will discuss the benefits of automated 3PL billing, as well as how WMS technology assists with three major billing challenges faced by today's 3PLs.
Takeaways:
Automating a 3PL billing process helps streamline complex billing calculations, generate accurate invoices, and safeguard the integrity of client data.
A WMS can help you identify hidden revenue opportunities and evolve your strategies to boost earnings by tracking and reporting on different billing streams.
The three biggest challenges for 3PL billing come down to: billing for multiple clients, having a wide variety of billable services, and managing perpetual inventory.
A modern WMS supports a variety of client relationships, has the ability to be updated as operations evolve, and can easily be configured to support different contract terms.
WMS automation makes generating invoices easy by tracking all the billable processes, inventory details and relevant client data automatically.
In this guide, we'll discuss:
Benefits of Automated 3PL Billing
Automating your 3PL billing process is much more than a matter of convenience – it helps streamline complex billing calculations, generate precise invoices, and safeguard the integrity of client data as your operations grow.
A WMS aggregates the operational data flowing throughout your fulfillment network, accounting for fluctuations in inventory and all the billable services you charge for. As a result, it can automatically create invoices, ensure transparency for client success, and maintain data compliance each billing cycle.
Furthermore, automating 3PL billing can help you grow your operations. With the help of WMS reporting capabilities, you are able to detect weaknesses in your billing methods i.e. where you're undercharging or have a revenue leakage that's affecting your bottom line. By comparing various billing streams and profit margins, you can identify hidden revenue opportunities and evolve your strategies to boost earnings.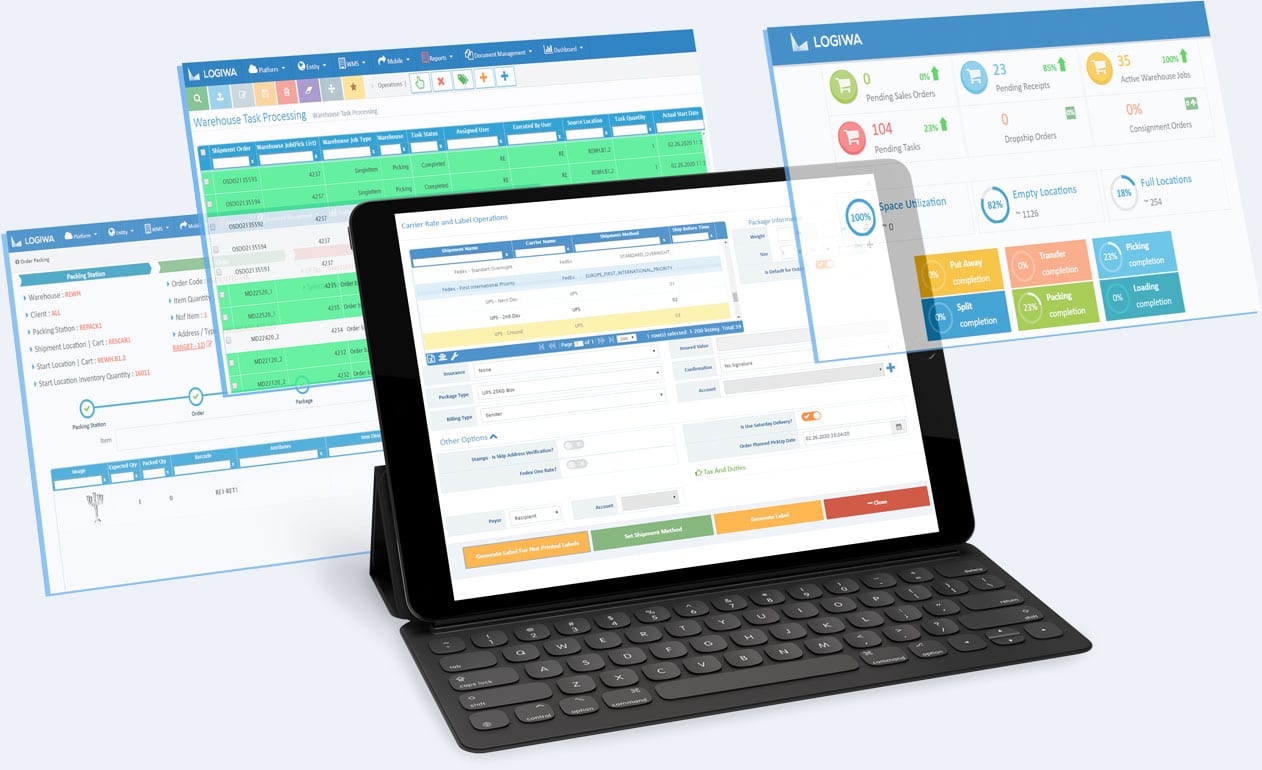 Transform your warehouse to a DTC fulfillment center
Top 3 Challenges of 3PL Billing (And How a WMS Solves Them)
While the growth of ecommerce does provide an excellent opportunity to take on more clients, inventory and online orders, it's important that you have a dependable WMS in place to handle the complications that come with 3PL billing and invoicing.
There are three primary challenges when it comes to 3PL billing and invoicing. Let's talk through each one and how WMS solutions can address them through smart automation.
#1 3PLs have multiple clients with different customer agreements.
Overseeing logistics for a single client is one thing. Tracking billable services and generating accurate invoices for multiple clients – each with their own unique fulfillment needs, SLAs and contract rates – is far more challenging.
On top of measuring how much storage space a client used, how much inventory was processed, how many billable services were engaged, and how many orders were fulfilled – you must also consider the various billing factors established in each of your clients' contracts in order to make your calculations. In short, there's too much to account for manually without risking mistakes.
How a WMS addresses this: A good WMS offers flexibility to support a variety of client relationships, the ability to be updated as relationships and operations change, and easy configurability to support different contract terms. Moreover, it can aggregate the appropriate information (i.e. billable events and pricing structures), keep calculations separate, and produce reports that break down the invoices for each individual client.
3PLs have a wide variety of billable services.
3PLs oversee a wide variety of services, rate structures and discounts for multiple clients. At the end of each billing cycle (which may also vary depending on your individual client contracts), you are expected to be able to recount all your billable processes and the exact costs attributed with each.
These billable items could include:
The number of pallets, cases, or items received by your warehouse;
Space consumption associated with each client's inventory;
How long certain items have been in your warehouse (which incur higher rates);
Fulfillment activities and value-added services carried out on behalf of your client;
Integration charges and specific carrying rates;
And more.
How a WMS addresses this: A tier-1 WMS tracks all the inventory moving through your warehouse, as well as various integrations being used to execute order management and the fulfillment activities taking place throughout your distribution network. It can differentiate between your 3PL clients, associate the correct billable events with each, and automatically use the correct rates to generate accurate invoices based on your established automation rules.
Your warehouse inventory is constantly changing.
As ecommerce continues to accelerate, finding a way to track perpetual inventory is more important than ever. In order to bill your clients, you must be able to accurately monitor each aspect of your client's inventory logistics: the amount of space used, length of time items sit in storage, how many items were received (and the types), and so on.
Manual operations are bound to lose track of ever-changing inventory levels, product lines, shelf time, and other critical billing factors. With online transactions and order processing happening faster and faster, your operation cannot afford to slow down in order to conduct daily counts and double-check administrative tasks. This leads to inaccurate billing and profit losses for your business.
How a WMS addresses this: A WMS solution provides complete visibility and control over inventory levels and fulfillment logistics, taking daily snapshots of stock levels, changes in facility capacity, online order processing, and the fulfillment activities taking place for each of your clients. Whether you bill based on storage use, product details, or receiving, replenishment, order picking/sorting, and packing/shipping functions, a WMS keeps accurate records of it all in order to finalize billing calculations.
Logiwa Makes 3PL Billing Easy
Logiwa has over 200 pre-configured billing metrics to make it easy for operations like yours to customize billing rules. Whether its charges related to items, pallets, POs, storage, storage volume, picking and packing, orders shipped, order lines shipped, pallets shipped, carrier labels printed, etc. – our system ensures that all billable processes are accounted for and factored in based on the individual contracts signed by each of your 3PL clients.
Check out Logiwa's QuickTake webinar on 3PL billing automation for more insights.
Ready to put the power of Logiwa WMS to work for your operations and experience the positive impact we can have on your billing processes—schedule a call with one of our industry experts today.
FAQs about 3PL Billing
How do 3PLs bill their clients?
Third-party logistics (3PL) providers can bill clients in a variety of ways. This can include fixed pricing, varying price ranges, or rates based on quantity, volume and weight of inventory products. This can also translate to hourly rates, flat rates, or per-item rates for labor activities, as well as order and item types. In addition, 3PLs can charge based on storage space, integrations, and services based on contract and client.
What are the main challenges of 3PL billing?
The three biggest challenges for 3PL billing come down to: managing accurate invoices for multiple clients (who may have different contracts, rates, billing cycles, and customer agreements); having a wide variety of billable services to account for and keep track of; and monitoring perpetual inventory, which is changing on a daily basis due to the speed of high-volume ordering and ecommerce transactions.
How does a WMS help with 3PL billing?
A warehouse management system (WMS) automates fulfillment processes throughout a warehouse and overarching fulfillment network. This includes inventory management, order management, fulfillment workflows, and shipping operations for one or more clients. As a result, it tracks all the necessary data needed to generate accurate invoices for 3PL clients, even if those clients have unique contract terms.
Does Logiwa WMS help with 3PL billing?
Yes. Logiwa is an all-in-one cloud fulfillment solution that aggregates all the data flowing through 3PL supply chains and their fulfillment operations. Our solution was designed to streamline 3PL operations using flexible, high-efficiency automation rules. We're integrated with more than 200 ecommerce, shipping, accounting, and ERP solutions – making it easy for our clients to oversee complex logistics and generate accurate invoices.
With Logiwa 3PL WMS Software bring on more clients, add new FCs, and grow your 3PL business
Warehouse Management
Modern digital WMS powers a modern fulfillment experience