The Future of Fulfillment – 5 Warehouse Trends to Watch in 2023
Originally published on December 16, 2022 by Logiwa Marketing, Updated on March 31, 2023
2022 was a year of change for the fulfillment industry. After disruptions to the supply chain during the COVID-19 pandemic threw the entire industry out of whack, operators explored new ways to adapt to changing demands in fulfillment services and the need for change in the industry itself.
Warehouse trends in 2023 will bring the opportunity for further change and improvements in many areas of fulfillment services, including sustainability, responding to labor shortages, and automation.
Fulfillment Trends We'll Focus on in This Blog:
The rise of DTC fulfillment

The importance of WMS software

The continuation of labor shortages

The demand for more sustainable practices

An increasing reliance on robotics and automation

FAQs
How Have Warehouse Trends Changed?
2022 was a year for warehouse operators and fulfillment service providers to implement changes brought on by the global supply chain issues experienced over the previous two years. They had to figure out new delivery methods during lockdowns, find ways to pivot when employees were sick, they had to maintain operations with less staff, and find ways to keep shelves stocked as demand rose and supply fell.
On the whole, many of the things learned over the last year will continue to play a role in how 3PLs and DTCs operate going forward, and the tools being implemented—such as warehouse and inventory management systems and automation tools—will become more important.
But some new fulfillment trends may surprise third-party logistics (3PL) and direct-to-consumer (DTC) operators.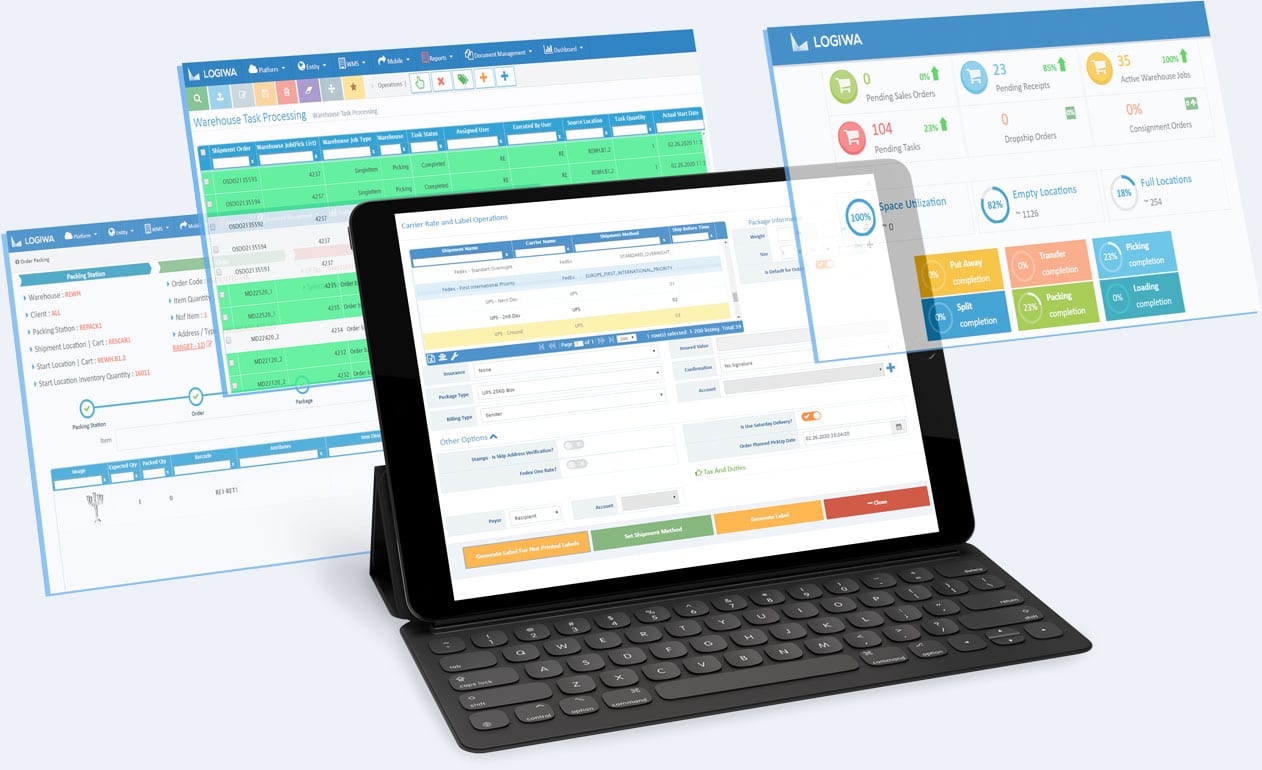 Transform your warehouse to a DTC fulfillment center
Five Fulfillment Trends to Watch in 2023
1. DTC Fulfillment Continues to Gain Popularity
One of the ways fulfillment services changed during the pandemic was the rise of direct-to-consumer (DTC) fulfillment. Many warehouse operators are looking at adopting hybrid warehouse models allowing them to continue to serve their business-to-business (B2B) customers while bringing on new DTC clients.
Additionally, many DTC brands don't have the human resources (or the desire) to manage logistics on their own, increasing the need for third-party logistics (3PL) providers. If you're looking to scale your warehouse operations, explore options with DTC fulfillment services.
2. Warehouse Management Systems
Running a warehouse is a costly enterprise with many moving parts. From inventory management to shipping to managing customer relationships, manual processes will leave you in your competitor's wake.
Warehouse management systems (WMS) are an essential tool for successful warehouse and fulfillment operations, reducing the complexity of warehouse operations, including tracking, storing and transporting inventory. Software tools allow you to streamline processes, integrate with ecommerce marketplaces, shippers, accounting and customer relationship tools, and warehouse robotics to optimize your warehouse—without hiring additional employees—and reduce your operational costs over time. 
Cloud-based systems allow you to monitor inventory levels, jobs in the queue, and order tracking from anywhere and can optimize your employees' time while providing real-time visibility to the retailers and brands you serve.
3. Labor Shortages Will Continue
One of the biggest challenges of the pandemic across many industries was finding enough staff to fill available roles. This was especially true in the supply chain industry, with labor shortages for warehouse staff to delivery truck drivers, and has been driven by the recent growth in ecommerce.
To meet growing labor demands, employee incentives are essential and require more than offering competitive wages. What can you offer that would make someone want to work for you or stay with your company long-term? Think about leadership training opportunities, flexible scheduling, and other benefits that will help attract and retain employees.
While some employees may be afraid that robotics and automation will make their jobs obsolete (more on that later), the ability to work in tandem with automated tools can be an incentive for employees. More than 40% of employees in supply chain industries spend at least a quarter of their time doing manual and repetitive tasks. Incorporating automation and robotics in your warehouse can allow employees to spend more of their time on higher-value, meaningful work.
Proper warehouse labor planning is also critical to ensuring your operations run smoothly. Check out our 5 Steps to Successful Warehouse Labor Planning guide to learn the key elements and best practices for successful labor planning, as well as explain how the right approaches can help you save time and money while optimizing DTC operations.
4. Sustainability in Fulfillment on the Rise
Consumers are becoming increasingly interested in knowing how the products they buy are made, where they come from, and their potential environmental impacts. The supply chain is not immune to calls for improved sustainability practices. Within warehouse and fulfillment operations, sustainability can be improved in several ways, including:
Providing new shipping options, such as "ship together in fewer boxes," which can reduce the amount of packaging used and reduce carbon emissions from delivery vehicles.

Using packaging made from greener, recyclable or compostable materials and reducing the amount of "air" in each shipment (using appropriately sized boxes or mailers for the items you ship).

Working with shipping companies that use electric vans and trucks for deliveries.

Making your warehouse more eco-friendly with timers and gauges to monitor electricity, heat, water, and gas use.
5. Robotics and Automation
The final warehouse trend to keep your eye on in 2023 is robotics and automation. A recent survey of supply chain industry professionals found that 38% of respondents want to improve this aspect of their fulfillment operations. Implementing automation and robotics can reduce costs and improve efficiency.
Robotics can help speed up labor-intensive and repetitive tasks, such as picking, allowing your human resources to focus on higher-value tasks that directly impact business growth and customer experience.
Wearable technology such as smart glasses allows employees to move around your warehouse unconstrained and can improve worker productivity. Smart glasses use machine learning and augmented reality technology to optimize picking paths and can improve picking accuracy with built-in scanners and real-time messaging to facilitate communication between coworkers.
Read our blog to learn more about automating your warehouse for high-volume order fulfillment.
How Logiwa Helps the Future of Warehousing
You may wonder how you're supposed to keep on top of warehouse trends while finding ways to reduce costs and improve efficiency. And that's where Logiwa comes in! Our WMS and fulfillment execution software will support your business across all aspects of your operations, from labor planning to integrating automation and robotics to working with DTC brands and improving your shipping processes. 
We would be happy to work with you to keep your operation competitive while allowing you to grow your business. Reach out to a member of our team to find out more or request a free demo of our products.
FAQs
What is the future of warehouse management?
To stay competitive, warehouses must run efficiently and productively at a reduced cost. Incorporating WMS software, adopting automation tools, and being mindful of labor planning can help.
What role will direct-to-consumer sales play in warehouse operations?
Direct-to-consumer sales are on the rise. To stay relevant, warehouse operators should consider expanding into DTC fulfillment and exploring hybrid warehousing options, which combine business-to-business and DTC fulfillment under one roof.
Can warehouse and fulfillment operations be sustainable?
Yes! Using eco-friendly packaging materials, partnering with carriers that use electric or hybrid vehicles, and upgrading your warehouse can help create a more sustainable and environmentally-friendly supply chain.
Scale up DTC fulfillment with an integrated digital warehouse and fulfillment system