3PL Software: Definition, Benefits & More
Originally published on March 18, 2022 by Logiwa Marketing, Updated on June 2, 2023
Warehouses can be complicated businesses to operate. There are many moving parts to manage to ensure customers receive the right product on time. For example, you must keep track of inventory, ordering, returns, shipping…the list goes on.
Unfortunately, outdated or manual tools can make the management of your warehouse even more difficult. This is where 3PL software comes in. Third-party logistics (3PL) software can help you modernize your warehouse operations and grow your business. As a result, you can support more brands and clients without increasing headcount.

In this guide, we'll discuss what 3PL software is, its many benefits, and how you can use it within your facility.
What Is a 3PL?
The term 3PL refers to "third-party logistics." It is the practice of outsourcing the logistics of order fulfillment to another—third-party—company. If you are a company that sells products directly to customers or businesses, you might use a 3PL provider to store and ship your items for you.
3PL providers offer services in various areas related to management, procurement, and fulfillment operations, including warehousing, inventory management, returns, and overall logistics.
What Is 3PL Software?
3PL software is a type of fulfillment solution that helps 3PLs execute supply chain logistics, warehousing processes, and fulfillment for one or more clients. To be more specific, this can include anything from inbound operations like receiving and putaway to picking, packing, and shipping operations. 3PL software can also help with things like smart inventory management, replenishment, and returns – and integrate with other solutions to streamline operational data.
3PL software works by connecting all the different aspects of 3PL operations: your ecommerce channels, fulfillment network, shipping carriers, billing/accounting software, and more. It aims to provide you with end-to-end visibility and control needed to achieve fulfillment excellence, while providing your clients and your customers insights into the status of orders.
Leading 3PL software provides competitive automation capabilities to guarantee you are providing the most efficient fulfillment options and able to meet your clients' budgets and customers' delivery expectations.
The Key Benefits of 3PL Software
Implementing 3PL software into your warehouse operations provides many benefits for you and the brands you serve. For example, 3PL software can help you expand your operations while decreasing costs and increasing flexibility in the services you provide.
Plus, it enables access to detailed reports you can use to improve your processes further and to serve your customers better. Let's dive further into the key benefits of 3PL software.
1. Scale Operations
Time is money when it comes to ecommerce, and downtime can impact your bottom line. You need a 3PL system that is easy to implement and update as your business grows.
Recent numbers show that ecommerce sales are expected to reach $8.1 trillion by 2026. With numbers like these, it's imperative to bring your warehouse operations up to speed.
Users of our third-party logistics software have seen a 40% increase in labor efficiency and an 8% decrease in shipping costs while tripling the number of orders shipped in the first three months of use.
Operating on a cloud-based system, you can be up and running in just four weeks. Plus, you can add tools and customization with simple clicks, no coding required.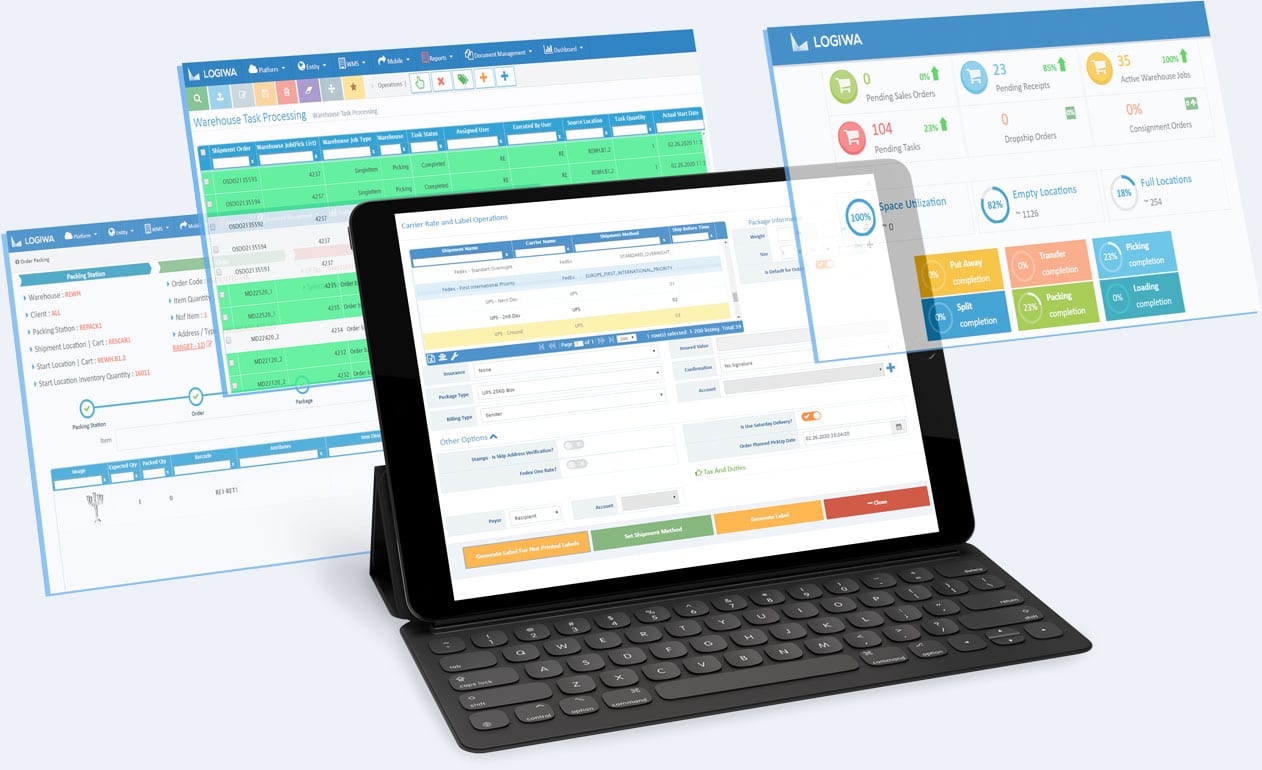 Transform your warehouse to a DTC fulfillment center
2. Add Flexibility and Agility
The continued growth of ecommerce and direct-to-consumer selling provides excellent opportunities for warehouse operators. But manual or outdated systems could leave you in your competitors' dust.
3PL software helps increase your operating efficiency with solutions to manage inventory, packaging, and shipping that you probably couldn't manage independently.
The happenings in recent years, such as the COVID-19 pandemic, have shown us that flexibility is critical for 3PLs. Back in 2020, a study by the Organization for Economic Co-Operation and Development (OECD) found that 45% of U.S. businesses experienced disruptions in the supply chain as a result of the pandemic.
With flexible warehousing options as part of your 3PL software, you can scale up and down based on your clients' needs, such as seasonal demands or other fluctuations.
Providing flexible warehousing can create a valuable inventory management solution for clients with shifting inventory requirements. When implemented successfully, flexible warehousing can help you reduce costs, improve service, minimize risk, and enhance your competitive edge.
3. Increase Visibility Into Operations
Implementing 3PL software into your warehouse operations will also increase visibility into your operations, thanks to an entirely cloud-based system. You'll have access to insights in every step of the ecommerce fulfillment process, allowing you to make improvements and changes as required.
With the right 3PL software, you can manage your fulfillment center online and through mobile apps. Round-the-clock access to in-depth analytics, as well as on-demand, monthly and year-end reporting gives you the ability to scale your services, grow your client base, and add new fulfillment centers with no additional headcount.
Quality WMS 3PL software gives you increased visibility into your operations and can give your clients peace of mind with real-time insight into every order and shipping status within the Logiwa client portal.
When PackDash chose Logiwa as their 3PL software provider in 2020, they scaled up their daily shipments by 400% and added three to five new clients each week. The transition was made easier with 60-minute onboarding sessions in the fulfillment network and real-time access to PackDash warehouse agents and managers on client-specific Slack channels.
Want to learn more about the benefits of warehouse management software? Check out our guide: Top 8 WMS Software Benefits for Your Business.
Maximizing the Benefits of 3PL Software With Logiwa
Your 3PL software must make operating your warehouse easier and more efficient. With Logiwa WMS software for 3PLs, you have access to great features to make that happen, including:
Digital warehousing: Run a fully digital 3PL fulfillment center with mobile apps, smart job batching, automation rules, real-time exception handling, and online reports.
Connected ecommerce: Sell more with a fully integrated inventory management system that connects to more than 200 ecommerce marketplaces and order management systems.
Smart shipping: Save time and money with our shipping software, and enjoy price-optimized carrier selection and auto-printed shipping labels to get packages out the door faster.
Total control: Update and extend your Logiwa system in minutes, not months. Create warehouse layouts, process orders, update automation rules, and bring a new fulfillment center online with clicks, not code.
How to Get Started With 3PL Software
When it comes to adopting a 3PL software solution, there's a lot to consider. Consider your current operational goals and the challenges you're aiming to overcome. Do you anticipate adding more warehouses and clients into your fulfillment network? Is a warehouse management system (WMS), enterprise resource planning (ERP) solution, or supply chain management (SCM) platform a better option?
As you explore 3PL software solutions, here are some tips for ensuring you find your perfect fit:
Make a granular list of all the functions your operation needs in a 3PL software solution. That way, potential providers can confirm their solution is able to meet those needs or provide alternative ways to achieve the same function.
Identify the fulfillment partners (ex. shipping carriers, accounting platforms, robotics solutions, etc.) that are the most critical to your operations, and clarify that the solution is pre-integrated or capable of integrating with them.
Before beginning implementation, clean up your inventory data. No matter how high-functioning a 3PL software solution is, it can only be successful if it is operating on accurate data.
Choose a 3PL software solution with a great technical support team. This helps ensure a positive implementation experience and gives you a dependable resource to turn to should problems ever arise.
Request a Demo of Logiwa 3PL Software Today
An effective 3PL system is an investment in your business and will allow you to serve your clients better. It can help you grow your business and keep pace with the ever-increasing ecommerce marketplace without increasing your headcount. Get started today by scheduling a demo.
Grow your 3PL fulfillment business – without additional headcount.