SaaS vs. Open-Source Ecommerce: Why SaaS Is the Best Choice
Originally published on May 25, 2023 by Erhan Musaoglu, Updated on June 2, 2023
Software is critical for streamlining operations within your business. However, as technology advances, so do your choices. Should you choose a software-as-a-service (SaaS) ecommerce platform? Or, would an open-source ecommerce platform be a better fit?
For B2C and DTC companies as well as 3PL providers, a SaaS solution is often the best choice. SaaS platforms provide a wide range of benefits, from worry-free maintenance to flexibility.
In this guide, we discuss the key differences between SaaS vs. open-source ecommerce platforms, as well as the benefits of SaaS tools. We also clarify some of the myths surrounding SaaS platforms, so you can feel confident in your choice.
What Is a SaaS Platform?
SaaS stands for software as a service. SaaS platforms operate by licensing software on a subscription-based model. More specifically, though, SaaS platforms are often hosted on a cloud-based platform, which makes them easier to access and use. Plus, they're more lightweight on system requirements for individual devices.
One of the great advantages of SaaS platforms is that, since everything is cloud-based, there's little-to-no maintenance when using a SaaS platform. The vendor is responsible for hosting and providing the software, as well as updating and maintaining it.
All SaaS platforms will differ in their capabilities and features. For example, Logiwa is a robust SaaS platform designed specifically for B2C, DTC, and 3PL companies that offers cloud-based order fulfillment features.
What Is an Open-Source Ecommerce Platform?
An open-source platform is a program with source code that can be copied, edited, and distributed as needed or desired. It's built "in public," which means that it's constantly evolving and changing as developers can manipulate the program's code directly.
This means that, unlike SaaS platforms, you'll be responsible for addressing issues, making adjustments, and developing new features that fit your needs.
Due to the nature of open-source platforms, many take the form of integrations with other platforms rather than being standalone products or services. And while you may gain some flexibility, it comes at the cost of needing more expertise to effectively implement the platform within your business.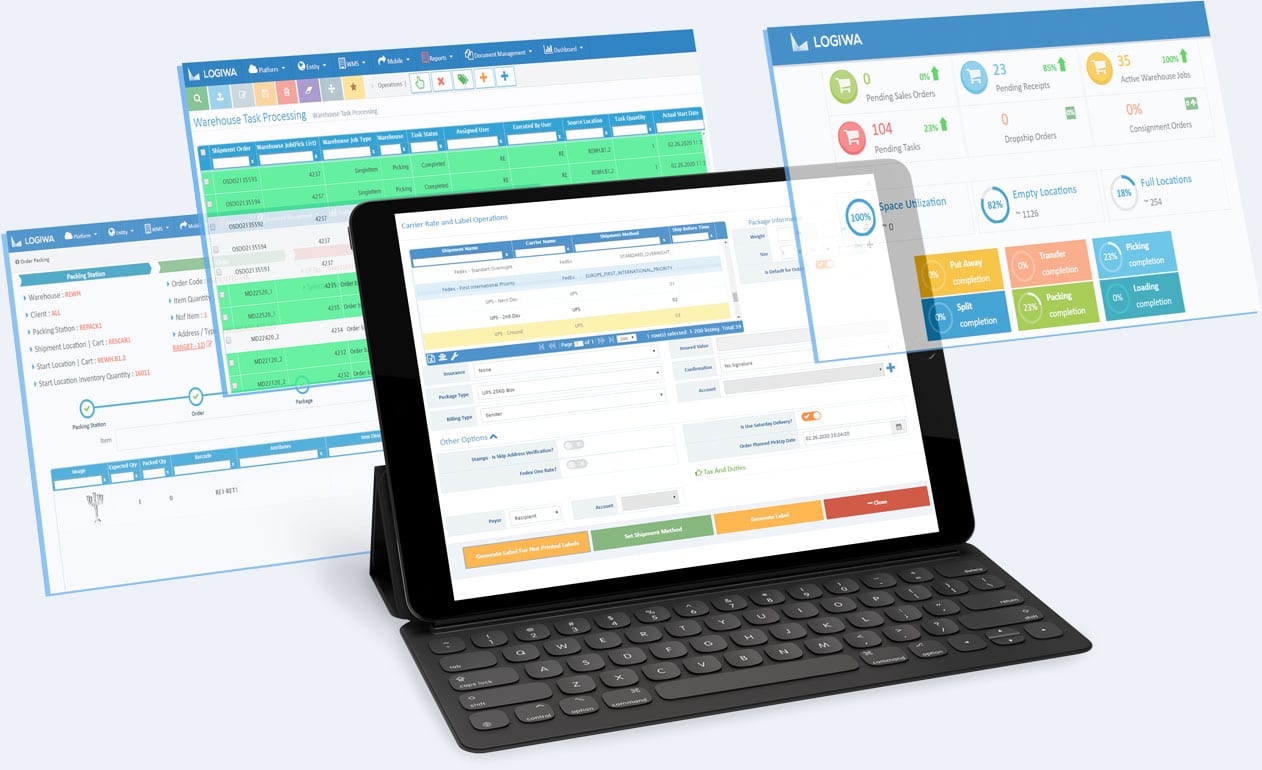 Transform your warehouse to a DTC fulfillment center
The Advantages of SaaS Platforms
Many B2C, DTC, and 3PL organizations use SaaS platforms today—and for good reason. SaaS platforms come with a wide range of benefits, including robust security, scalability, and quality support.
Worry-Free Maintenance
As we discussed earlier, you won't be held responsible for the maintenance of your SaaS platforms. Instead, the vendor of the platform is responsible for its upkeep and any updates. This saves you time and reduces the costs of implementing a software solution.
Turn-Key Implementation
Many SaaS ecommerce platforms are ready to implement right out of the box. You don't need to adjust or fiddle with features or settings. Instead, you can get started right away.
Plus, with the support you receive from the vendor (more on this below), any hiccups during the process can be resolved quickly.
Frictionless Costs
SaaS platforms typically follow a subscription-based pricing model. This means you'll pay one fee per month or year, allowing you to know exactly how much you're spending on your ecommerce platform.
In addition, you can add features when you need them and get rid of them when you don't, allowing you to only pay for what you need.
Security
Using cloud-based software means you're not directly responsible for any security concerns or issues. Instead, security is managed by the vendor. Plus, most platforms come with robust security features such as encryption.
Scalability
SaaS platforms are flexible and configurable, allowing you to scale features up or down without having to manually adjust code. Not only does this save you time, but it can also save you serious cash.
You don't have to hire a developer to add or remove features. Instead, you can do it yourself or allow your vendor to do it for you.
Support
A lack of customer support can make or break ecommerce operations. For example, it can lead to disruptions to operations, high costs for outsourced help, and the need to maintain developers or coders to avoid costly downtime.
SaaS companies typically include robust customer support within their subscription pricing plans. And because of the subscription pricing model, they work harder to retain their users.
Built-In Integrations
SaaS platforms typically come with plenty of out-of-the-box or pre-integrated connections to other popular tech tools. Plus, many vendors will work with users to create custom integrations if needed. This ensures you're able to easily adopt the ecommerce platform into your current tech stack.
Configurability and Customization
It's important to note that open-source platforms are often selected due to the limitless customization options they offer. However, this also means greater risks, higher costs, and more work for the business.
SaaS platforms are both configurable and customizable if needed. For example, built-in features are often configurable, enabling you to turn them "on" or "off" based on your needs. However, SaaS platforms can also be customizable, enabling you to add features that are missing or integrations to other tools.
Busting the Common Myths About SaaS
In the SaaS vs. open-source ecommerce argument, some common myths arise involving SaaS. Let's debunk.
Myth #1: SaaS Platforms Have Limited Flexibility
One common myth involving SaaS platforms is that they have limited flexibility. However, SaaS tools are actually incredibly flexible, especially for logistics organizations.
For example, SaaS platforms often come with a multitude of configurable out-of-the-box features to meet your needs. And if a certain feature doesn't exist, many vendors will do what it takes to create the functionality for you.
You can also use built-in integrations that come with your SaaS tool to create the functionality you need. For example, Logiwa has more than 200 integrations with the ability to add more to support your warehouse.
Flexibility doesn't stop with integrations. SaaS platforms also enable you to expand or condense your operations quickly. For example, you can easily add new product lines or warehouses to your network without the need to switch tools.
Myth #2: SaaS Platforms Are Slower Than Alternatives
"SaaS platforms tend to lag." This is another common misconception that often arises due to the need to use the cloud to access these tools.
In reality, cloud-based platforms provide real-time visibility. They sync warehouse and ecommerce data instantaneously, ensuring you always have an accurate view of what's going on within your organization.
SaaS platforms also result in faster implementation. While other options, such as open-source software, require in-depth configuration, SaaS tools are ready for use out of the box.
Myth #3: SaaS Platforms Can Be More Expensive Over Time
SaaS platforms are actually more cost-efficient than their alternatives. Why?
Many SaaS vendors provide tiers of feature access and subscription plans so companies can only use the features they need. This eliminates "feature bloat" which can lead to you paying for bells and whistles you don't even use.
Vendors also provide free trials of features so you can ensure they work for you before you purchase them. And many update their platforms with new features over time without requiring additional investment.
One thing to consider is the cost of SaaS vs. open-source ecommerce software. For example, open-source platforms typically require the expertise of a developer for implementation and maintenance, driving up costs. In contrast, SaaS platforms are easy to implement, often requiring zero coding for full functionality.
Why SaaS Is the Best Fit for Ecommerce Businesses
Whether you're a B2C, DTC, or 3PL provider, SaaS platforms are a great option for you. SaaS tools provide unique benefits to each type of ecommerce organization.
B2C Ecommerce
B2C ecommerce organizations have unique needs. For example, B2C companies must have access to a variety of integrations since they often sell products through a variety of channels.
At the same time, they need a platform that's simple and efficient so they can continue to deliver excellent service to consumers. SaaS platforms provide all of this functionality as well as customer support to keep things moving if problems arise.
DTC Ecommerce
DTC companies have needs similar to those of B2C companies. However, they're slightly different. DTC companies must have a platform that enables them to control all steps of order fulfillment since no third parties are involved.
This control requires a platform that's flexible with many integrations to choose from. SaaS platforms fit the bill well by providing integrations with everything from warehouse management systems to payment processors.
Hybrid B2C/DTC Ecommerce
The rise of DTC fulfillment has led many B2B companies to move from traditional B2B order management to hybrid B2B/DTC fulfillment models. The benefits of B2B/DTC hybrid operations include dual market exposure, increased profits, and expanded fulfillment capabilities, but it also requires a platform that can effectively handle both.
SaaS platforms help hybrid operations by promoting scalability, visibility, and flexibility for evolving organizations. They seamlessly unite different resource management tools to streamline and maximize all B2B/DTC hybrid warehouse processes, and can be configured to optimize multi-client management, hybrid inventory management and complex order fulfillment accurately.
3PL Operations
Third-party logistics providers must manage a lot of moving parts. For example, they must keep operations running smoothly for their clients so, in turn, those clients can deliver on their promises to end consumers.
This means 3PLs need a platform that's easy to maintain and reliable. 3PLs can't afford for their platform to be down for long periods of time. Downtime not only hurts their operations but also those of their clients.
A SaaS platform comes with the customer support and regular maintenance that 3PLs need to deliver.
Logiwa WMS: The Best Solution for B2C, DTC, and 3PL Companies
Another key benefit of SaaS platforms is that they integrate seamlessly with warehouse management systems, making them an excellent choice for B2C, DTC, and 3PL companies.
And for those companies using SaaS ecommerce platforms who need a WMS, Logiwa is the best option. Logiwa is a complete cloud fulfillment platform that integrates seamlessly with your ecommerce platform.
The result is automated packaging recommendations, order fulfillment routing, smart shipping features, simplified client management, and more.
Logiwa is designed for B2C, DTC, and 3PL companies to ensure they have everything they need to streamline operations at their fingertips.
With 200+ integrations, Logiwa can be configured to fit your needs. Plus, we offer excellent customer support that responds, on average, in 7-9 minutes.
Integrate Your Ecommerce Platform With Logiwa WMS
Logiwa WMS is the ultimate SaaS ecommerce fulfillment platform for B2C, DTC, and 3PL companies. While we do offer our own connected ecommerce fulfillment features, Logiwa will also integrate seamlessly with your current ecommerce platform.
If you want to learn more about how Logiwa can support your ecommerce business, book a demo today!
Modern cloud fulfillment software built specifically for B2C and DTC fulfillment
Warehouse Management
Modern digital WMS powers a modern fulfillment experience