Challenges of Peak Season Operations – Is Your Business Ready? Part 1
Originally published on November 11, 2021 by Logiwa Marketing, Updated on August 26, 2022
Get ready, the holiday shopping and peak fulfillment season is coming. In many ways, it's already here, as leading retailers and fulfillment centers are trying to get ahead of near-crisis level supply chain and workforce issues that are expected to wreak even further havoc during the holidays. Amazon, for instance, started promoting and fulfilling Black Friday deals at the end of September – a full two months ahead of time.
At 12:01 a.m. on Cyber Monday though, your holiday order fulfillment cycle will be in full swing, regardless of how prepared your company's processes are. Though this peak season is packed with more challenges than ever before, it's no time to panic. Instead, there are things your company can do now, during and after to meet these challenges head on.
In this guide, we'll explore:
Challenges of Peak Season Operations

Challenge #1: Increased Volume
Challenge #2: Supply Chain Disruptions
Challenge #3: Tight Labor Market
Challenge #4: Investing in Technology

Selling an Experience
What to Expect
Though it may sound cliché, this holiday season is expected to be like no other. Here are 4 of the biggest challenges
we see facing the industry – challenges that can turn into opportunities for you to outshine your competition.
Challenges of Peak Season Operations;
Challenge #1: Increased Volume
The COVID-19 pandemic, now approaching its third year, has permanently redefined the global shopping experience. More and more brick-and-mortar storefronts are closing in favor of online retail experiences. Many retailers and fulfillment centers are expecting a continued, sizeable increase in online order volume this year.
During the holiday peak season, which has typically started with Black Friday, warehouses can expect around a 3X increase in the number of the shipments they need to process and fulfill. For many companies in the consumer market, 60% to 70% of the money they make annually is made during this holiday push.
This year, however, even more online buying and selling is expected. Depending on the different hot ticket items and other goods like groceries, sundries and clothing that are moving to online mediums, expectations are for anywhere between a 25% and 50% increase in the sheer volume of orders that need to be processed compared with Q4 of 2020. That's a lot of extra merchandise to move.
But how is your warehouse going to handle this increase when it's becoming harder and harder to get the inventory you need in a timely manner? And how will current shipping backlogs affect what you're promising your own customers?
You may also like: Taking on the role of a warehouse, third-party fulfillment services offer a smart cost-effective solution in order fulfillment. You can check our order fulfillment article for more information
Challenge #2: Supply Chain Disruptions
Right now, top retailers are warning customers that it may take longer for items they purchase to arrive on their doorsteps. Trade tariffs between nations, the pandemic causing continued shutdowns or delays at manufacturing facilities, understaffed and overworked port operations holding up overseas shipping processes, rising fuel prices and local transportation channels being strained have all contributed to a critical mass moment for the global supply chain.
Everything from paper products to foods to electronics and yes, even those hot-ticket holiday items are suffering from "out-of-stock" syndrome. This means retailers and fulfillment centers that want to create memorable customer buying experiences are going to have to cough up more cash — or find new solutions — to ensure they have the inventory to move, when it needs to be moved.
Challenge #3: Tight Labor Market
Even if you get sufficient inventory in place, who's going to help move all of those extra goods? As noted earlier, the pandemic has tapped a lot of traditional resources, including workforces – many professionals having transitioned to remote working environments themselves. This, coupled with recent push backs from workers over pay, career paths, benefits and more that have seen many frontline workers opting to simply quit their jobs, has led to a massive workforce shortage.
For warehouse and fulfillment center operations, this means finding that extra seasonal help might prove more difficult moving forward. Some companies are reaching out to the workforce early. Others are offering signing bonuses to attract workers that have quit other professions. Still other companies are looking a lot harder at the latest WMS software and technologies that can help automate and streamline warehouse logistics and shipping tasks.
Challenge #4: Investing in Technology
Are the current systems you have in place up to the challenges of a dynamic and growing market? Unless you're using the latest cloud-based warehouse management software and inventory management software, odds are there are some fulfillment process issues that need to be addressed.
Without a fully automated system in place even your best processes and procedures can become unreliable on your busiest days. Perhaps your inventory counts are off. Maybe picking and packing processes are not ideal. Manual data entry or task processing could be slowing down your peak season fulfillment speeds. Disconnected billing and fulfillment center systems and data could be causing unnecessary delays. Your workers, despite being well trained, must spend extra time comparing product numbers, SKU codes or locating buried inventory, and make the occasional, but costly mistake. All of these can add up to create a poor end-customer experience (more on that below).
For many companies in the consumer market, 60% to 70% of the money they make annually is made during this holiday push. Whether you're a 3PL or a company running your own warehouse, now is the time to make sure your warehouse is ready to handle the holiday rush.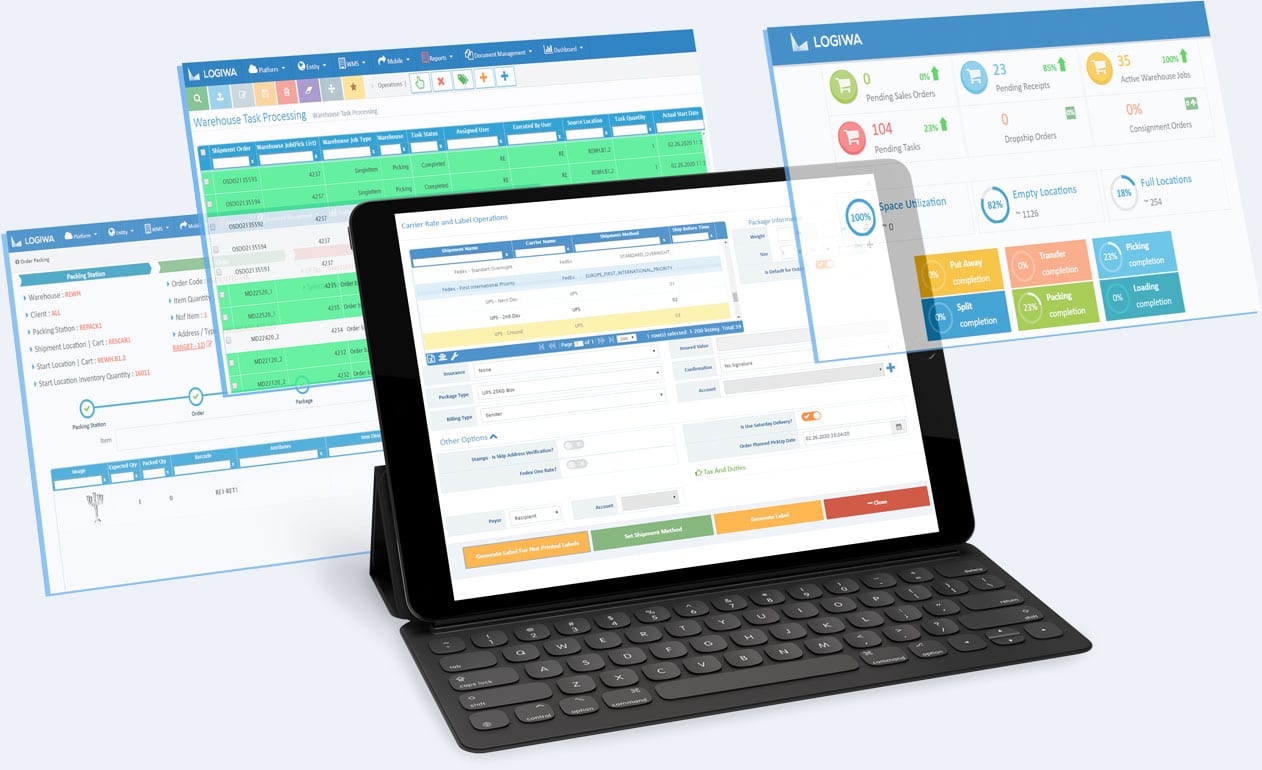 Transform your warehouse to a DTC fulfillment center
Selling an Experience
So why is getting ahead of this—and future holiday fulfillment challenges so important? At the end of the day, whether you're a direct-to-consumer retailer or a 3PL company, your business depends on the end-buyer.
In today's new economy, the brick-and-mortar shopping experiences are largely being replaced by ecommerce. Shopping online means that looking over products in the stores, sometimes trying them out, the satisfaction of bringing a new item from store to car to living room in less than an hour – these experiences are all gone. New experiences take over when that buyer hits the 'purchase now' button.
Unless you're selling or shipping a truly unique item, scores of other companies and warehouses out there are doing what you do every day. The growth of the internet and ecommerce means you're not the only store in town to carry an Atomic Flashlight or the latest LuLu Lemon designs. Buyers know they can get these items shipped to their door within days from any corner of the globe and (generally) easily return these items if they don't like them. So, their buying experience is much more important today than the products themselves.
If you're a brand, delivering your products direct to consumers, those experiences start with how easy it is to find the product they want and navigate to and through your website. Are your buying processes streamlined for every imaginable mobile device and mobile application? How easy is it for buyers to compare reviews, get more details on products or add and remove items from their virtual shopping cart? Are all shipping options, fees, taxes, and other charges easily communicated and understood? When buyers make a purchase, are they thanked warmly or delivered sincere messages? Are confirmations quickly received? These are all part of the ecommerce experience today that feed consumers need for instant gratification.
But it doesn't stop there. Whether a direct seller or a third-party fulfillment provider, if your warehouse cannot live up to promises and expectations your or your clients' reputations as a trusted online seller will take a massive hit. For 3PLs, this can mean unhappy clients and fulfillment contracts that do not get renewed.
If orders are mishandled, lost, forgotten, or ignored; if communications are terse, vacant or non-existent when issues arise; if products are shipped late and arrive later than consumers expected; if wrong items are sent; if refunds and returns are contentious … consumers and your clients will remember.
Negative comments and ratings are the strongest word of mouth in today's digital age. Consumers, like everyone else, find it easier to speak their peace, complain and throw shade at companies from the safety of their home desktops or mobile devices. So, the buying and fulfillment experience you deliver needs to give them every reason not to, or conversely praise their experiences instead.
The bottom line is that, more than ever, the order fulfillment experience is becoming a major factor in whether consumers will continue to shop online for a particular brand. So whether you are a brand managing your own ordering and fulfillment or third-party logistics company managing the process for your clients, now is the time to make sure you're implementing best practices and investing in current technologies to keep up with the explosion in ecommerce volumes.
In Part 2 of this article, we'll cover best practices for peak season preparation, including a practical checklist and information on how intelligent software can help you transform your ordering and fulfillment operations into an efficient, high-volume machine!
Logiwa is the leading cloud WMS and order fulfillment software for B2C and direct-to-consumer business. Request a demo and start to scale up your high-volume fulfillment operations.
Pre-integrated with the leading ecommerce, marketplace, shipping and accounting platforms
Warehouse Management
Modern digital WMS powers a modern fulfillment experience