WMS Integration Technology That Cannot Fail: The Logiwa Difference
Originally published on July 11, 2023 by Baris Duransel, Updated on October 16, 2023
Choosing the right warehouse management system (WMS) is key for high-volume order fulfillment, and there is one important element that can determine operational success: WMS integration power.
For retailers, distributors, online sellers and third-party logistics (3PL) providers, the strength of a WMS often hinges on its ability to effectively connect with popular ecommerce channels, shipping carriers, accounting solutions, and robotics technology. Moreover, a top-tier WMS is capable of maintaining strong relationships with each of its integration partners, ensuring easy data exchange, consistent up-time, and ongoing security.
Logiwa WMS was designed to manage any and all integrations needed to achieve B2B, DTC, and hybrid fulfillment excellence within one intuitive platform. Let's discuss the importance of WMS integration technology, the benefits of Logiwa's approach, and why integrations with our solutions guarantee success.
In this guide, we'll discuss:
The Relationship Between WMS Integration and Fulfillment Success
Having the right tech stack can make or break your warehouse operations, especially if it limits your ability to integrate with other solutions. When it comes to streamlining supply chains and competitive order fulfillment, your integrations and partnerships make the difference.
Regardless of the size of your operation, having flexible integrations with your preferred solutions impacts how fast, accurate, and positive a fulfillment experience you can deliver. With the right WMS integrations in place, you can:
Grow your customer base, ecommerce presence, and fulfillment reach;
Ensure accurate, on time deliveries without exception;
Stay on top of accounting activities and business administration;
Adopt different robotics technologies to improve operational safety and efficiency;
Streamline supply chain logistics, including internal warehouse processes;
And more.
When WMS integration technology is working as it should, you gain endless opportunities to grow your distribution network, enhance fulfillment capacity, and take on more functionalities on behalf of your clients and consumers.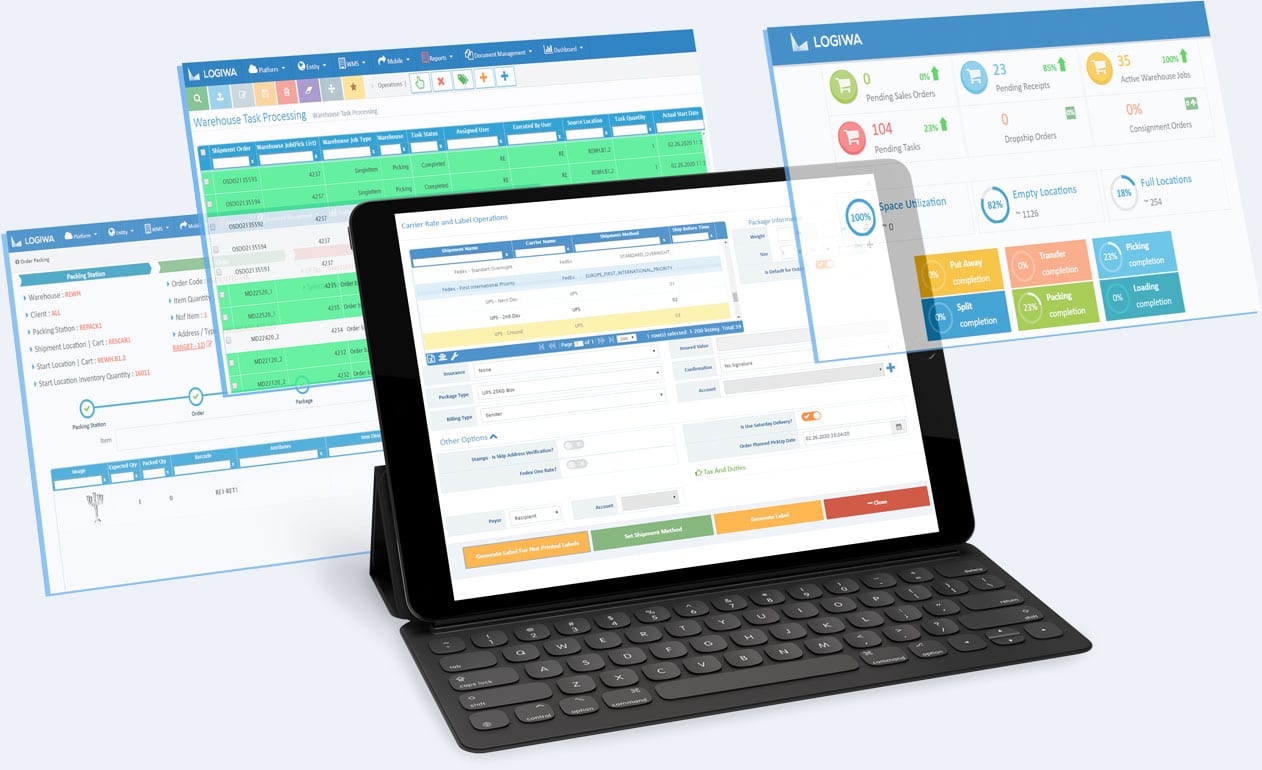 Transform your warehouse to a DTC fulfillment center
The Pillars of Logiwa's WMS Integration Strategy
The good news is that Logiwa has perfected the art of WMS integration, providing high-efficiency fulfillment results and long-term stability. We work with your existing tech stack and provide more than 200 pre-established integrations, as well as the ability to establish new ones.
Good integrations go beyond the ability to connect; it's also about the experience you have using them. That's why Logiwa's approach to WMS integration incorporates the following five major pillars.
Unlimited Flexibility
With our system, you can choose as many integrations as you want, as well as turn them off when they are no longer of use to you. If there's a niche provider or platform you need access to to meet your specific goals, our team will work to build that integration on your behalf. Accessible and scalable integration options make it possible to continuously meet the changing needs of your business, from consumer demand to competitive fulfillment standards.
Strong Partnerships
The way a WMS provider interacts with various integration partners can have a profound influence on the long-term success of integrations, as well as affect workflows and client/customer satisfaction. Logiwa helps establish unbreakable fulfillment networks by maintaining harmonious partnerships. Our reliable relationships with today's top ecommerce channels, shippers, billing and accounting providers, and robotics companies results in optimized integrations and positive user experiences – free of limitations and unexpected changes.
Seamless Data Flow
Our solution arranges the real-time, effortless flow of critical information between your warehouse operations and your various integration partners. Push and pull product data, order information, billing/accounting information and reports whenever you need them. Logiwa WMS operates with an Open API while simultaneously supporting webhooks, EDI transaction sets, and a multitude of file types for logistics and warehousing business needs.
Dependable Up-Time
Logiwa's cloud solution has a 99.9% uptime record, meaning zero interruptions or downtime for your fulfillment operations. Because we are a cloud-native operation, our solution updates do not require disrupting your operations or hitting the pause button on your integrations. This is to ensure no data is ever lost between you and your integration partners.
Data Security
From unethical data-sharing to data breaches and supply chain hacking, fulfillment operations are managing serious risks on behalf of their warehousing clients and ecommerce customers. Logiwa's system was built on Microsoft Azure to guarantee compliance and protect user data. Our robust infrastructure offers the highest level of data security at both the application and network levels.
Whether it's to major ecommerce sites (i.e. Shopify, Amazon, eBay, Walmart, etc.) or custom websites… major shippers (i.e. FedEx, UPS, DHL, Deliverr, etc.) or local carriers… our solution sets the standard for modern WMS integration technology. Check out our Logiwa Integrations page to learn more about our ready-made integrations.
Logiwa's WMS Integration Technology
By streamlining online orders directly to your fulfillment centers, you empower your warehouse operations to execute fast, accurate and cost-effective direct-to-consumer (DTC) fulfillment. And with Logiwa's integration technology, all it takes is a flip of a switch and some login information to get started.
Logiwa WMS is an award-winning cloud fulfillment platform with more than 200 flawless integrations already in place within our solution. We offer the ability to add new integrations with our Open API, webhooks, and EDI capabilities, so your team has everything you need to succeed and achieve your current and future goals: end-to-end network visibility, high-efficiency workflows and accurate, unified data for maximizing the results of your B2B, DTC, or hybrid fulfillment operation.
Discover more about our integrations, customization offerings, and other competitive fulfillment functions by requesting a demo today.
Adjust quickly to ever-changing fulfillment requirements with the most flexible WMS
Warehouse Management
Modern digital WMS powers a modern fulfillment experience