B2B and DTC: The Hybrid Fulfillment Warehouse
Originally published on December 2, 2022 by Logiwa Marketing, Updated on March 3, 2023
These days, the competition is fierce for fulfillment services. One trend which has emerged as a result is B2B warehouses taking on direct-to-consumer (DTC) orders to form hybrid fulfillment operations. The resulting hybrid warehouses, which combine B2B and DTC order management, allow businesses to serve two markets, increase profits, and expand fulfillment operations. 
The rise of online shopping has made hybrid operations such as these an inevitability for most brands, wholesalers, distributors, and third-party logistics (3PLs) providers. Consumerism has officially moved away from brick-mortar-shops (primary driver of B2B fulfillment) in favor of online ordering (primary driver of DTC fulfillment), making B2B and DTC compatibility more important than ever in modern warehouses. 
In this blog, we will discuss moving from a B2B warehouse model to one that includes DTC as well:
The Rise of Hybrid Warehouse Operations
B2B Fulfillment vs. DTC Fulfillment
Why Create a Hybrid Warehouse?
How to Get Started with B2B/DTC Fulfillment
The Rise of Hybrid Warehouse Operations
DTC fulfillment is growing, and so are hybrid warehouses as a result. Recent research reveals that more than half of today's consumers prefer to receive purchases directly rather than traditional in-store shopping methods. Sheer convenience is a huge factor in DTC's popularity, and that has led many businesses to evolve their fulfillment approach.  
The fact is: industry stats reveal that ecommerce is ever-growing, and so, therefore, is DTC warehousing and hybrid fulfillment operations. Consumer trends indicate a permanent shift towards online shopping, with global ecommerce sales forecast to hit $5.7 trillion by the end of 2022. DTC is slowly eclipsing traditional brick-and-mortar stores. As a result, we've entered the era of DTC warehousing and B2B-DTC hybrid operations.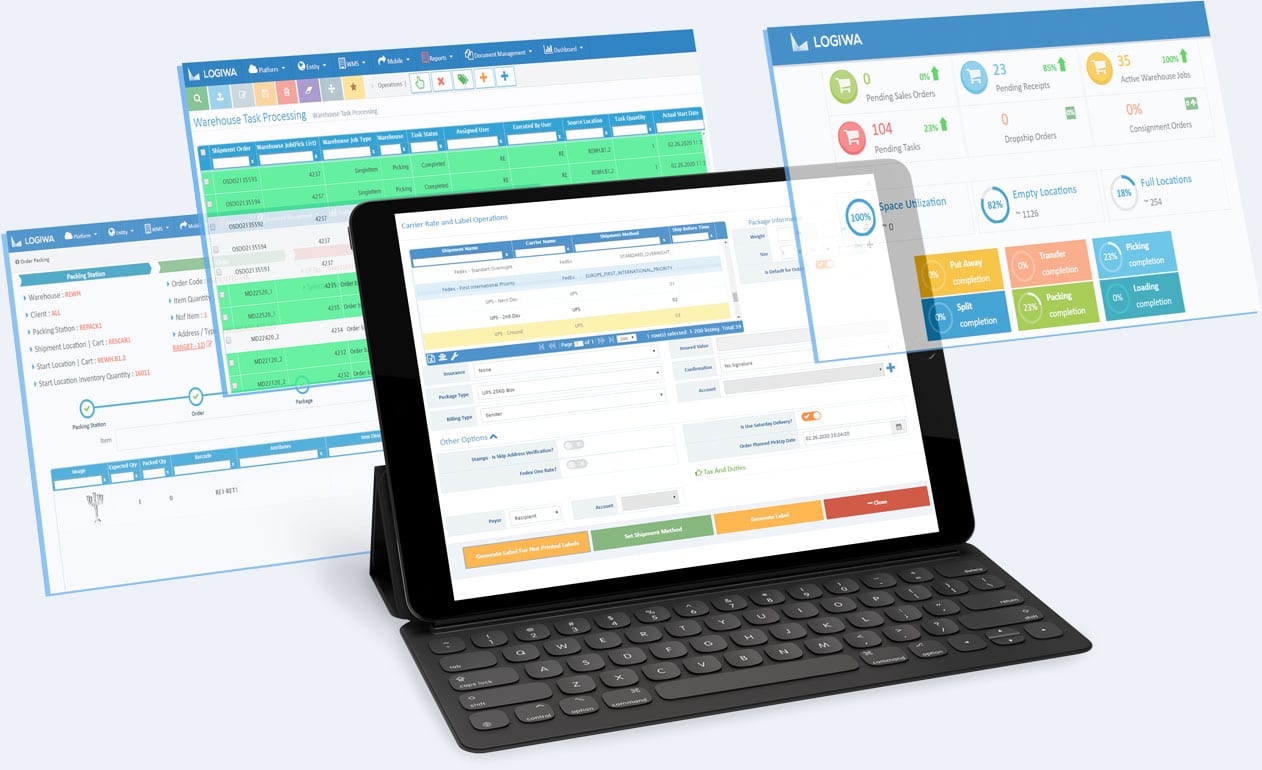 Transform your warehouse to a DTC fulfillment center
B2B Fulfillment vs. DTC Fulfillment
Before exploring how to upgrade your traditional B2B warehouse to include DTC operations, it is important that you have a complete understanding of differences in these two fulfillment models and their effect on warehouse facilities. 
It goes without saying, but B2B warehouses manage inventory and processes for businesses selling to other businesses. These warehouses tend to be large, but less complex in nature than DTC warehouses, and include a lot of racks, pallets, and forklifts. Overall, there are fewer steps and less immediacy to B2B fulfillment operations. 
DTC warehouses, on the other hand, sell products to consumers directly, but it requires meticulous order management, internal warehouse processes and assistive software to maintain accurate fulfillment results. Within a modern DTC warehouse, you will find putaway walls, put-to-light systems, multiple sorting and packing stations, AMR robots working with human pickers, and multiple forms of automation at work. 
All in all, you're constantly shipping to earn revenue, and the process is much more labor-intensive. Consider the following pencil example: 
Just imagine you have 10,000 pencils to ship. In a B2B fulfillment environment, you would load those 10,000 pencils on a couple of pallets, put them on a truck, and send them to their end location. For a DTC warehouse, you still have 10,000 pencils to sell, but possibly thousands of individual customer orders to process. Your employees would need to pick, sort, and pack thousands of pencils, including making up the boxes and unique print labels before each could ship effectively.  
So how do you bridge the gap between these two operational models to create your own hybrid warehouse?
You can find more information about B2B commerce, a new business model, in this article. Ecommerce Partnerships: B2B Commerce
Why Create a Hybrid Warehouse?
Combining B2B and DTC is a lucrative choice for many logistics operations. Hybrid fulfillment is based on the same premise as all hybrid endeavors – bringing together two or more things with a common aim. What's so great about taking this approach to order fulfillment is that it actually allows you more flexibility and, most importantly, adaptability for today's competitive markets and supply chains. 
Hybrid models encourage growth and can evolve as quickly as your business needs. When done successfully, hybrid warehouses allow you to further your market reach, take on more customers, increase profits, bolster your brand, and eventually grow a larger fulfillment network. 
Finally, it should be noted that hybrid warehouses can be more focused on one form of fulfillment over the other. And one portion of your warehouse can focus on B2B, while another concentrates only on DTC. 
How to Get Started with B2B/DTC Fulfillment
Wondering where to begin your B2B/DTC journey? We know it can feel like a daunting leap. Luckily, Logiwa has already helped companies like Badger Fulfillment Group to make the transition. Badger transformed their B2B warehouse into a hybrid operation that includes direct-to-consumer order fulfillment with the help of our industry-leading cloud fulfillment platform. 
Logiwa helped Badger streamline and maximize all their warehouse processes for better end-to-end management of B2B, DTC, and location-to-location (LTL) orders with our smart putaway algorithms and automation technology. They are able to easily manage the different types of customers they want to take on, eliminate order and shipment inaccuracies, and maintain visibility for each of their clients from one flexible warehouse management system (WMS).  
Want to learn more? Logiwa can help. Request our DTC fulfillment playbook for more insights on building hybrid operations with a free demo or contact our team today.
Run a fully digital warehouse with mobile apps, smart job batching, automation rules