How Warehouse Automation Benefits Labor
Originally published on June 20, 2023 by Erhan Musaoglu, Updated on July 5, 2023
Even with the
U.S. unemployment rate being the lowest it's been (3.4%) in 53 years
, fulfillment operations continue to face chronic warehouse labor shortages. According to major supply chain sources,
73% of warehouses
are unable to find enough workers to effectively meet their operational needs and the demands of modern ecommerce.
Understaffed operations are trying everything – higher wages, sign-on bonuses, and perks like commuting and tuition reimbursement – but these efforts have not been enough to beat the labor shortages plaguing the logistics industry. As a result, many experts believe the source of the problem is actually warehouse working conditions.
In this blog, we will discuss how facility conditions contribute to warehouse labor shortages, why warehouse automation is the solution to attracting and retaining workers, and the technologies helping to relieve this hurdle for today's B2B, DTC, and hybrid fulfillment operations.
Warehouse Working Conditions in 2023
Warehouses have been around for hundreds of years and though they have drastically evolved, they are often still considered stressful, even dangerous, work environments. Recent disruptions in global supply chains and chaotic conditions brought on by surging ecommerce demands have worsened this reputation, and thus have contributed to ongoing warehouse labor shortages.
While operators have gone to great lengths to improve facility conditions, ensure worker safety and increase employee wages, the problem remains that many warehouses are still under-automated and overrun with direct-to-consumer (DTC) orders. In the end, the warehouse environment itself remains one of the primary deterrent keeping employees away.
But there is hope to be had, and it comes in the form of warehouse management systems (WMS) and warehouse automation, which help to streamline fulfillment processes and relieve workers of strenuous physical labor, repetitive tasks, and environmental stress. For a deep-dive into the automation technologies helping businesses overcome warehouse labor shortages, check out Logiwa's blog, "3PL Automation for Overcoming Labor Shortages."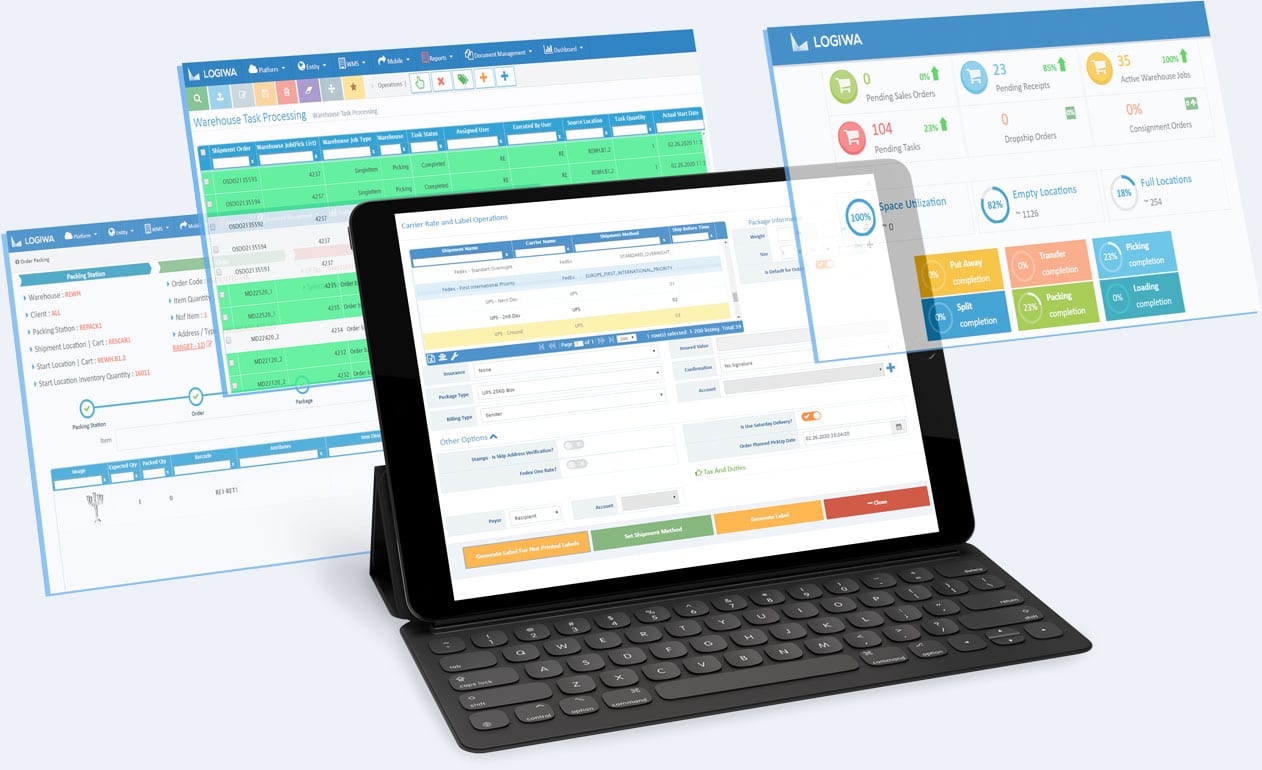 Transform your warehouse to a DTC fulfillment center
How Automation Improves Warehouse Labor Conditions
Automation isn't just about reducing the need for a large warehouse labor force, it actively improves facility conditions and the morale of warehouse employees. From relieving workers of physical strains to streamlining mentally exhausting tasks, warehouse automation makes virtually every part of the fulfillment process easier for all parties involved.
Benefits of Warehouse Automation on Labor
Less worker injuries. Mental fatigue, physical strains, and major injuries caused by repetitive actions like lifting containers, carrying items up and down isles, and bending down to lower racks can be eliminated with the use of warehouse automation. For example, robots can take over high-risk tasks retrieving overhead items and replenish pick bins with high levels of precision and zero physical risk. They can also prevent accidents caused by exhausted or unfocused employees, such as forklift incidents or collisions between pickers.
Less miles walked. Automated warehouse management systems help guide operations, and can execute many tasks on behalf of employees. This might include the use of sorting systems, conveyor belts, and robotics fleets to keep inventory moving to their next location without the need for human intervention. With the help of AI-powered software and smart automation rules (e.g. smart picking algorithms and walking path optimization tools), workers walk a fraction of the distance they normally would to complete successful putaway, picking and packing, and shipping processes. The more automation mechanisms you have in place, the less guess-work and physical labor is required of your employees.
Less errors. Nothing depletes morale faster than facing unnecessary, extra work, especially if a worker is already facing burnout. Mental exhaustion and boredom are the most common causes for manual errors, fulfillment inaccuracies, and confusion in the warehouse. Redoing inventory counts, reprocessing orders, and (if flawed orders get shipped) handling returns all inevitably affect employee morale and turnover. With efficient warehouse automation approaches like put-to-light systems or barcode scanning, there's less decision-making for your employees to do and fewer inaccuracies to correct. This makes tasks easier to complete and decreases workloads.
Easier peak seasons. Warehouse management systems (WMS) use automation rules to facilitate smart putaway, create pick jobs, and prioritize fulfillment tasks and optimize workflows. This eases the stress of high-volume order fulfillment during peak seasons and helps your employees to achieve higher levels of productivity and satisfaction during your busiest times. Moreover, warehouse automation technology is designed to be intuitive, so new hires and temporary workers can get started with minimal disruptions to your operations and other employees.
Company culture. It may come as a surprise, but most automated warehouse technologies actually reduce the amount of noise in a warehouse. Automated inventory storage systems and robotics fleets, for instance, are virtually noise-free. Quieter operations not only allow employees to safely navigate around their environment, but it allows them to communicate with other workers and strengthen the comradery of their teams. It also makes hearing communal music or speaker announcements much easier, which helps contribute to a more positive environment overall. It may seem like a minor benefit of automation technology, but it can have a profound impact on the employee experience.
For an in-depth overview of the key elements and best practices in labor planning, download Logiwa's guide, "5 Steps to Successful Warehouse Labor Planning."
Cloud Fulfillment Technology for Combating Warehouse Labor Shortages
With consumers expecting rapid turnaround and perfect accuracy, warehouse operations need the power of a dependable workforce and competitive fulfillment technologies to succeed. Receiving, putaway, replenishment, picking and packing, and shipping all become easier with the help of Tier-1 WMS like Logiwa WMS. And when it comes to competing for top warehouse talent, showcasing employee ease and fulfillment excellence will put you a step above other fulfillment operations.
Logiwa's cloud fulfillment technology was designed to tackle the challenges of high-volume B2B, DTC, and hybrid operations and transform even the most complex warehouses into streamlined fulfillment machines. The best part? It only takes warehouse employees a day to get comfortable with our system. Check out our Badger Fulfillment case study to see for yourself, or request a free consultation today!
Mobilize everything to understand how your employees move and operate in your warehouse
Warehouse Management
Modern digital WMS powers a modern fulfillment experience