Fulfillment Excellence in 2024 and Beyond: Trends in Customer Expectations
Originally published on July 28, 2023 by Erhan Musaoglu, Updated on August 31, 2023
Consumers have jumped on the ecommerce bandwagon, and show no signs of getting off.
What was once considered a temporary trend in retail is now the preferred shopping method of many. Even with the re-opening of brick-and-mortar stores, hunger for home delivery has continued to skyrocket. Research estimates that by 2026, 24% of all retail purchases will take place online, and by 2040 that percentage will rise to 95%.
The reason for this is simple: it's enjoyable and easy to shop online. Technological advancements, changing consumer behaviors, and evolving fulfillment standards have propelled online shopping into a thriving ecosystem offering convenience and choice. Businesses that give consumers a streamlined order processing experience—from virtual cart to doorstep—will be the winners.
But how do you achieve fulfillment excellence in the face of rising demand (and consumer expectations)? Let's look at some key strategies for achieving order fulfillment excellence and customer satisfaction in the ever-evolving landscape of 2024.
Lightning-Fast Delivery: The New Standard
According to recent insights from the Baymard Institute, 22% of US online shoppers say they have abandoned online carts as a result of a slow projected delivery times. In today's ecommerce landscape, where one- and two-day delivery options are considered the norm (and same-day delivery is becoming more common), businesses need to be able to live up to their customers' delivery expectations.
Getting customers to complete checkouts means investing in:
Optimized Inventory Tracking: Logiwa's WMS employs smart algorithms that accurately track stock levels in real time, to prevent stockout (and unhappy customers).
Seamless Shipping Integration: Connect your warehouse operations with leading shipping partners to analyze shipping rates, carrier options and packaging requirements to reduce waste, save money and ensure on-time deliveries.
High-Tech Last-Mile Delivery: Drones, autonomous vehicles and robots can work faster and more accurately, optimizing shipping operations increasing delivery efficiency from the moment an order is processed.
Prioritizing new technologies and upgrading your shipping logistics with a next-gen cloud-based WMS like Logiwa is the first step in B2C/DTC fulfillment success.
Related: How MPR Logistics maintains a 100% shipping success rate with Logiwa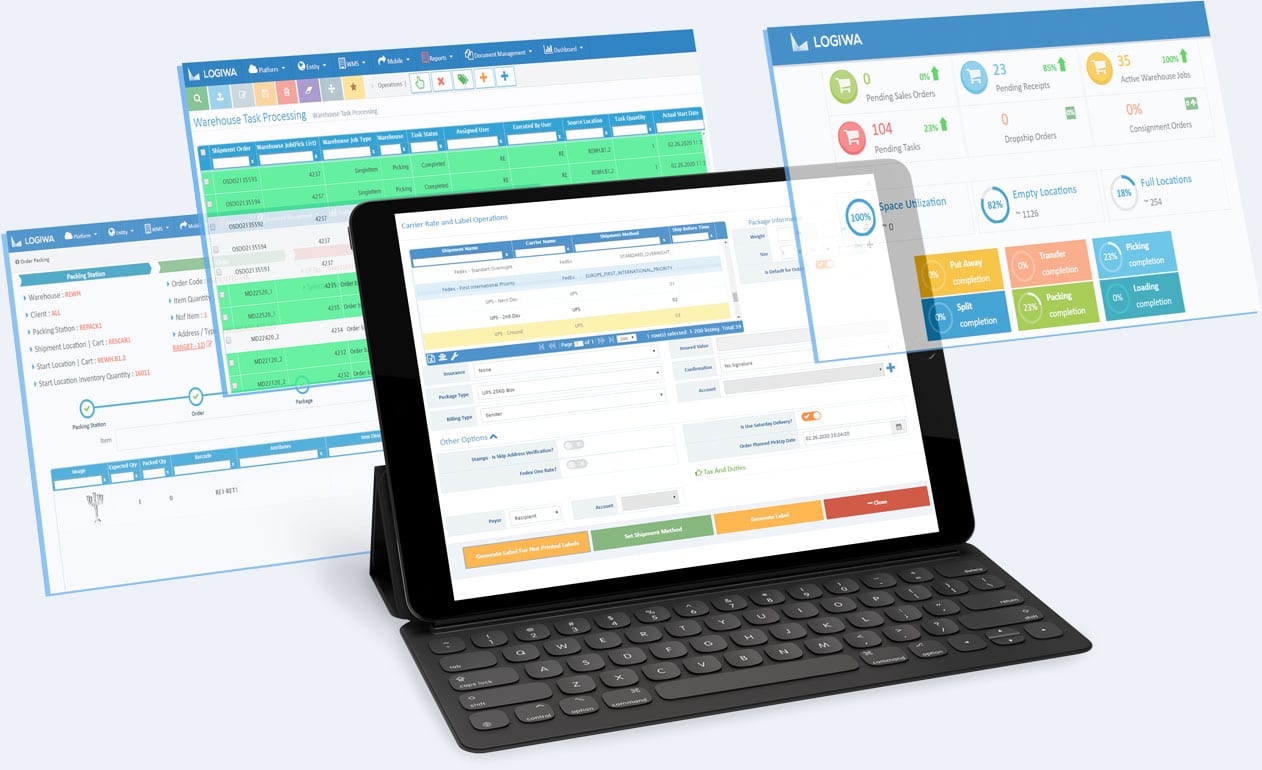 Transform your warehouse to a DTC fulfillment center
Empower Customers with Order Tracking
A good fulfillment experience can mean the difference between having a one-time customer and gaining a loyal advocate. After all, buying anything online is a leap of faith: customers that trust you'll send them exactly what they ordered tend to return.
One of the best ways to build that trust between you and your customers is through order tracking. Providing automated notifications, tracking numbers and real-time updates help keep customers informed and involved, thereby increasing brand loyalty.
Logiwa's WMS seamlessly integrates with 200+ ecommerce, marketplace and shipping systems, making it easy to supply accurate updates on shipment progress, and keep customers in the loop at each step of their order's journey.
Hassle-Free Returns, Heightened Satisfaction
With how convenient online shopping has become, today's customers expect the return process to be just as smooth. And with good reason: according to NGPF, the average return rate for online purchases is 20.8%.
It's not surprising that online returns tend to be high—customers add items into virtual carts without being able to hold them or try them. That's why making it easy to return products without complications or hassle is so crucial to enhancing customer satisfaction.
Returns offer an opportunity to delight customers when you implement efficient processes including:
Clear return policies on your website
Prepaid return labels for ease of use
Protective materials for fragile items
A painless returns experience showcases customer-centricity and helps establish your commitment to long-term relationships based on trust and loyalty.
The Return Station in Logiwa's WMS software makes handling returns easy, with mobile scanning technology and customizable software for seamless inventory management. Read the article to learn more.
Forget One-Size-Fits-All
By mastering lightning-fast delivery, empowering shoppers through order tracking, and providing hassle-free returns, you can personalize your customers' experiences in a way that helps you stay ahead of expectations—and on top of what matters most to ecommerce shoppers in 2024.
Ready for a more tailored, dynamic and innovative approach to ecommerce fulfillment excellence? Book a demo to see how Logiwa can take your warehouse operations to the next level.
The Leading Supply Chain Management Software for "New Age" B2C/B2B Fulfillment Businesses
Warehouse Management
Modern digital WMS powers a modern fulfillment experience