5 Ecommerce Shipping Best Practices to Improve Logistics
Originally published on April 20, 2023 by Erhan Musaoglu, Updated on April 21, 2023
If you're in ecommerce, then you know that shipping is often the greatest inhibitor to fulfillment success. From assembling accurate orders to determining the most cost-efficient carriers, the shipping process includes countless steps- all of which require special attention and care.
To improve shipping operations in your warehouse, all you need to do is follow a few best practices.

In this guide, we'll discuss the top 5 ecommerce shipping best practices and how to implement them.
Why Effective Ecommerce Shipping Matters
For an ecommerce warehouse, shipping can either be a benefit or a hindrance to customer retention. Having a well-defined shipping process is paramount for streamlining direct-to-consumer (DTC) fulfillment success. While your packages may arrive safely at their destination in the end, this doesn't mean your shipping strategy is as effective as it could be.
For example, when shipping issues arise, consider your customer service processes. Do you have an effective system in place to communicate and resolve problems? How is your team alerted to inaccurate shipments or duplicate orders? Do your customers have to call to determine where their packages are?
Or, consider your order fulfillment process. Are you checking orders for accuracy before they ship or simply fulfilling orders as fast as possible to meet steep consumer demands?
These are just a few scenarios to show how an ineffective shipping strategy can derail fulfillment operations. And unfortunately, the effects of an ineffective shipping strategy don't stop there. It can lead to a myriad of other problems, including order cancellations, refunds, and displeased customers that don't return.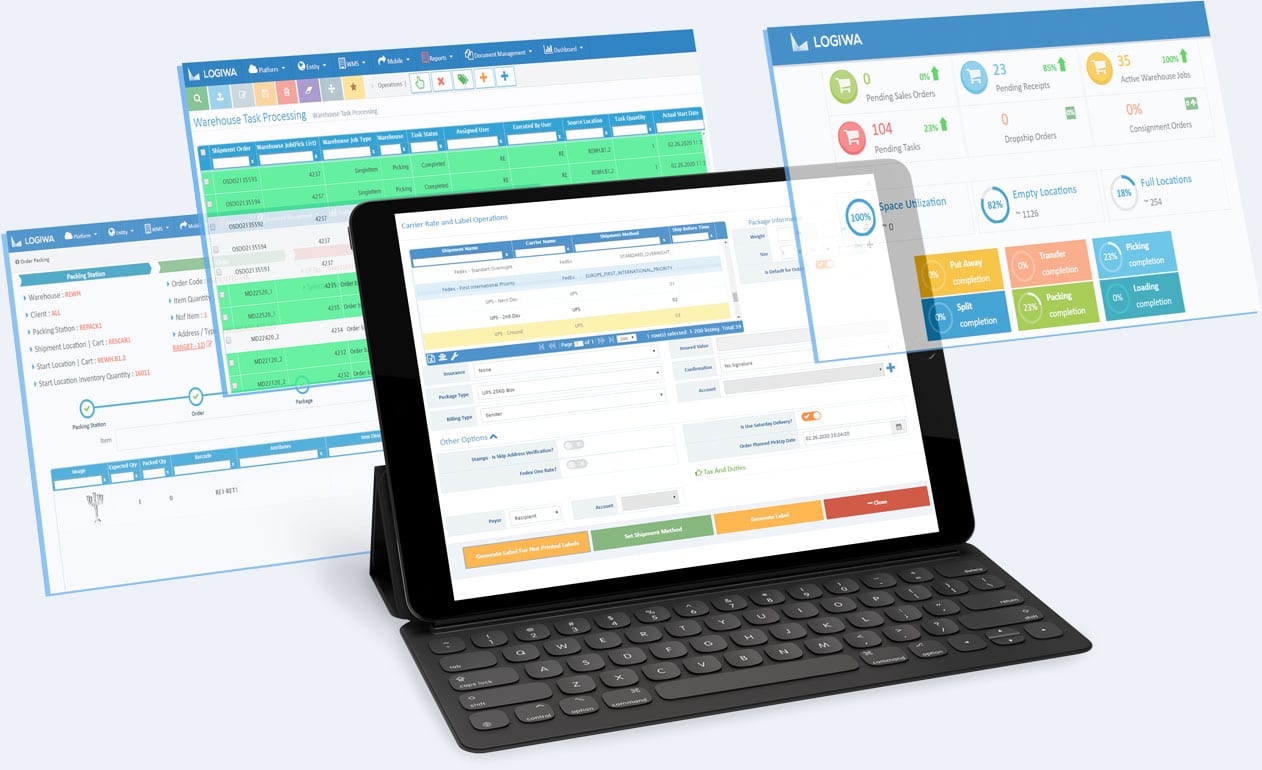 Transform your warehouse to a DTC fulfillment center
5 Ecommerce Shipping Best Practices
While every ecommerce warehouse is different, the struggles of high-efficiency shipping are universal. Luckily, there are a few best practices you can prioritize within your warehouse to overcome them:
Solidify your shipping methods. Stay consistent and clear about your shipping time frames and methodology.
Provide real-time shipping costs. Stay transparent with customers about the fluctuating cost of shipping.
Develop a product return strategy. Streamline the return process for your warehouse and provide a great customer service experience.
Harness the power of automation. From shipping labels to package dimensioning, make the process smooth and seamless.
Implement a warehouse management system. Finding the right warehouse management system (WMS) for ecommerce can significantly improve and streamline your shipping process.
#1. Solidify Your Shipping Methods
One of the most fundamental best practices for ecommerce shipping is maintaining a consistent and clear strategy around your shipping methods and time frames. This helps set the correct expectations with your customers.
For example, if a particular product in your warehouse is one consumers need in a hurry, then it makes sense for you to structure your operations to meet that need. That may mean incorporating faster delivery methods as part of your shipping strategy, as well as order routing and overnight shipping options.
Logiwa WMS offers a connected ecommerce fulfillment platform that determines and organizes the best routes between fulfillment centers and shipping addresses, regardless of the shipping method you use.
#2. Provide Real-Time Shipping Costs
Another important ecommerce shipping best practice is to maintain transparency around your shipping rates. While other warehouse and third party logistics (3PL) operators in the ecommerce sector realize that shipping rates are always in flux, the average consumer does not. So providing some degree of clarity around shipping costs in real-time is essential for a good shipping strategy.
If you provide a subscription service for a recurring purchase of a product, but the shipping fluctuates without the customer knowing, then it could lead to confusion and frustration among your buyers.
Likewise, if shipping is free for two-day delivery but not for one day, then those prices should be communicated in the cart and during checkout. This will go a long way to helping reduce abandoned carts, unexpected order cancellations, and even returns.
Real-time shipping costs are easy to provide when you integrate your ecommerce platform with a WMS. For example, Logiwa WMS has over 200 integrations – including popular shipping carriers – to ensure your ecommerce apps and software show accurate, up-to-date rate changes and shipping data within the Logiwa WMS ecosystem.
Better yet, Logiwa WMS has ecommerce shipping functionalities like shipping rate shopping, so you're always getting the best possible deals on shipping rates.
#3. Develop a Product Return Strategy
In an ideal world, no customer would ever want to return a product. Unfortunately, as ecommerce grows so do the number of returns faced by fulfillment operations. This makes having a simple, cost-effective returns strategy one of the most important ecommerce shipping best practices to uphold.
Your product(s) will not be the right fit for every single buyer: this is to be expected. But if you don't have a process in place for handling those returns, you're going to be dealing with a lot of disgruntled customers at a critical time in the customer relationship.
Questions to consider include:
Who pays for return shipping?
Is an exchange possible?
Where do return packages need to be delivered to?
How simple is it to request a return?
Do returns need to be managed by a person or can they be automated?
Getting answers to these questions will go a long way toward determining how you'll handle product returns.
Building out a comprehensive product return strategy is an ecommerce shipping best practice that's often overlooked or poorly executed. Having a return strategy in place will help lower costs. Plus, when return management costs go down, profit goes up.
Logiwa WMS has an ecommerce warehouse execution solution that can help to reduce return management costs and help you answer a lot of these questions with a few clicks. This makes handling returns far less painful for the customer and your company alike.
#4. Harness the Power of Automation
Automating simple, repeatable tasks is another easy way to streamline fulfillment and make your shipping strategy more competitive. In fact, when it comes to ecommerce shipping best practices, it may be one of the most under-used but valuable approaches available.
For example, rather than having every shipping label manually updated, generated, and printed, you can minimize operational expenses and time by allowing a WMS to automate this process and carry it out automatically as orders are being prepared.
Another example of shipping automation would be package dimensioning. Leading WMS platforms know the dimensions of various products and packing materials, and can coordinate those two pieces of information so packers know exactly which materials to use for each order. Automating this traditionally manual process expedites the shipping process and guarantees cost-savings.
Assessing each step, from order picking to assembling packages to ship, can reveal areas of inefficiency where automation is possible. Over time, those bottlenecks and extra hours can amount to significant losses in total revenue.
As mentioned earlier, the smart shipping software tool in Logiwa WMS can help automate many aspects of this process. With our smart inventory management approach and built-in automations, your team can instantly label packages and ensure the correct dimensions for every order.
#5. Implement a Warehouse Management System
It goes without saying, but one of the best practices for ecommerce shipping is to implement a high-quality warehouse management system (WMS).
A WMS built with ecommerce fulfillment in mind will naturally resolve the most common shipping issues, as well as a multitude of other challenges that plague the ecommerce logistics industry.
The right WMS for your warehouse will not only cover all of the ecommerce shipping best practices we have discussed so far, but will also provide the flexibility needed to meet the needs specific to your warehouse.
For example, a WMS can integrate with tools that already work in your business. It can help ensure speedy customer service and adjust scale. It can also improve receiving operations, inventory management, picking and packing procedures, and billing related to value-added services and returns. Put simply, the right WMS software will be able to help your ecommerce enterprise thrive.
A high-quality WMS should be compatible with and support your shipping strategy, including being able to meet recurring and regular orders, updates, returns, and cancellations with ease. This leads to happier customers and higher functioning warehouses, and simultaneously reduces labor hours, redundant daily processes, and unnecessary spend.
Logiwa WMS understands that every second counts when you're managing ecommerce warehouses and offers Tier-1 functionality for ecommerce shipping. Our cloud fulfillment platform provides several ecommerce solutions that other WMS tools simply do not have in order to help your enterprise increase customer retention, reduce operational expenses, and optimize decision-making based on shipping rates, carrier features and powerful analytics.
That way, your enterprise is always making the best operating decisions.
Optimize Ecommerce Shipping With Logiwa
Staying on top of ecommerce shipping best practices can be tricky at best, especially when faced with high demand or operational growth. Whether you're trying to reduce expenses in shipping rates, manage returns, or seek the best carriers, it can be a frustrating and overwhelming task without the assistance of technology.
Logiwa WMS developed ecommerce solutions to alleviate that frustration and overwhelm. Equipped with robust integrations and customizable fulfillment features, our WMS enables you to perfect your shipping strategy by solidifying your shipping methods, providing real-time insights into the health of your operations, and helping your business evolve via automation.
While there are many WMS software solutions on the market, Logiwa WMS has taken great care to work with ecommerce warehouses to provide as many tools and functions as possible to bolster fulfillment success.
Set up a time with one of our warehouse management experts and book a demo to see how Logiwa WMS can help your enterprise achieve fulfillment excellence.
Ship more with a fully integrated WMS Software that connects with 200+ e-commerce
Warehouse Management
Modern digital WMS powers a modern fulfillment experience