10 Ways to Automate Your Ecommerce Fulfillment
Originally published on May 4, 2023 by Erhan Musaoglu, Updated on May 4, 2023
Managing ecommerce warehouses is challenging, especially for busy 3PLs and warehouse operators. Jumping over hurdles like meeting customer expectations, scaling fulfillment operations, and cutting costs can be tough.
The solution? Ecommerce automation. In this guide, we'll define ecommerce automation and discuss its many benefits for your warehouse. Plus, we'll dive into 10 ways you can use ecommerce automation to improve your fulfillment operations.
In this guide, we'll discuss;
What Is Ecommerce Automation?
Automation refers to the use of software and algorithms to perform tasks typically completed by humans. For ecommerce warehousing, this can include things such as controlling inventory, picking and packing, and even shipping rate shopping.
While many ecommerce automation tools can be used by individual retailers and brands, other companies, such as those that deal with high-volume order fulfillment, benefit the most. These companies, including warehouse operators and 3PLs, are attempting to keep orders flowing for their customers, which are often busy B2C and DTC brands.
Through the use of automation workflows, warehouse operators and 3PLs can automate an entire process that typically includes multiple touches from human staff. This means you're able to eliminate labor time, reduce costs, and improve the overall customer experience.
How Does Ecommerce Automation Work?
Ecommerce automation works by implementing different tools and services in a way that eliminates repetitive or simple tasks.
For example, you can use a WMS to automate shipping label creation. Or, you can implement robotics to pick specific products for shipping. The opportunities are virtually endless for automation in this space.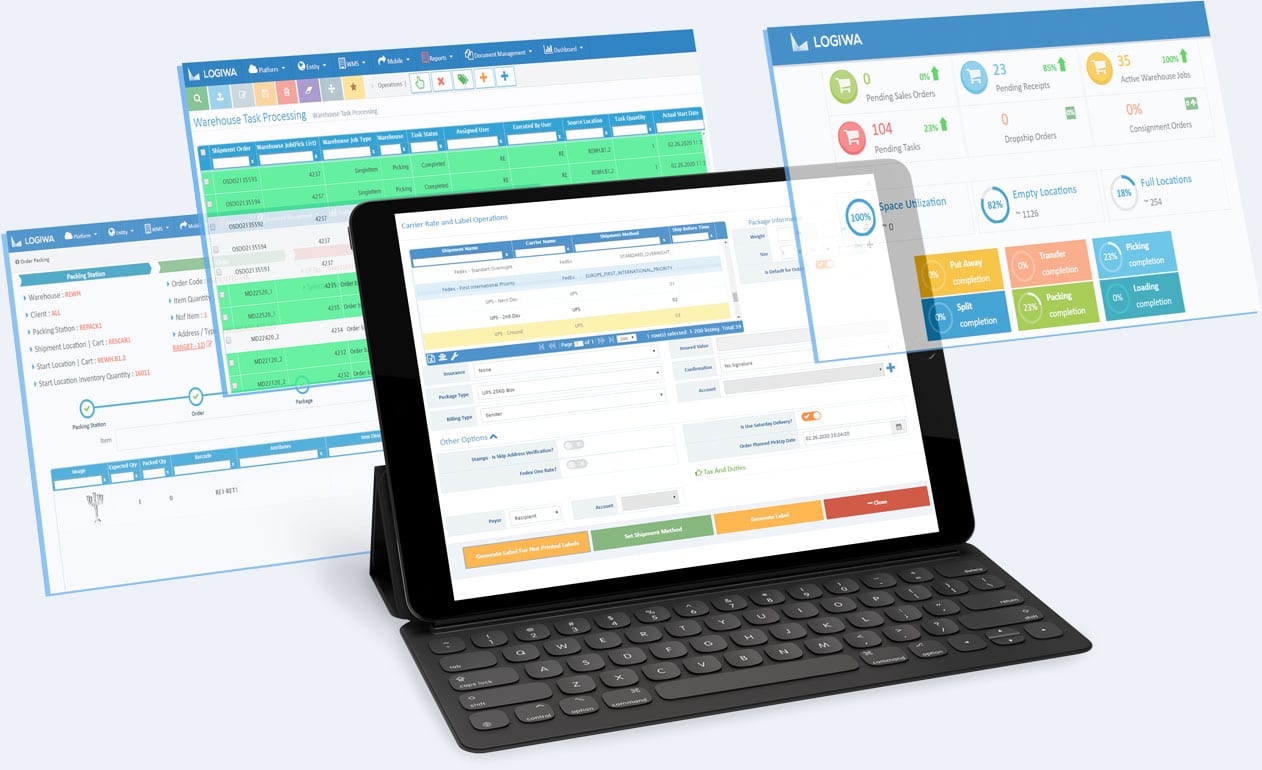 Transform your warehouse to a DTC fulfillment center
The Benefits of Ecommerce Automation
There are many benefits to experience when adopting ecommerce automation for warehouse operators and 3PL companies. Some of these key benefits include:
Time efficiency: By reducing the number of repetitive and manual processes, you can improve your warehouse's overall efficiency.
Data quality: Automation tools such as WMS software result in accurate data you can use for everything from inventory management to providing real-time shipping updates to customers.
Increased customer satisfaction: When serving busy brands, it's imperative to provide excellent shipping times and services. When their customers are happy, they'll be happy, resulting in more business for you.
Smooth order processing: With the correct ecommerce automation in place, the order fulfillment process happens far quicker and with less error.
Increased worker efficiency: Without the need to complete repetitive, mindless tasks, your workers can work far more effectively and focus on quality and precision.
10 Ways to Automate Your Ecommerce Business
What could ecommerce automation look like within your warehouse? Below, we've compiled 10 ways you can automate your ecommerce business, from order tracking to shipping label printing and beyond.
#1. Sales & Order Tracking
When serving ecommerce companies, it's important to have information about each order at your fingertips. Luckily, most WMS software platforms come with automatic sales and order tracking built right in.
Using these tools, you can see what orders are coming in, as well as the status of each order in real time. This enables you to answer customer questions quickly, ensuring clear communication for all involved.
#2. Inventory Management
There are a plethora of inventory issues that occur throughout ecommerce warehouses, such as companies selling products you don't truly have in stock.
Automated inventory management tools allow you to see your inventory in real-time, so you can avoid these costly mistakes. Plus, these tools often offer other features, including automatic reordering.
#3. Client Management
Client management automation is critical for warehouse operators and 3PLs who work with multiple ecommerce companies.
By automating client management, you can track order fulfillment for each client and effortlessly send them accurate updates at each stage of fulfillment. The result is clarity for you and your clients, which results in a better experience for their ecommerce customers.
#4. Product Ordering
Stock control can be difficult to handle. Too little stock results in a bottleneck in order fulfillment, while too much stock results in increased costs.
Automated product ordering enables you to automate your inventory replenishment processes. You can easily reorder or halt additional orders based on current and future demand, saving you time and money.
Plus, you can automatically replenish inventory within reachable areas, enabling warehouse pickers and robots to have easy access to inventory at all times.
#5. Returns Management
Returns management is one process you must get right when working with ecommerce companies. After all, their customers demand a smooth return process.
You can completely automate returns management using WMS software and other tools. This includes each step, from managing return shipping labels to sorting the return once it reaches your facility.
#6. Payment Processing
3PLs and warehouse operators must manage complex payment and invoicing processes. They must account for everything from picking and packing fees to return fees. Add in the complexities of multiple clients, and the process can be messy.
Luckily, using WMS software and integrations with various payment processing tools, you can easily generate and send accurate invoices and receive payment from clients automatically.
#7. Shipping Rate Shopping
For 3PLs and warehouse managers alike, trying to find the best shipping rates with the best available carriers is a constant challenge. However, a WMS can easily automate the shipping rate shopping process.
For example, with Logiwa, you'll have instant access to real-time shipping rates from a variety of top carriers without ever lifting a finger. This enables you to find the most cost-effective shipping solution quickly.
#8. Shipping Label Printing
Printing shipping labels doesn't seem like an overly laborious task. However, it's a prime example of a repetitive task taking up the mental focus of your employees.
Eliminating such a simple task through ecommerce automation is a great way to reduce labor costs and improve efficiency. Through automation, you can print shipping labels automatically as soon as customers place orders.
#9. Box Size Picking
Just like shipping label printing, box size picking is a repetitive task that's ripe for automation. Through tools such as Logiwa's shipping box suggestions and rules, you can easily determine which size box is right for each package based on product-specific volume, dimensions, and client preferences.
#10. Order Routing
Another powerful ecommerce automation example is the ability to fulfill orders automatically using the closest location to the buyer. Order routing automation also enables you to route orders based on the inventory in your warehouses or other pre-determined automation rules.
How WMS Software Supports Ecommerce Automation
You'll notice that all of these examples require an ecommerce WMS, or warehouse management system. WMS platforms enable automation by allowing you to manage everything from inventory management to order fulfillment in one place.
Our warehouse automation features enable you to configure our built-in automation algorithms or create your own. The result is automation that fits your warehouse's specific needs. And with over 200 integrations, including partnerships with leading robotics companies, everything you need to transform your warehouse is at your fingertips.
Our smart shipping software handles all the ecommerce automation practices mentioned above, making it the best overall solution for warehouse operators and 3PLs serving ecommerce businesses.
Streamline Ecommerce Operations Simply With Logiwa WMS
Automation has the power to help you reduce costs and increase efficiency within your logistics business. You just have to know where to start. Luckily, Logiwa can support you in streamlining your ecommerce operations. To learn more about how Logiwa can help, book a demo today.
Logiwa has built a fully integrated WMS and cloud order fulfillment software solution for B2C and DTC businesses
Warehouse Management
Modern digital WMS powers a modern fulfillment experience