Amazon FBA vs. 3PL: The Complete Guide
Originally published on December 8, 2021 by Erhan Musaoglu, Updated on May 18, 2023
When it comes to ecommerce and direct-to-consumer (DTC) operations, there are endless ways to manage supply chains and execute order fulfillment. One avenue many businesses choose to take is outsourcing logistics and warehousing processes like picking, packing and shipping to another organization. With the help of these outside resources, businesses are able to focus on other critical areas for success, such as branding and long-term growth strategies.
Amazon FBA and 3PLs are two of today's most popular choices for ensuring dependable assistance managing high-volume fulfillment. Both Amazon FBA and 3PLs are similar in that they help businesses streamline complex processes related to inventory management, warehousing and order fulfillment, but each has its own distinct benefits and approaches for achieving fulfillment excellence.
In this article, we will discuss the primary differences between Amazon FBA and 3PLs, how to choose the best option for your ecommerce business, and the ways a warehouse management system (WMS) can help optimize the results of your third-party relationships.
In this guide, we'll explore:
FBA vs. 3PL: What Are They?
Acronyms can be confusing! When it comes to these particular acronyms, FBA and 3PL stand for: "Fulfillment by Amazon" and "Third Party-Logistics."
What Is Fulfillment by Amazon?
Put simply, Amazon helps you sell items, and Amazon FBA provides distribution of those items through their Amazon fulfillment network. Whether you're selling custom products or just old items you have lying around, Amazon offers you the ability to quickly sell and ship purchases anywhere around the world.
If you sell primarily on Amazon, FBA will still come with fees for processing your inventory and carrying out billing and fulfillment functions. That said, they can alert you when stock is low and ensure your items are experiencing competitive levels of buyer traffic. Moreover, it is not required that you sell on Amazon to make use of FBA. Because Amazon makes money when sellers make money, their FBA service is designed to help businesses turn profits, grow, and—as a result—continue use of their service.
The primary selling points of FBA include providing businesses with access to Amazon's extensive logistics network and a hands-off operational experience. Once your business sends products to Amazon's fulfillment centers, and a customer buys that particular product, Amazon handles the rest. That includes overseeing receiving, packing, shipping, customer service, and returns for all orders.
The FBA process allows for quick and efficient shipping, which also means fewer customers going after you for shipping delays and issues. As the product manager, your primary role involves sending FBA warehouses your items and sitting back while the money rolls in.
You may also like: These are the main benefits of the Amazon Buy Shipping service.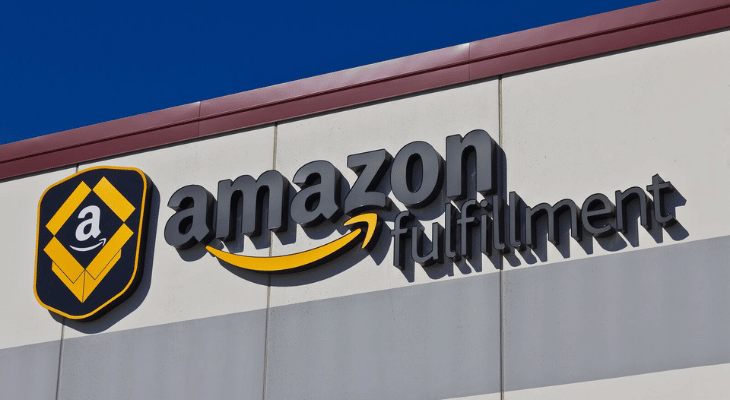 What Is a 3PL Provider?
Many believe Amazon FBA to be a third-party logistics provider (3PL). However, the services provided by a 3PL have some key differences. For one thing, 3PLs offer more flexible and customizable fulfillment options overall. As an outsourced provider, they can handle virtually all aspects of your supply chain, including daily inventory management, storage optimization, custom fulfillment services, shipping, and return logistics. And the more warehouses in their network, the lower your shipping costs will be.
Some 3PLs offer a variety of fixed rates for use of their facility. That means that regardless of how much warehouse space your inventory takes up, you could be paying based on the number of pallets, orders, shipments, etc. each month. Others, in contrast, will charge based on the square footage of your inventory, or the volume of inventory be moved through their network for your business. If your inventory requires special environmental conditions (e.g. refrigeration, organization based on expiration date, etc.), additional fees are also to be expected.
3PLs provide a competitive option for ecommerce businesses because they are equipped to manage fluctuations in sales, rapid growth, expanding product lines, and custom service needs for multiple clients. This can help your operation stay flexible and grow with fewer setbacks and complications long-term.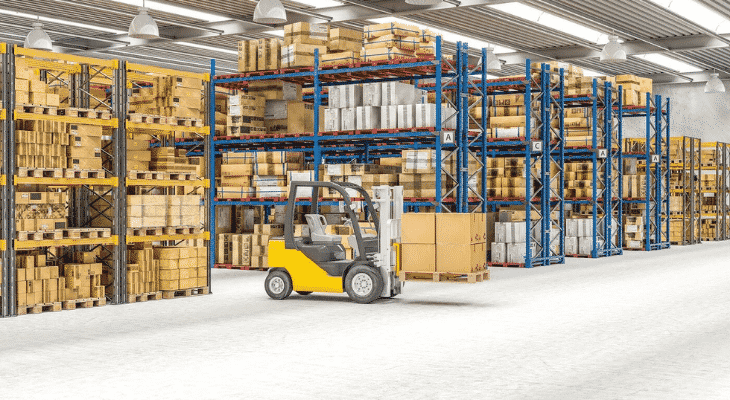 Amazon FBA: Advantages & Disadvantages
Now that you have a basic understanding of FBA and 3PL fulfillment options, let's dig a little deeper into the pros and cons of Amazon's FBA. From setups and ongoing cost, to distribution reach and range of service features, there's a lot to consider.
Advantages
As one of the largest ecommerce marketplaces, the biggest advantage of working with FBA is the ability to easily reach millions of potential buyers. It's possible to reach incredible sales figures, especially on Prime days with access to so many consumers.
Plus, since Amazon manages the after-sales process, all you have to do is track your sales, schedule production, and send products to the Amazon warehouse to continue reaping the benefits of their enormous customer base. So long as you keep sending them items, Amazon will do the rest.
How much it costs to take advantage of Amazon's seemingly endless services may leave you with fear and a question mark. There's no need for that. The Amazon fee system is very transparent and you can be sure that you will not encounter any surprises.
Disadvantages
Unfortunately, it is not possible to use special tools (such as parcels or personalized packaging options) for your company while using Amazon's FBA service. Amazon does not allow you to make any personalized changes to your orders, as it ships using its own packages.
The Amazon FBA service is also more expensive than the 3PL options. Yes, it is a fact that it has a transparent pricing policy, but it is also a fact that there are more cost-effective options well-suited to meeting your fulfillment requirements.
Selling products on Amazon and distributing with FBA not only allows you to reach many customers, but it also allows many potential sellers to see your products – allowing them to compete directly with you. In some cases, you can even end up competing with Amazon itself.
As a final note, trying to get support when you need it can become overwhelming. Since Amazon cannot assign special customer representatives to sellers, you will have to seek help and solve problems with the call center whenever an issue arises.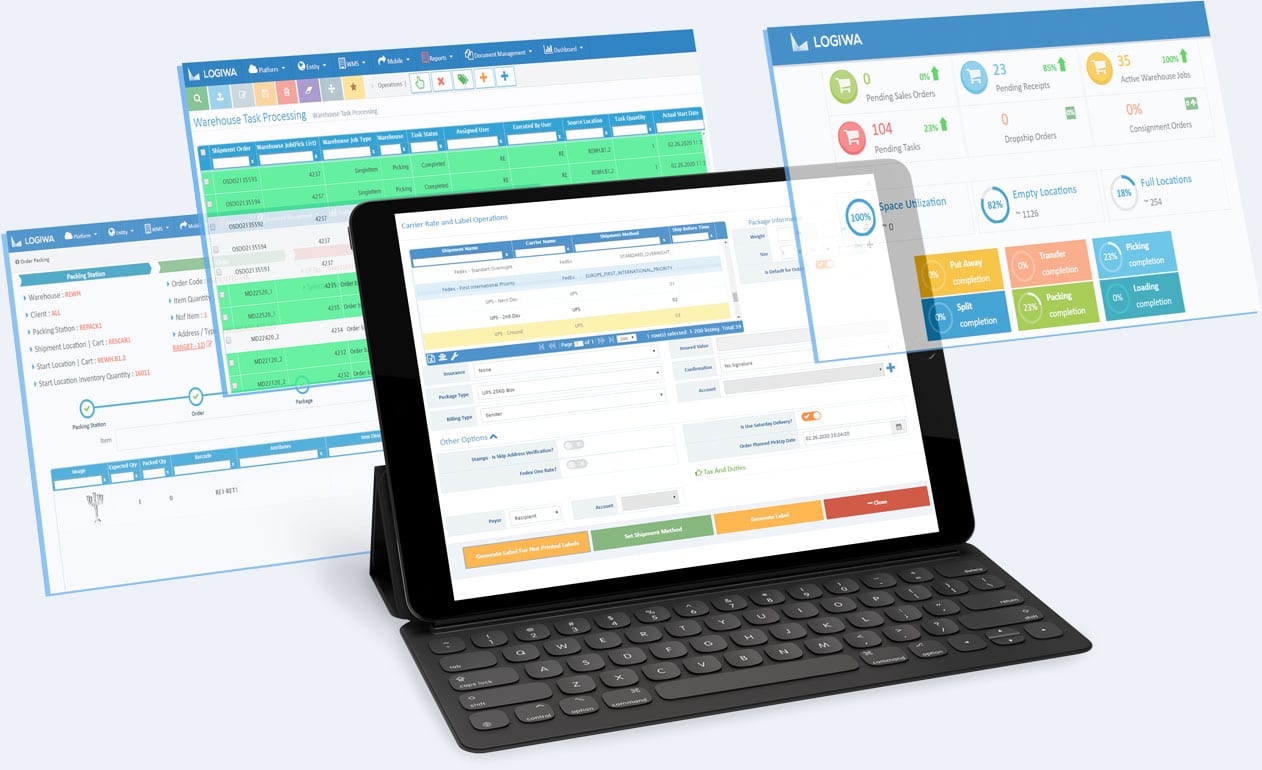 Transform your warehouse to a DTC fulfillment center
3PL: Advantages & Disadvantages
3PLs offer more flexibility and customization options, and can often be more cost-effective. However, no partnership is perfect, and 3PLs have their own advantages and disadvantages to weigh, as well. Depending on the size and scope of your operation, 3PLs may or may not be the optimum resource for you.
Advantages
Arguably the biggest obstacle faced by ecommerce businesses is reaching a certain sales volume and needing more space or a larger warehouse to continue your growth phase uninterrupted. With a 3PL warehouse, you can rest easy knowing that there is enough space for uninhibited growth. In addition, the warehouse management software used by 3PL companies allows you to manage your order processes and inventory in the best way as you evolve.
Warehouse processes (such as order fulfillment, receiving/putaway, product picking, packing and shipping) are carried out by expert teams in 3PL warehouses. In this way, you will incur fewer employee expenses and have the guarantee of working with skilled warehouse operators and industry experts.
Since 3PL warehouses are integrated with today's popular sales channels like Amazon, eBay, Shopify and most shipping carriers, no time or resources will be wasted on these processes. Thanks to pre-established integrations, you can expect highly advantageous cargo costs.
If you want to use special logos and branding to promote your business to your customers, it is very easy to do so with 3PLs. In your order submissions, you can ensure that special packages, customizable notes, and most importantly, the product to be sent passes through quality control without any problems.
Another good thing about 3PL repositories is that you have an account manager that you can turn to whenever a negative situation arises. The value of having a direct line of support with a dedicated contact can be invaluable during crisis situations.
Disadvantages
If you are a young company that has just started selling and you do not have an established sales volume, using a 3PL warehouse may be a costly route to take. The biggest reason for this is that the plan you choose (without being able to predict your number of sales) may end up costing you more than the profits of your sale.
Another negative situation you may encounter is a lack of control. At the end of the day, you delegate the majority of your logistics processes to another entity. Even if you are working with a partner who can meet your needs today, your vision may not be in line with your partner's business competencies in the future.
It is known that most companies have problems with 3PL warehouses when it comes to ecommerce return management. Here, especially the dependency on the other party can cause problems for your business.
Amazon FBA vs. 3PL: Which Is Right for You?
Both FBA and 3PL services ultimately execute ecommerce fulfillment services on behalf of your business, and both allow you to hand off your inventory to trustworthy experts capable of handling your inventory and your orders!
This will allow you to focus on other more important things, such as making sure that you're coming up with the best product possible. You can also spend this additional time focusing on branding and marketing for a lower overall cost.
As it stands, there's no particular right or wrong answer when it comes to deciding. You can only choose what's best for you and for what you're trying to accomplish.
There are pros and cons to each service, but nothing that should be completely written off as an option for you. When it comes to Amazon FBA, realize that, for example, you're going to have to deal with the fact that you can't brand your items.
Amazon will throw your wares into their Amazon-branded boxes and send them off. If you're trying to use your sales to garner more interest for your products (by adding in business cards or other marketing items), you will find yourself pretty sad about Amazon FBA.
However, even though you will lose branding and marketing potential with Amazon FBA, you will gain access to Amazon's wide range of consumers. People all over the world will be able to find your business through Amazon's site, allowing you to grow your market presence fast.
If you're trying to increase the amount of traction you're getting to your website, Amazon FBA can help in that area.Having said all of that, the opposite is true for 3PLs. You'll be able to increase your marketing and branding whenever you sell a product, but you won't have access to Amazon's reach.
Make sure that you have a good idea of what the costs of both are before you bite the bullet for either one. At the end of the day, you want to ensure that whichever solution you choose is the most cost-effective option for your organization. There are other pros and cons between the pair, so make sure to weigh them before you make your decision.
Bonus: If you want to have detailed knowledge regarding Fulfillment Centers vs. Warehouses, please look at our blog post about the topic.
Simplify Fulfillment With Warehouse Management Software
Regardless of the fulfillment option you choose, you will still need a WMS to keep track of your online orders, inventory levels, and overall health of your operations. Warehouse management solutions help unify the various moving parts of your business and give you heightened visibility and control alongside your Amazon or 3PL partnerships.
Some of the primary benefits of a WMS include: live visibility into inventory levels, better management of online orders, improved fulfillment success rates, and smart automation features critical for competitive warehousing.
Logiwa for High-Volume Fulfillment Success
Logiwa WMS was built with the complexities of modern warehousing and ecommerce fulfillment in mind. Not only is our cloud-based fulfillment platform built for easy integrations and end-to-end order visibility – we designed our solution to help ecommerce operations build out custom rules to enhance operations.
No matter how big or small your warehousing network is, or whether you manage B2B, B2C, or hybrid fulfillment, Logiwa WMS was designed to be highly flexible for scaling operations. Our top features include built-in BI tools like Logiwa Analytics, shipping rate comparisons, and AI-powered automation rules for smart putaway processes, space optimization, easy order routing, and more.
Learn More About Logiwa Today
Logiwa helps B2C, direct-to-consumer, and 3PL companies scale up their high-volume fulfillment operations. If you're ready to grow, we're here to support you. Request a demo of Logiwa today!
Amazon FBA vs. 3PL FAQs
Is Amazon FBA a 3PL?
No. They are two different services. Although there is some overlap (re: Amazon FBA automating your shipping processes), 3PLs offer more services for a greater cost.
Can I Use Amazon FBA and a 3PL?
Nothing is stopping you from doubling up on both processes, but since they overlap in their functions, it seems a bit unnecessary to have both. Having said that, if you're making great business strides and you need to outsource to an extreme extent, using both Amazon FBA and 3PL can go a long way towards freeing up your time.
Is FBA on Amazon Worth It?
While there are different options to consider, they all have their own positive and negative aspects. Yes, Amazon costs may seem high, but you should also evaluate and decide on the positive effects such as the number of customers your products will reach, the sales potential, and the fact that the processes after sales are managed by Amazon.
Why Do Companies Use 3PL?
If you are utilizing a 3PL warehouse service, you can scale space, labor and shipping to suit your needs. This becomes a great advantage especially for companies serving in more than one country and companies that want to transfer their high sales volume to different warehouses and reach faster cargo shipments.
Pre-integrated with the leading ecommerce, marketplace, shipping and accounting platforms
Warehouse Management
Modern digital WMS powers a modern fulfillment experience