What does 3PL mean?
Originally published on February 14, 2022 by Logiwa Marketing, Updated on February 22, 2023
You may have heard of 3PL before but never known what it is. For those wondering about the meaning of 3PL, the short definition is third-party logistics. But that is just what the acronym stands for. What does 3PL mean, exactly?
In this article, we will dive further into what 3PL means and how incorporating 3PL into your company operations can bring exponential benefits.
Click here to learn how Logiwa WMS is built specifically for 3PL warehouses
In this guide, we'll explore:
The Definition of 3PL
Basic 3PL Services
The 3PL Process
How 3PL Can Benefit You
Defining 3PL
According to a report from Global Market Insights, Third-Party Logistics (3PL) market size exceeded USD 1 trillion in the year 2019 alone, and it has been gaining momentum ever since, with no signs of slowing down.
This popular acronym is filling conversations and getting people excited about its potential. But have you ever overheard it and found yourself wondering, what is the real meaning of 3PL?
As mentioned above, 3PL is an acronym that stands for third-party logistics. When you talk about a 3PL provider, this means a company hired to provide outsourced logistics services. These services can include a wide variety of things—pretty much anything related to management, procurement, or fulfillment operations.
For instance, some main areas that 3PL can impact, include:
There are some 3PL providers that will handle critical tasks like the storing and shipping of hazardous materials, managing cold fulfillment, and taking on the warehousing responsibilities associated with more challenging-to-store high-value goods. These goods include bulky, heavy products that are challenging to store within a warehouse but are worth a lot of money.
That's the 3PL definition, and now we move on to more excitement – discovering how 3PL can bring big improvements to your operations.
Basic 3PL Services

If you are actively looking for a 3PL company or want to learn more about 3PL logistics, learning the basics of 3PL logistics services will help you better understand what's involved with end-to-end 3PL.
The main fundamentals of 3PL consist of the powerful trio below:
3PL Process
Now that you know the basics of 3PL logistics services, we'll explain the actual 3PL logistics process. Once you have read this article, you will know what happens at a 3PL warehouse when you (the customer) click to submit a purchase order from the comfort of your office or home computer. Here's a look at the process, from that very first click and charge to the credit card to the product you have purchased arriving right at your door:
Receiving
This refers to when a 3PL warehouse accepts incoming inventory, which they will then place directly in their storage.
3PL Warehousing
Once inventory is received at a 3PL warehouse—also known as a fulfillment center—it will be systematically given a specific and dedicated storage location (for instance, a particular shelf, bin, pallet, etc.). This will help the 3PL easily locate it when it comes time to fulfill the order.
Picking, Packing, Shipping, and Fulfillment
Once an order is sent to your 3PL, the picking team springs into action. It is the task of these individuals (the pickers) to pick—or procure—the products (using a picking list that contains the desired items, amount, and storage facilities to collect purchased products from).Once the items have been picked, the packers' job is to ensure that they are safely and securely packaged, so they make it to the desired destination intact. It must also arrive in the manner laid out by the company who hired them (preferences of packing modes will vary by brand). Then comes shipping, with most 3PLs handling everything for you, right down to purchasing and printing shipping labels.
Returns


It happens; customers buy a product and decide they no longer want it. It's not ideal, but the good news is that many 3PLs also provide return processing services. This means that you won't have to handle returns in-house, which saves time and prevents (now avoidable) headaches.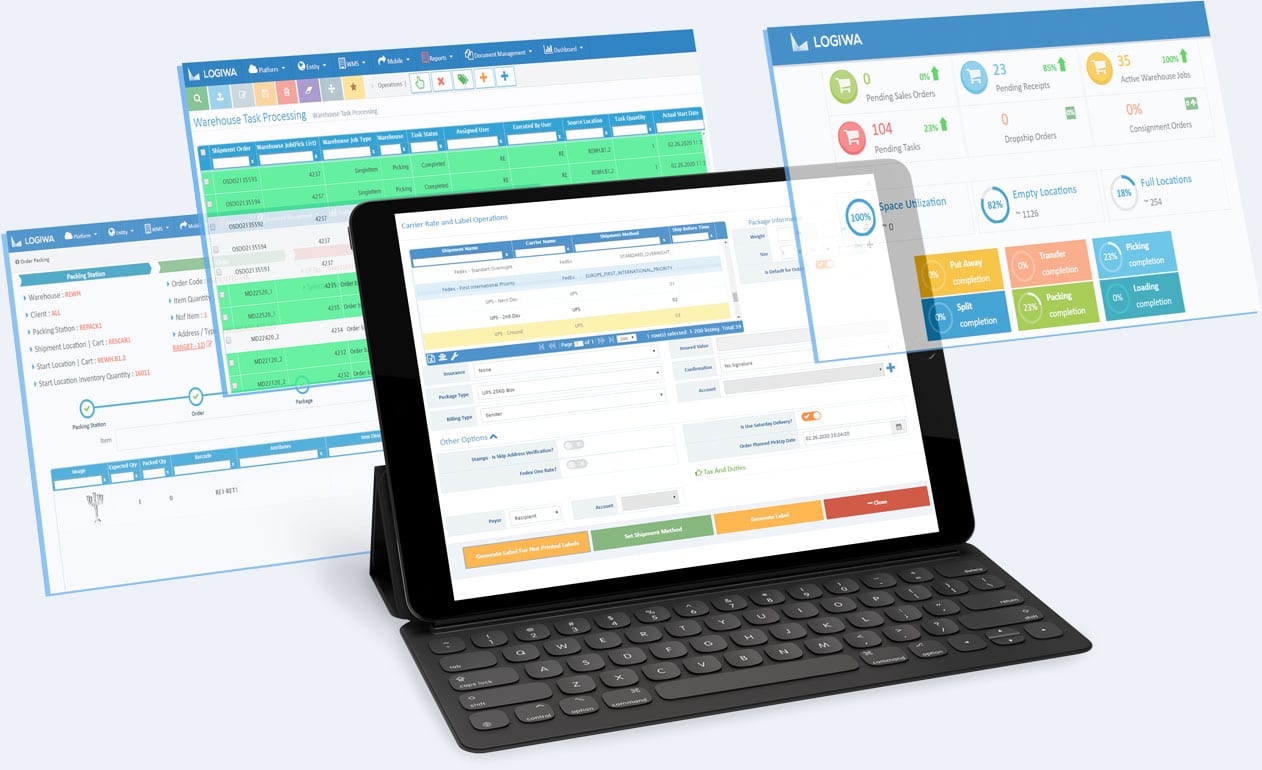 Transform your warehouse to a DTC fulfillment center
What Does 3PL Mean for You?
The bottom line is that 3PLs make your life (and operations) flow smoother. 3PLs help increase efficiency by offering you solutions for managing inventory, packaging, and shipping that you would otherwise not have access to or be able to manage on your own.
Why should you care about this? Did we mention it saves you time and money, thus maximizing your profit and minimizing headaches?
Think about it: When you partner with a 3PL, you no longer need to buy or rent a physical space to store your inventory (saving you money). You also eliminate the difficulty of handling all of the fulfillment logistics in-house.
Instead of spending time fulfilling orders once you have made sales, you can instead focus your time on making more sales. It's all about outsourcing, and ultimately, it is always a win-win.
Logiwa Defines 3PL
Now that you're no longer asking yourself what 3PL means, you can focus on the great advantages it brings. New 3PL options are taking over the market and making the process even easier, including WMS software from Logiwa.
Unlike traditional 3PL WMS systems, a system like Logiwa offers you better visibility on your end-to-end process, allows you to scale more effectively, and brings efficiencies to all parts of the process, including picking and packing.
What's the result of all this? It helps you take on even more work (i.e., make more money and grow). To learn more about how Logiwa approaches 3PL WMS and how it can help you on your 3PL journey, check out the Logiwa blog section.
Congratulations – you now understand the meaning of 3PL! Are you ready to scale up your 3PL process with an end-to-end 3PL strategy that fits your business? Request a demo to learn more.
FAQs
What is the meaning of 3PL logistics?
Third-Party Logistics (3PL) refers to the practice of outsourcing the logistics of order fulfillment to another (third-party) company. The term is also used to characterize the firms who provide these logistical services, known as 3PL providers.
What does 3PL stand for?
In the logistics and supply chain industry, 3PL refers to a third-party logistics firm. 3PLs provide outsourced order fulfillment services to brand manufacturers.
Why do companies use a 3PL?
By outsourcing order fulfillment, including warehousing, to a 3PL, brands can more easily scale and expand operations amd can take advantage of the economies of scale provided by firms who specialize in fulfillment and often have broad fulfillment networks to provide fast direct-to-consumer service.
What services do 3PLs provide?
3PLs typically provide complete order processing and fulfillment services, from the intake of orders from their clients' ecommerce stores through inventory management, warehousing, order fulfillment, shipping, and even returns.
Turn High Volume DTC fulfillment excellence into your competitive advantage