Discover Limitless Growth with Flexible Wholesale Distribution Software
Logiwa's Cloud Fulfillment Platform helps wholesalers and distributors conquer hybrid B2B and DTC fulfillment operations.
Pre-integrated with the leading ecommerce, marketplace, shipping, robotics and accounting platforms. Connect Logiwa with any of these systems in just a few clicks. Enter the New Era of Ecommerce with the Best Wholesale Distribution Software
Traditional wholesale distribution software is not flexible enough to support high-volume direct-to-consumer fulfillment. With Logiwa's all-in-one cloud fulfillment platform you can master inventory levels, omni-channel orders, and customer relationships. Our solution streamlines supply chain logistics, optimizes complex inventory management, and ensures fast, accurate fulfillment to retailers, suppliers, and direct-to-consumer (DTC).
Scale omni-channel fulfillment operations
Track all the critical parts of your wholesale operations and enjoy the flexibility to evolve without limitations or slowing down. Whichever direction your business is ready to grow, Logiwa smart automation tools and powerful integrations provide everything you need to succeed.
Finally, what you've been searching for… the best wholesale distribution software.
Why Logiwa WMS is the Best Wholesale Distribution Software to Run Your Fulfillment Operations
Get all the tools and functionalities you need to perfect your wholesale approach. Our cloud native WMS helps you run an optimized digital fulfillment network—allowing you to stay ahead of incoming orders, maintain cost-effective inventory levels, and align your fulfillment operations for a variety of ecommerce channels and clients.
We offer a seamless system powered by smart automation, AI-powered algorithms, and real-time data to keep the various areas of your B2B, DTC or hybrid operations in sync, and growing with each enhancement.
Powerful Growth
Effortlessly add new warehouses to your network, take on new clients, expand product lines, and switch on new integrations with Logiwa's flexible cloud fulfillment platform. Connect with more than 200 sales channels, marketplaces, and carriers to boost your fulfillment network's efficiency and enjoy continuous growth without sacrificing speed or accuracy.
Tailorable Automation
Ease complex fulfillment processes, eliminate costly errors and streamline logistics for B2B and DTC clients with Logiwa's end-to-end automation capabilities. Use our pre-built automation rules or build your own to ensure your warehouse processes are configured to meet your exact needs: from order routing, receiving, putaway, picking, packing and shipping functions to automated billing and invoicing.
Omnichannel Visibility
Optimize stock levels and inventory management throughout your fulfillment network using the real-time data from your various sales sources. Maintain omni-channel fulfillment success by monitoring demand, as well as tracking orders, workflows and shipping statuses in real-time for both retailers and consumers alike.
Streamlined Fulfillment
Create one high-functioning network made up of multiple warehouses; sync live inventory data with incoming ecommerce orders to stay on top of demand; and maximize fulfillment speed and accuracy using smart automation. That's the Logiwa approach to high-volume logistics management.
Reporting and Analytics
Make informed business decisions and continuously improve vendor management and the efficiency distribution operations with Logiwa's comprehensive analytics and reporting capabilities. Access prescriptive and predictive insights on things like product popularity, stock expirations, and bottlenecks throughout your network to refine workflows and maintain costs.
Logiwa's Wholesale Distribution Software Makes a Fast Impact on Your Business
40% increase in labor efficiency
3x more orders shipped after first three months on Logiwa
8% lower shipping costs with Logiwa rate shopping
Drive High-volume B2B, DTC, and Hybrid Fulfillment with the Best Wholesale Distribution Software. Logiwa Simplifies Your Omni-channel Operations and Helps You Achieve High-volume Fulfillment Success.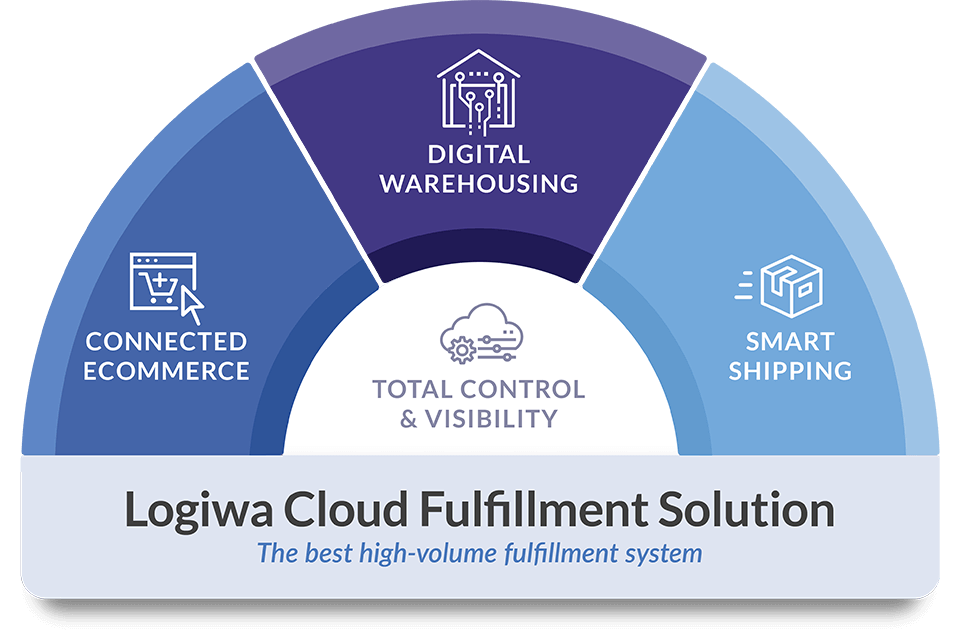 Cloud-based Wholesale Distribution Software
The Logiwa Cloud Fulfillment Platform is a fully integrated order fulfillment system that empowers companies to run a digital fulfillment experience and grow direct-to-consumer business—without additional headcount.
Logiwa WMS has the functions needed to ensure optimized logistics management and ecommerce fulfillment results for every type of warehouse operation
With Logiwa's wholesale distribution software you can accelerate your transformation from a wholesaler to a hybrid wholesale or 3PL fulfillment center. Easily support both B2B and DTC clients, quickly update the software as your requirements evolve, and make DTC fulfillment excellence a competitive advantage.
WAREHOUSE AND INVENTORY MANAGEMENT
Unlimited Locations/Bins
Inventory and Locations Management
Transfers Between Locations and Warehouses
Instant Counting
Purchase Order Management
Inbound Receiving Management
PO Notification Email Alerts
Returns Management
Safety Stock Reports and Email Alerts
Shipping Management
Pick, Pack and Ship Operations
Backorders and Damaged Products
Carrier Rate Shopping
Shipment Tracking Number Management
Lot/Batch, Expiry Date, and Serial Number Tracking
Pick Face Replenishment
Warehouse Productivity
Individual Order Picking
Wave/Batch/Cluster Picking
Batch Shipment Label Printing
Pick List and Packing Slip Printing
Kitting/Bundling
Mobile Picking, Receiving, and Transfers
Order Packing Screen
Substitute Products
Customized Screen Layout
Warehouse Optimization
Directed Putaway – Location Suggestion
Pre-defined Picking Jobs (Single Unit, Multi Unit, Pick, Pack)
Walking (Picking) Path Optimization
Put to Wall (Sorting and Consolidation)
Shipment Rule Automation
Package Type Selection Algorithms