Get ahead of the competition with a scalable and customizable Logistics WMS
Logiwa's Cloud Fulfillment Platform is designed for brands, manufacturers, and businesses that sell and ship to lots of locations.
Pre-integrated with the leading ecommerce, marketplace, shipping, robotics and accounting platforms. Connect Logiwa with any of these systems in just a few clicks. Support your DTC business strategy with a modern and flexible WMS software and logistics platform
You know how to process replenishment orders and ship pallets to stores. And you probably are using the same warehouse management and logistics software that's been in place for the past ten years. But what if you need to support a direct-to-consumer strategy? How would you support shipping smaller, customized orders?
There's a big opportunity for brands and manufacturers, that have typically sold your products through retail outlets or your own stores, to start selling directly to customers online. This is a big opportunity, but also a big logistics challenge.  Old-school WMS systems and logistics software is designed for B2B shipping, but can't support the high-volume nature of a direct-to-consumer strategy.
A modern and flexible WMS software and logistics platform would let you support a DTC business strategy and simultaneously optimize productivity across all your warehouses.
Simultaneously optimize productivity across all your warehouses
That's exactly why we built Logiwa – to give brands, manufacturers and warehouses a modern cloud fulfillment platform that can support both B2B and DTC operations Our cloud logistics software can be up and running in just a few weeks with simple pay-as-you-go monthly pricing. With Logiwa you support a new direct-to-consumer strategy, support both your B2B and DTC business, and easily update the software as your requirements evolve.
Logiwa streamlines B2B and DTC fulfillment in a single modern cloud platform. With our integrated logistics software manufacturers and brands can add direct-to-consumer online sales and fulfillment while seamlessly shipping products to stores.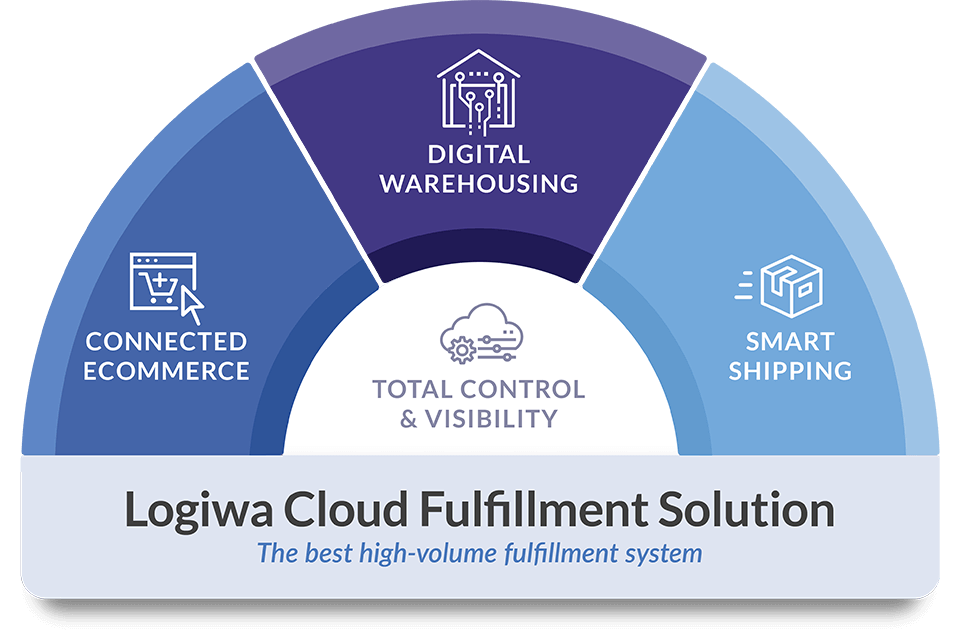 Cloud Fulfillment Software Platform
The Logiwa Cloud Fulfillment Platform is a fully integrated WMS and order fulfillment system that empowers companies to run a digital fulfillment experience and grow your direct-to-consumer business – without additional headcount.
Everything B2B shippers need to transition and support a new DTC strategy
Check out all the functionality we provide and then imagine all this power running on your mobile devices in a fully digital warehouse that's part of your integrated fulfillment network. That's Logiwa.
Warehouse Operations
Receiving
Directed putaway
Picking and packing
PICK-FACE replenishment
Return management
Cycle counting
Inventory transfers
Warehouse Productivity
Multi-warehouse operations
Multi-client operations
Shipment rule automation
DTC packing station
Kitting and bundling
Scale integrations
Warehouse Optimization
Order routing
Putaway automation rules
Inventory allocation automation rules
Automate picking job creation
Shipment box suggestions
Walking path optimization
Put-to-wall
Robotics integration
Logiwa makes a fast impact on your business
40% increase in labor efficiency
3x more orders shipped after first three months on Logiwa
8% lower shipping costs with Logiwa rate shopping
More than just great software, we're a high-volume fulfillment success company
We aren't like the other warehouse and shipping products in the market. We respond to you in 7–9 minutes and have more automation superpowers than anyone else in the market.
Up and running in 4 weeks
100% SaaS product is easy to configure and easy to update. You can be up and running in weeks instead of months or years.
Awesome automations
Use our pre-built automation rules or easily build your own to speed up everything from inbound operations to your pick, pack and shipping processes.
9 minute response times
Our technology is great, but what customers love most is our amazing customer support. We actually get back to customer questions in 7–9 minutes!