A Revolutionary Warehouse Execution System Built for Modern Brands Fulfillment Needs
Ecommerce brands optimize warehouse performance, labor efficiency, and resource management with Logiwa's all-in-one cloud fulfillment platform
Pre-integrated with the leading ecommerce, marketplace, shipping, robotics and accounting platforms. Connect Logiwa with any of these systems in just a few clicks. Achieve More with Logiwa's Warehouse Execution System
Logiwa makes managing even the most complex warehouse operations easy and intuitive. Our industry-leading WMS addresses the unique challenges of high-volume order fulfillment by streamlining warehouse logistics, maximizing labor efficiency and improving resource management.
Scale your omni-channel warehouse fulfillment and grow your DTC business
Logiwa outshines more traditional systems with our cutting-edge automation, highly configurable algorithms, and powerful system integrations. Our platform doesn't just manage receiving, putaway, replenishment, picking, and shipping operations—it enhances each of these processes to ensure speed, accuracy, and cost-efficiency.
Logiwa's Transformative Warehouse Execution System Maximizes Long-Term Growth
Don't settle for the limitations of traditional warehouse solutions. Choose the only warehouse management system you'll ever need. Logiwa WMS turns high-volume fulfillment into an operational superpower by providing visibility and control over all the inventory and fulfillment processes taking place throughout your distribution network, and it scales alongside your operations.
End-to-End Fulfillment Management
Gain complete visibility into your inventory levels, workflows, and staffing levels in real time. Whether you're upgrading a putaway strategy, checking on return operations, or overseeing the progression of various picking, packing, shipping tasks, our Logistics WMS equips you with all the necessary features needed to oversee high-efficiency logistics and fulfillment.
Game-changing Automation
Simplify complex fulfillment processes, eliminate costly errors and streamline logistics with Logiwa's highly configurable automation features. Use our pre-built automation rules or build your own to improve the accuracy and speed of your warehouse processes. From smart receiving and putaway algorithms to AI-powered picking, packing and shipping functions, Logiwa WMS ensures your workforce and facilities are set up to succeed.
Effective Labor Management
Maximize workforce productivity and labor efficiency with a variety of fulfillment features and tools – all geared towards streamlining accurate warehouse operations. Automate picklists, optimize walking paths, validate items with mobile barcode scanning, and integrate with robotics to minimize costs and achieve operational excellence.
Brands and online sellers achieve high-volume order fulfillment success with Logiwa.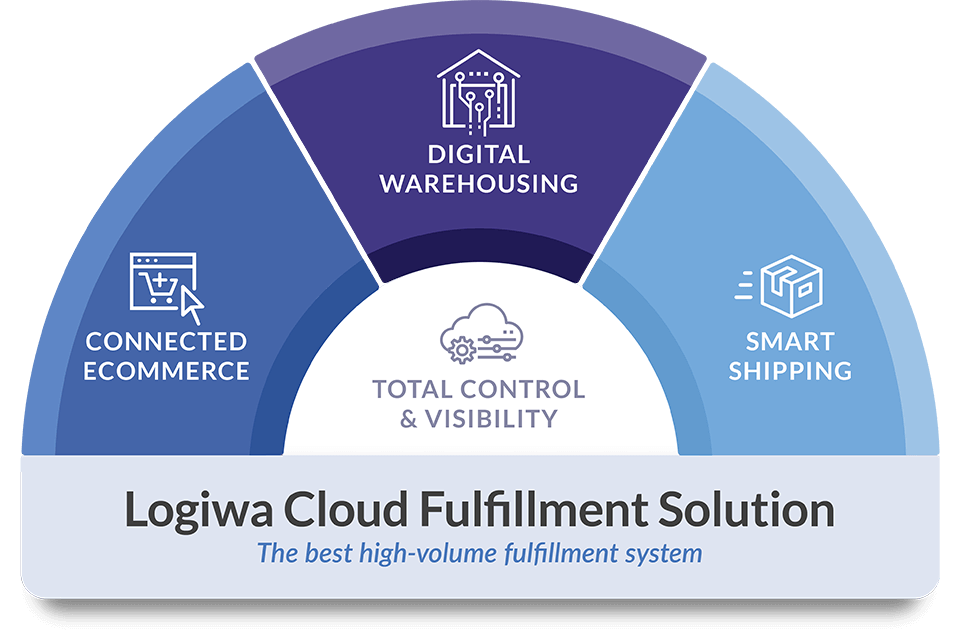 Logiwa's Cloud-based Warehouse Execution Software
The Logiwa Cloud Fulfillment Platform is a fully integrated Warehouse Management System and order fulfillment system that empowers companies to run a digital fulfillment experience and grow your direct-to-consumer business—without additional headcount.
Why Choose Logiwa WMS for Your
Warehouse Execution System?
Logiwa helps you stay nimble with a flexible WMS system that can adapt and support your constantly evolving operations as you bring on new warehouses, new clients, and fulfill an ever-growing portfolio of products.
Actionable Analytics and Reporting
Make informed decisions and drive continuous improvement with Logiwa's analytics and reporting capabilities. Access comprehensive insights into your fulfillment network's performance, identify bottlenecks, and optimize operational efficiency to support long-term growth. Adapt inventory based on changing consumer trends and maintain stock levels based on fluctuations in demand.
Efficiency-Boosting Integrations
Integrate directly with your preferred ecommerce platforms, shipping carriers, ERP solutions, and robotics providers to maintain high-efficiency operations. Eliminate manual data entry, route incoming ecommerce orders to the best warehouse, accelerate fulfillment, and simplify shipping processes to optimize resource management and improve your bottom line.
See All of Logiwa's Integrations >
Logiwa's Warehouse Execution System has Everything Brands, Online Sellers, and 3PLs Need to Achieve High-volume Order Fulfillment Success
Imagine all this power running on your mobile devices in a fully digital warehouse that's part of your integrated fulfillment network. That's Logiwa.
Warehouse Operations
Receiving
Directed putaway
Picking and packing
PICK-FACE replenishment
Return management
Cycle counting
Inventory transfers
Warehouse Productivity
Multi-warehouse operations
Multi-client operations
Shipment rule automation
DTC packing station
Kitting and bundling
Scale integrations
Warehouse Optimization
Order routing
Putaway automation rules
Inventory allocation automation rules
Automate picking job creation
Shipment box suggestions
Walking path optimization
Put-to-wall
Robotics integration
Logiwa's Warehouse Execution System Makes a Fast Impact on Your Business
40% increase in labor efficiency
3x more orders shipped after first three months on Logiwa
8% lower shipping costs with Logiwa rate shopping
More than just warehouse execution software, Logiwa is a high-volume fulfillment success company
Logiwa helps you stay nimble with a flexible WMS system that can adapt and support your constantly evolving operations as you bring on new warehouses and fulfill an ever-growing portfolio of products.
Up and running in 4 weeks
Our 100% SaaS product is easy to configure and easy to update. You can be up and running in weeks instead of months or years.
Awesome automations
Use our pre-built automation rules or easily build your own to speed up everything from inbound operations to your picking, packing and shipping processes.
9 minute response times
Our technology is great, but what customers love most is our amazing customer support. We actually get back to customer questions in 7–9 minutes!