Online Sellers Excel with Logiwa's Real-time Ecommerce Inventory Management Software
Sync inventory levels based on consumer demand, optimize inventory storage, and automate high-efficiency fulfillment across your network with Logiwa's inventory management software.
Pre-integrated with the leading ecommerce, marketplace, shipping, robotics and accounting platforms. Connect Logiwa with any of these systems in just a few clicks. Achieve Fast, Accurate Fulfillment with Logiwa's Ecommerce Inventory Management Software
When it comes to mastering high-volume fulfillment, inventory management is key to overcoming fluctuating demand, selling more, and ensuring long-term profitability for online sellers, retailers, and 3PLs. Logiwa's cloud fulfillment platform was built with the complexities of modern ecommerce in mind—and our approach to smart inventory management can't be beat.
Logiwa WMS provides real-time visibility and control over your inventory. Our solution integrates the online order data from your ecommerce channels with your warehouse operations to optimize stock levels, route orders to the best fulfillment centers, and streamline competitive workflows. Say goodbye to costly stockouts and shortages, and hello to high-efficiency inventory management all year long.
Inventory Management Software for Fulfillment Excellence
Logiwa's cloud fulfillment platform does more than just show stock availability and track the movement of inventory throughout your receiving, putaway, picking and shipping processes. The moment an order comes in through your online ecommerce channels, our system helps ensure your inventory is set up for easy, cost-effective processing. From replenishment functions and relocating items to the best possible pick locations—our system does it all.
Real-Time Inventory Visibility and Control
Whether you are managing inventory for multiple clients, taking on B2B, DTC or hybrid order operations, or overseeing multiple warehouses – Logiwa's system provides visibility into all inventory levels, locations, and movements in real time. Through powerful network visibility and live data exchange with ecommerce channels, you are able optimize stock allocation, reduce carrying costs, and eliminate both overstocks and shortages with ease.
Storage Optimization
Logiwa's flexible system is built to make the most of your warehouse space and keep inventory items in the best possible storage locations. With smart inventory management features like directed putaway, you can rest assured each of your items are being stored in the appropriate location or being moved to maximize space efficiency, ensuring safe and cost-effective inventory storage.
Smart Automation
Take advantage of Logiwa's intelligent warehouse automation features to streamline your operations. From receiving and putaway to automated replenishment, our system optimizes your workflows and minimizes manual errors. Route orders based on item availability and proximity to your consumers. Create pick lists that prioritize expiration dates and minimizing deadstock. Choose shipping boxes based on the dimensions of your inventory and multi-item orders. All in the name of optimized inventory management.
Stock Reporting and Demand Forecasting
Logiwa tracks all your inventory, movement, and predicts how much will be needed to meet future demand. Update new product lines to meet current demand and offer item bundling in your online ecommerce platforms to clear out slow-moving stock. With Logiwa's reporting and analytics features, you have the actionable insights you need to maintain stable ecommerce operations.
Why Choose Logiwa's Ecommerce Inventory Management Software?
Logiwa's approach to smart warehouse management allows you to accomplish more with your inventory.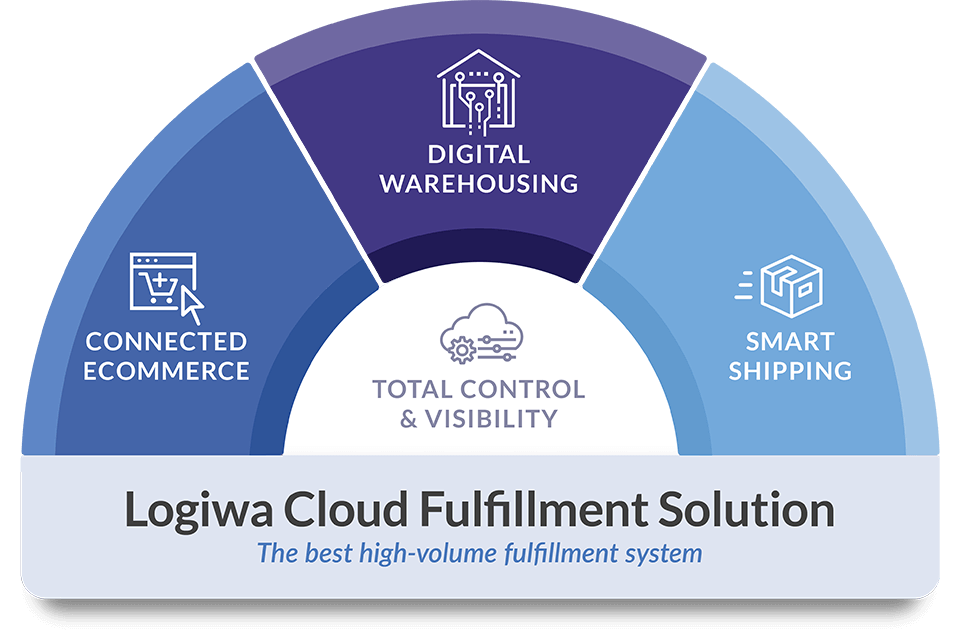 Logiwa's Inventory Management Software
The Logiwa Cloud Fulfillment Platform is a fully integrated Warehouse Management System and order fulfillment system that empowers companies to run a digital fulfillment experience and grow your direct-to-consumer business—without additional headcount.
Logiwa's Ecommerce Inventory Management Software has Everything 3PLs Need to Achieve High-volume Order Fulfillment Success
Imagine all this power running on your mobile devices in a fully digital warehouse that's part of your integrated fulfillment network. That's Logiwa inventory management software.
WAREHOUSE AND INVENTORY MANAGEMENT
Unlimited Locations/Bins
Inventory and Locations Management
Transfers Between Locations and Warehouses
Instant Counting
Purchase Order Management
Inbound Receiving Management
PO Notification Email Alerts
Returns Management
Safety Stock Reports and Email Alerts
Shipping Management
Pick, Pack and Ship Operations
Backorders and Damaged Products
Carrier Rate Shopping
Shipment Tracking Number Management
Lot/Batch, Expiry Date, and Serial Number Tracking
Pick Face Replenishment
WAREHOUSE OPERATIONS
Receiving
Directed putaway
Picking and packing
Pick-Face replenishment
Return management
Cycle counting
Inventory transfers
Warehouse Optimization
Order routing
Putaway automation rules
Inventory allocation automation rules
Automate picking job creation
Shipment box suggestions
Walking path optimization
Put-to-wall
Robotics integration
Logiwa's Inventory Management Software Makes a Fast Impact on Your Business
40% increase in labor efficiency
3x more orders shipped after first three months on Logiwa
8% lower shipping costs with Logiwa rate shopping
More than the best ecommerce inventory management software, Logiwa is a high-volume fulfillment success company
Logiwa helps you stay nimble with a flexible WMS system that can adapt and support your constantly evolving operations as you bring on new warehouses, new clients, and fulfill an ever-growing portfolio of products.
Up and running in 4 weeks
100% SaaS product is easy to configure and easy to update. You can be up and running in weeks instead of months or years.
Awesome automations
Use our pre-built automation rules or easily build your own to speed up everything from inbound operations to your pick, pack and shipping processes.
9 minute response times
Our technology is great, but what customers love most is our amazing customer support. We actually get back to customer questions in 7–9 minutes!