Unlock the Power of 3PL Analytics to Grow Your Business with Logiwa WMS
Leverage your warehouse data with powerful WMS analytics tools and make data-driven decisions to streamline your operations.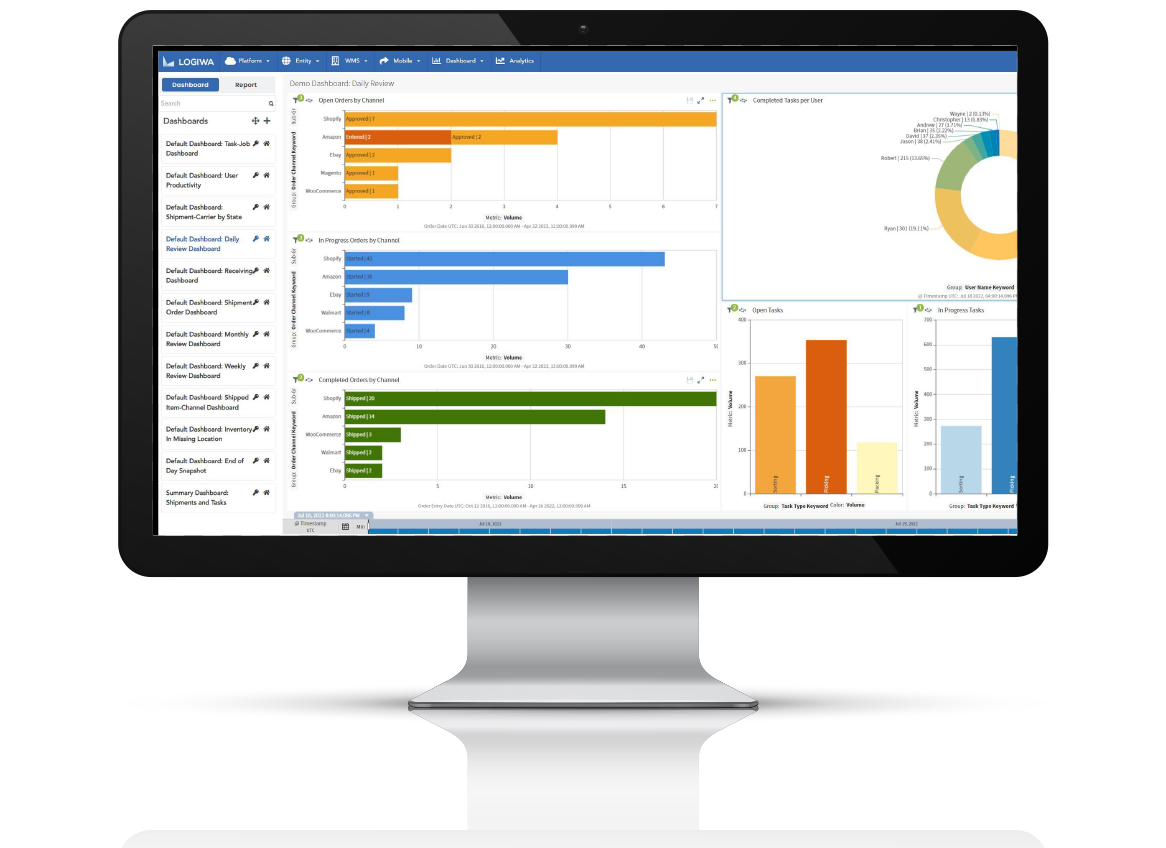 Logiwa's 3PL Analytics Solution Can Transform Your Warehouse Operations and Drive Growth
Logiwa's advanced warehouse management system is equipped with powerful 3PL analytics capabilities designed to optimize your operations and empower you to make data-driven decisions. With Logiwa WMS, you can unlock the full potential of your 3PL business by leveraging comprehensive analytics tools that provide actionable insights.
Empower Your Warehouse with Advanced 3PL Analytics Software
In the fast-paced world of third-party logistics (3PL), data management and analysis are crucial to success. 3PL analytics involves collecting, organizing, and interpreting data on your warehouse operations, consumer behavior, and industry trends. With these insights, you can improve processes, identify and eliminate inefficiencies, and make informed decisions that drive growth.
Logiwa WMS offers an industry-leading 3PL analytics solution to help you unlock the power of your data. Here's how our analytics capabilities can influence your growth:
Data consolidation and visualization
Connect multiple data sets or pull reports for insight into:
shipping carriers,
tasks,
shipments,
job types,
job volumes by client,
order aging,
warehouse space,
inventory levels,
order status, and more.
Identify trends, track KPIs, and monitor the overall health of your operations at a glance.
See your WMS data represented visually in a clean interface, and access customizable reporting and dashboards for live visibility and control over the performance of your warehouse.
Labor productivity and resource planning
Logiwa WMS's analytics provide insight into labor productivity, helping you identify areas for improvement. By analyzing data on employee performance, task completion times, and workload distribution, you can optimize labor allocation and improve overall productivity.
Demand forecasting and inventory management
Get immediate access to dependable insights with our pre-configured templates and dashboards, or copy, modify and redistribute these templates for a tailored approach. Logiwa Analytics allows customers to configure and create customized reports and dashboards to show only the data that is most relevant to you or your client.
Leverage historical data with Logiwa WMS's advanced analytics capabilities to make accurate predictions about future demand. Analyzing sales patterns, seasonality, and market trends can help you optimize your inventory levels, reduce carrying costs, and prevent stockouts. Having the right products in stock at the right time is crucial for maintaining a competitive advantage.
Performance monitoring and optimization
Drill down to the weak points in your fulfillment operations to make changes and stay ahead of potential setbacks. Logiwa's 3PL analytics empowers you with insights into operational efficiency, productivity, and accuracy to help you achieve the most cost-effective approach for high-volume fulfillment.
Our 3PL analytics tools empower you to monitor key performance indicators (KPIs) in real-time. From order fulfillment rates to inventory turnover, you can track and compare performance metrics across different time frames. Identify bottlenecks, streamline workflows, and optimize resource allocation to ensure efficient operations and customer satisfaction.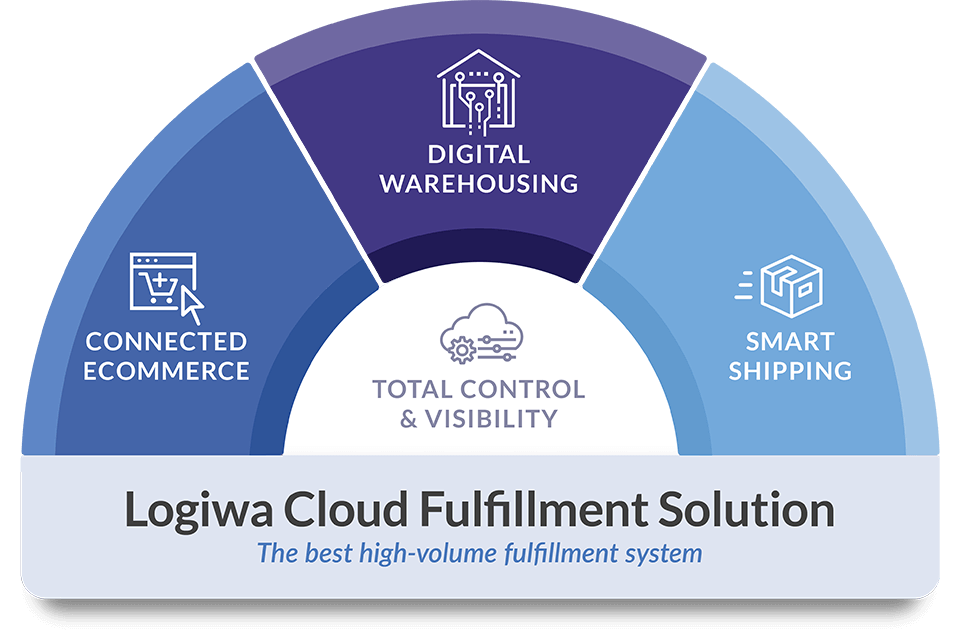 Use Your Data to Grow Your Business Securely With Logiwa WMS Analytics
Logiwa WMS is a cloud-based solution, providing you with the flexibility to access your warehouse data anytime, anywhere. With our secure and reliable cloud infrastructure, you can focus on growing your core business—without additional headcount.
Why Choose Logiwa WMS for Analytics?
Logiwa WMS offers a comprehensive 3PL analytics solution that empowers you to leverage your warehouse data effectively. With our advanced analytics capabilities, you can streamline operations, optimize inventory management, improve labor productivity, and make data-driven decisions to drive growth year after year.
1. Advanced Analytics Capabilities
Our analytics solution goes beyond basic reporting. With Logiwa WMS, you gain access to advanced capabilities, including predictive modeling, machine learning algorithms, and prescriptive analytics. Unlock new growth by making proactive decisions based on data-driven insights.
2. Seamless Integration and Scalability
Logiwa WMS seamlessly integrates with your existing warehouse management system, eliminating the need for complex data migrations. Whether you operate a small warehouse or manage a large 3PL enterprise, our scalable solution grows with your business, accommodating your evolving analytics needs.
3. Actionable Insights in Real-Time
Make timely and informed decisions with Logiwa WMS's real-time analytics. Our platform provides up-to-the-minute data, allowing you to respond swiftly to changing market conditions,resolve system discrepancies, optimize workflows, and meet customer demands effectively.
4. User-Friendly Interface
Logiwa WMS prioritizes usability and offers an intuitive interface designed with warehouse managers and 3PL owners in mind. You don't need to be a data scientist to navigate and extract valuable insights from our analytics platform. Accessible dashboards and reports empower you to gain immediate value from your data.
WMS Analytics Software Pre-integrated with 200+ Ecommerce Fulfillment Solutions


Logiwa WMS Analytics Helps You Optimize Processes and Make Data Driven Decisions to Grow Your Business
WAREHOUSE OPERATIONS
Receiving

Directed putaway

Return management

Cycle counting

Inventory transfers

Pre-defined Picking Jobs (Single Unit, Multi Unit, Pick, Pack)

Put to Wall (Sorting and Consolidation)

Shipment Rule Automation

Package Type Selection Algorithms

Inventory and Locations Management

Transfers Between Locations and Warehouses
WAREHOUSE PRODUCTIVITY
Multi-warehouse operations

Multi-client operations

DTC packing station

Kitting and bundling

Scale integrations

Individual Order Picking

Wave/Batch/Cluster Picking

Batch Shipment Label Printing

Pick List and Packing Slip Printing

Mobile Picking, Receiving, and Transfers

Order Packing Screen

Substitute Products

Customized Screen Layout
WAREHOUSE OPTIMIZATION
Order routing

Putaway automation rules

Inventory allocation automation rules

Automate picking job creation

Shipment box suggestions

Walking (Picking) Path Optimization

Robotics integration

Plug'n Play Store Connections

Plug'n Play Shipment Carrier Connections

Accounting and ERP Integrations

Warehouse Robotic Integrations

Open API and EDI Integrations

Webhooks
WMS Analytics Are Key, But Logiwa Is Much More, We're a High-volume Fulfillment Success Company
We aren't like the other warehouse and shipping products in the market. We respond to you in 7–9 minutes and have more automation superpowers than anyone else in the market.
Up and running in 4 weeks
Our 100% SaaS product is easy to configure and easy to update. You can be up and running in weeks instead of months or years.
Awesome automations
Use our pre-built automation rules or easily build your own to speed up everything from inbound operations to your picking, packing and shipping processes.
9 minute response times
Our technology is great, but what customers love most is our amazing customer support. We actually get back to customer questions in 7–9 minutes!
Logiwa's WMS Analytics Helps Major Brands and 3PLs Achieve More High-Volume Fulfillments Success