Impactful Ecommerce
Shipping Software
Logiwa gives brands, online sellers and 3PLs an all-in-one solution to automate fulfillment and shipping at the lowest possible prices.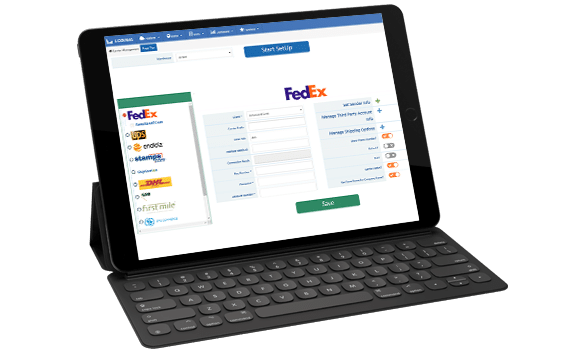 Ecommerce Shipping Software To Reduce Waste, Improve Shipping Times, and Save Money
Maximize savings and minimize waste with Logiwa's powerful solution designed to revolutionize shipping logistics. With Logiwa WMS, you can optimize your shipping strategy to reduce unnecessary expenses and minimize waste. Our advanced algorithms analyze shipping rates, carrier options, and packaging requirements to find the most cost-efficient and eco-friendly solutions for your shipments.
Smart Ecommerce Shipping Software that Reduces Waste and Saves Money
Connect with multiple pre-integrated carriers
It's easy to connect Logiwa with multiple carriers in just a few clicks. Logiwa is pre-integrated with all of today's popular carriers and performs automated rate shopping across your preferred carriers to ensure the lowest rate.
Tailor labeling rules for unique scenarios
Automatically pre-print every packing slip, return form, and shipping carrier label for every box you ship. Automated labeling uses rules tailored for different scenarios within the same warehouse, and include real-time rate shopping, batch label printing, and on-demand printing in packing stations. By eliminating manual data entry and reducing errors, you can save time, increase efficiency, and improve overall shipping accuracy.
Reduce shipping costs with built-in rate shopping and shipment automation rules
With Logiwa WMS shipping software, you can effectively manage your shipping costs and optimize your cost-saving strategies. Our software provides you with the ability to analyze shipping rates, compare carriers, and choose the best shipping methods. By lowering your shipping costs, you can increase profitability and allocate resources more efficiently.
Group shipping options to get the cheapest rate with each carrier
Save even more on shipping by grouping the same order types to get the cheapest rate with each carrier.
Reduce packing time with shipping box suggestions
Smart shipment box suggestions automatically recommend the best box size based on criteria like product-specific volume, client, and ideal dimension. Improve your cycle time even more with automated algorithms.
Integrate digital scales and automatic dimensioning
Seamlessly integrate digital scales into your automated packing flow and DTC packing station.
Integrate dimensioning systems to your workflow. Eliminate time spent on gathering dimensional and weight data for each of your shipments and save on shipping costs by using precise data.
Our smart ecommerce shipping software is part of the Logiwa Cloud Fulfillment Platform.
The Logiwa Cloud Fulfillment Platform is a fully integrated Warehouse Management System and order fulfillment system that empowers a digital fulfillment experience for maximizing direct-to-consumer growth—without additional headcount.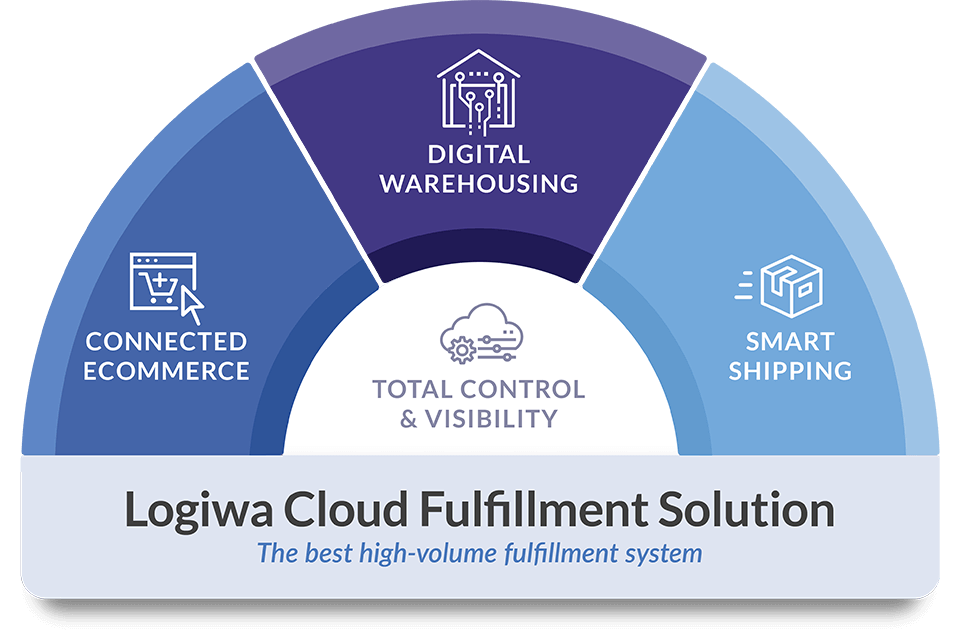 Logiwa's ecommerce shipping software has everything 3PLs and online sellers need to maximize high-volume order fulfillment.
Check out all we provide, and then imagine that power running on your mobile devices in a fully digital warehouse as part of your integrated fulfillment network.
WAREHOUSE MANAGEMENT
Shipping Management

Picking, Packing and Shipping Operations

Backorders and Damaged Products

Carrier Rate Shopping

Shipment Tracking Number Management

Inventory and Locations Management

Transfers Between Locations and Warehouses

Instant Counting

Purchase Order Management

Inbound Receiving Management

PO Notification Email Alerts

Returns Management

Safety Stock Reports and Email Alerts

Lot/Batch, Expiry Date, and Serial Number Tracking

Pick Face Replenishment
WAREHOUSE PRODUCTIVITY
Individual Order Picking

Wave/Batch/Cluster Picking

Batch Shipment Label Printing

Pick List and Packing Slip Printing

Kitting/Bundling

Mobile Picking, Receiving, and Transfers

Order Packing Screen

Substitute Products

Customized Screen Layout
CONNECTIVITY AND INTEGRATIONS
Plug'n Play Store Connections

Plug'n Play Shipment Carrier Connections

Accounting and ERP Integrations

Warehouse Robotic Integrations

Scale Integrations

Open API and EDI Integrations

Webhooks
3PL MANAGEMENT
Multi-Client Support

Client Portal and Dashboard

Client Based Setup (Packing Slip, Contracts, and Statements) 

Notifications to Clients

Customized New Billing Line

Billing and Contract Management

Third Party Carrier Account Management

Billing Integrations with ERPs

Mark Up Shipment Rate

Custom Branding
Ecommerce Shipping Software Pre-integrated with 200+ Ecommerce and Shipping Solutions