Logiwa Warehouse Management Software: Optimize Your Operations to Maximize Productivity
Logiwa is warehouse management software done right. Our WMS helps brands, online sellers and 3PLs achieve high-volume order success.
Why Choose Logiwa WMS as Your Warehouse Inventory Management Software?
Logiwa WMS allows you to run a fully digital warehouse. Our cloud-based warehouse inventory management system offers a wide array of benefits and features at your fingertips – including mobile apps, smart job batching, automation rules, real-time exception handling, and online reports. Our forward-thinking approach to order fulfillment and industry-leading customer support has made us the number one choice for today's competitive warehouse operations.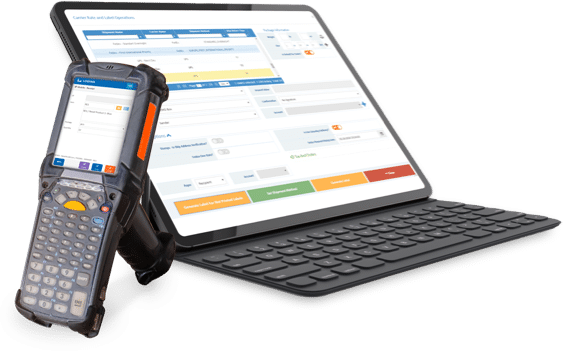 Request a Free Live WMS Demo
The Benefits of Logiwa's Warehouse Management Software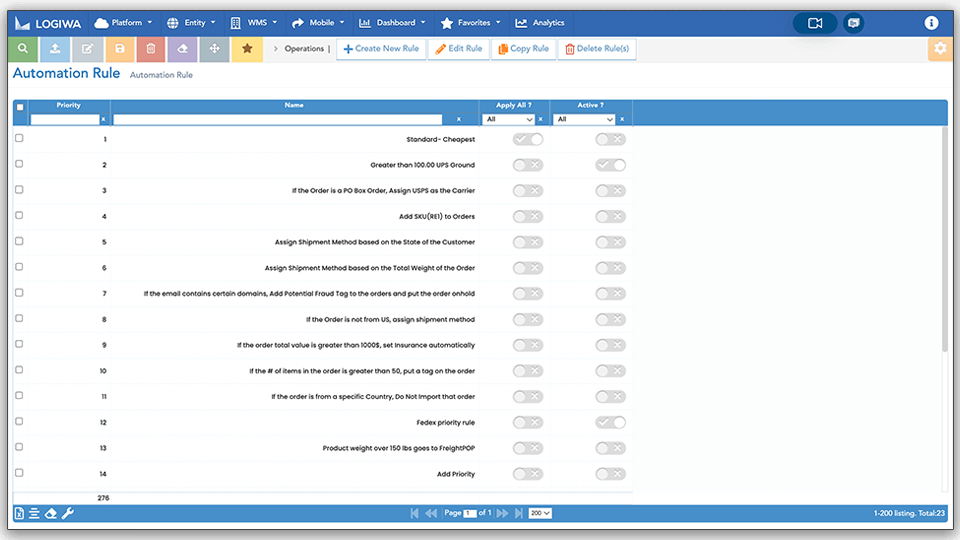 Improved Inventory Accuracy and Visibility
Automate inbound logistics and optimize inventory locations in each of your warehouses. Our easy-to-configure directed put-away algorithms let you optimize inventory based on velocity, volume, fragility, temperature requirements, cross-dock, zone, or any other criteria important to your warehouse efficiency.
Real-time Tracking and Reporting
Get real-time visibility from the moment an order is received through the time the product is delivered to the customer's door. Monitor key performance indicators (KPIs), track inventory turnover, and generate comprehensive reports to make data-driven decisions that optimize your warehouse efficiency.
Streamlined Order Fulfillment Process
Seamlessly manage your orders from start to finish with Logiwa WMS: our industry leading warehouse inventory software. Smart picking jobs speed up the picking process with grouped waves/jobs for identical item orders, single item orders, multi-item orders, and more—while simultaneously applying your first-in-first-out, first-expiry-first-out, or cross-docking inventory management rules.
Our warehouse inventory management software automates and optimizes the order fulfillment process, reduces picking errors, ensures order accuracy, and accelerates delivery time.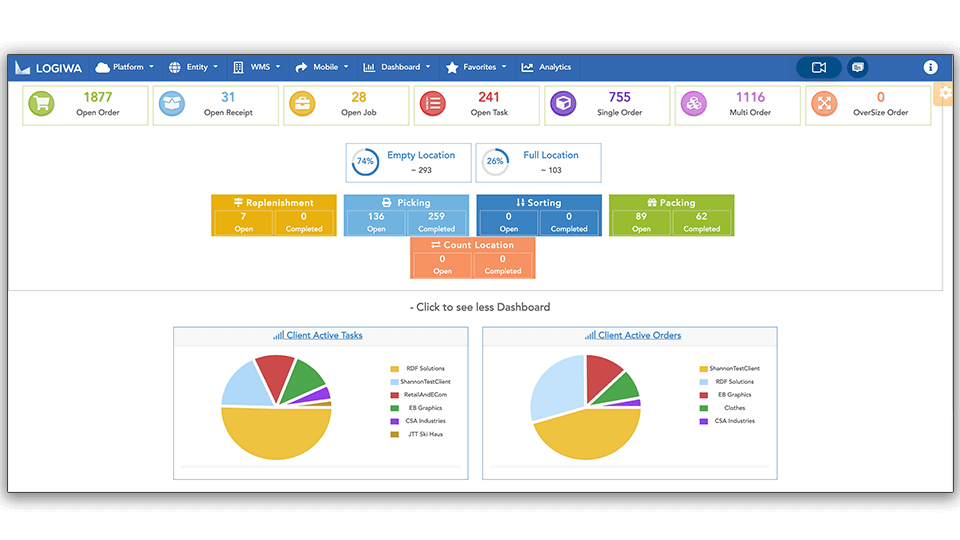 Enhanced Warehouse Efficiency
and Productivity
Reduce walking distance by 30% with walking path optimization, which helps you save time and ship more. Logiwa's smart picking path algorithms dynamically map the best pick-and-pack paths through each warehouse based on proximity, product weight, fragility, order priority, or carrier pick-up time, and makes real-time adjustments when exceptions arise.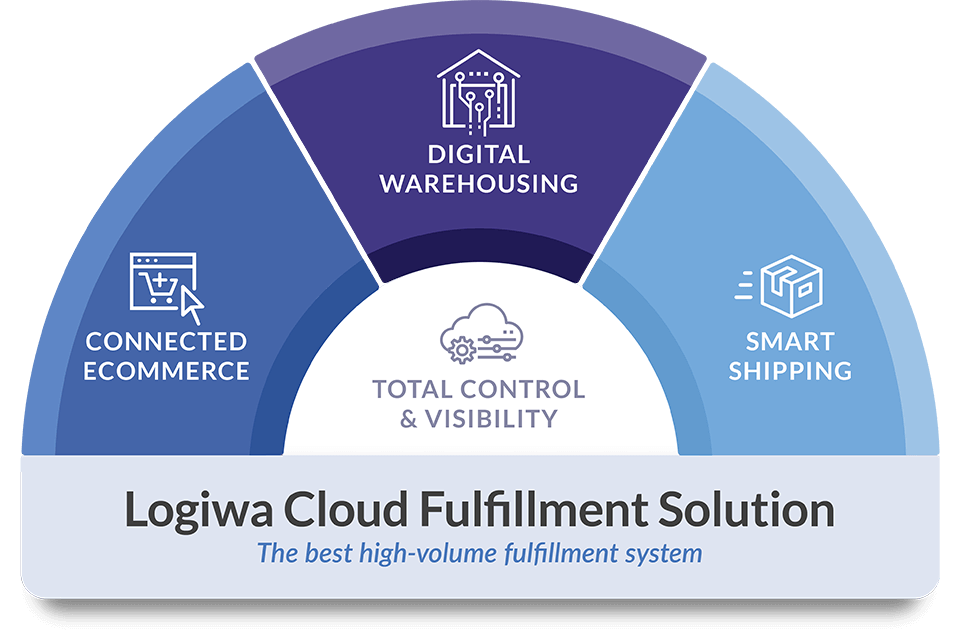 Logiwa's Cloud Warehouse Management Software is Built Specifically for High-volume B2C and DTC businesses
The Logiwa Cloud Fulfillment Platform is a fully integrated order fulfillment system that empowers companies to run a digital fulfillment experience and grow direct-to-consumer business—without additional headcount.
The Key Features of Logiwa WMS
Advanced Inventory Management for Multi-warehouse Operations
Optimize multi-warehouse operations at both the macro and micro levels. Logiwa's Warehouse Management System gives you the controls you need to:
• optimize inventory levels across fulfillment centers with location-based rules,
• perfect inventory management within each distribution center with
• group and zone-based rules,
• fixed and dynamic picking locations, and
• clear location capacities.
Get real-time visibility into inventory shortages at each warehouse, route orders to the best fulfillment center, and manage inventory transfers with ease.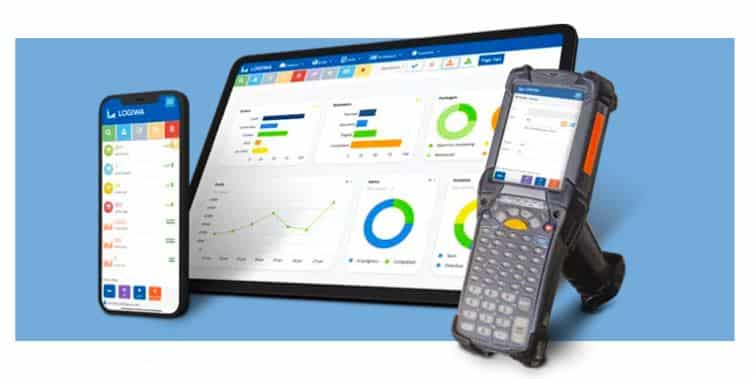 Mobile Order Tracking and Fulfillment
Mobilize everything to understand how your employees move and operate in your distribution center. Mobile scanners send information about every item being received, put away, picked, packed, shipped, counted and transferred directly into Logiwa Cloud WMS System. Mobile reports let everyone see real-time inventory, order progress, and jobs from any mobile device.
Barcode Scanning and Labeling
Simplify your warehouse processes with barcode scanning and labeling. Logiwa WMS supports barcode scanning for receiving, picking, packing, and shipping, eliminating manual errors and improving overall efficiency.
Integration with Leading Ecommerce
Platforms
Sync your warehouse operations directly with the orders coming in
through online channels such as Shopify, Magento, or Amazon. Keep
inventory optimized during fluctuations in demand with real-time updates,
and achieve 100% order accuracy with step-by-step mobile guidance as
pickers pick, scan, report discrepancies, and adjust effortlessly as
exceptions arise.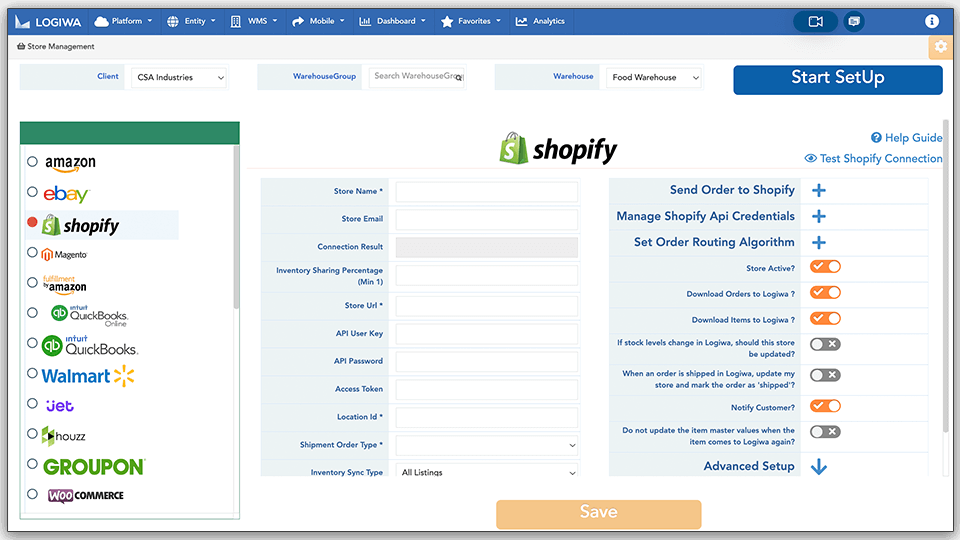 More than just great warehouse management software, we're a high-volume fulfillment success company
We aren't like the other warehouse and shipping products in the market. We respond to you in 7–9 minutes and have more automation superpowers than anyone else in the market.
Up and running in 4 weeks
Our 100% SaaS product is easy to configure and easy to update. You can be up and running in weeks instead of months or years.
Awesome automations
Use our pre-built automation rules or easily build your own to speed up everything from inbound operations to your picking, packing and shipping processes.
9 minute response times
Our technology is great, but what customers love most is our amazing customer support. We actually get back to customer questions in 7–9 minutes!
Logiwa's warehouse inventory management system has everything brands and online sellers need to achieve high-volume order fulfillment success
WAREHOUSE OPERATIONS
Receiving

Directed putaway

Return management

Cycle counting

Inventory transfers

Pre-defined Picking Jobs (Single Unit, Multi Unit, Pick, Pack)

Put to Wall (Sorting and Consolidation)

Shipment Rule Automation

Package Type Selection Algorithms

Inventory and Locations Management

Transfers Between Locations and Warehouses
WAREHOUSE PRODUCTIVITY
Multi-warehouse operations

Multi-client operations

DTC packing station

Kitting and bundling

Scale integrations

Individual Order Picking

Wave/Batch/Cluster Picking

Batch Shipment Label Printing

Pick List and Packing Slip Printing

Mobile Picking, Receiving, and Transfers

Order Packing Screen

Substitute Products

Customized Screen Layout
WAREHOUSE OPTIMIZATION
Order routing

Putaway automation rules

Inventory allocation automation rules

Automate picking job creation

Shipment box suggestions

Walking (Picking) Path Optimization

Robotics integration

Plug'n Play Store Connections

Plug'n Play Shipment Carrier Connections

Accounting and ERP Integrations

Warehouse Robotic Integrations

Open API and EDI Integrations

Webhooks