An Advanced Ecommerce WMS to Grow Online Stores with Ease
Logiwa's ecommerce warehouse management system empowers fast and efficient DTC fulfillment.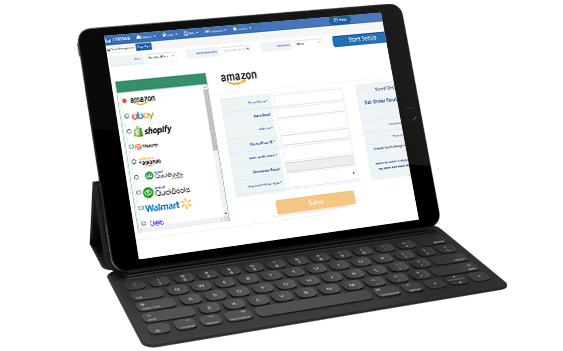 You Need a Powerful Ecommerce Warehouse Management System
Accurate inventory management and supply chain operations are key for online sellers. With Logiwa WMS, you can streamline these processes and take your ecommerce business to new heights. Logiwa WMS is the ultimate ecommerce warehouse management system. Logiwa helps brands, online retailers and 3PLs streamline processes, maximize warehouse efficiency, and achieve fulfillment excellence.
Maximize Efficiency and Productivity with Logiwa's Ecommerce WMS
Our system automates inventory sharing and order routing in real-time. This allows your ecommerce marketplaces and order management systems to stay on top of demand and exceed today's DTC standards.
Seamless integration with popular ecommerce, marketplace, accounting and shipping systems
Integrating Logiwa WMS with your existing ecommerce platforms, such as Shopify, WooCommerce, or Magento, is effortless. Our system seamlessly connects with your online store, automatically syncing orders, inventory levels and shipment data in real-time. We have already done the work of pre-integrating so all you have to do is check a box and login—it's really that easy.
Easy connections to your systems with our Open API
It's easy to connect Logiwa with your stores, custom websites, other warehouses, vendors, ERP, TMS, HR, or business intelligence systems.
Our Open API makes it easy to push or pull any product, PO, order, shipment, customer, shipping label, or report data to and from Logiwa WMS. Say goodbye to manual data entry and focus on growing your business.
Full visibility into inventory levels across all locations
With Logiwa WMS, you gain complete visibility and control over your inventory. Real-time tracking between all your online sales channels and fulfillment centers ensures accurate stock levels to prevent overstocks and stockouts. Our system employs smart algorithms to optimize putaway and reduce picking time, as well as minimize errors and improve order accuracy.
Automatic order routing based on custom rules
Automatically route orders to the best fulfillment center based on product availability, shipping costs, and delivery time commitments to fulfill orders faster and enhance customer satisfaction.
Supported integration with EDI standards
We support integration for all standard logistics and warehousing transactions and file types, including the following EDI standards: 850, 856, 940, 945, 753, 754, 810, 846, 855, 128.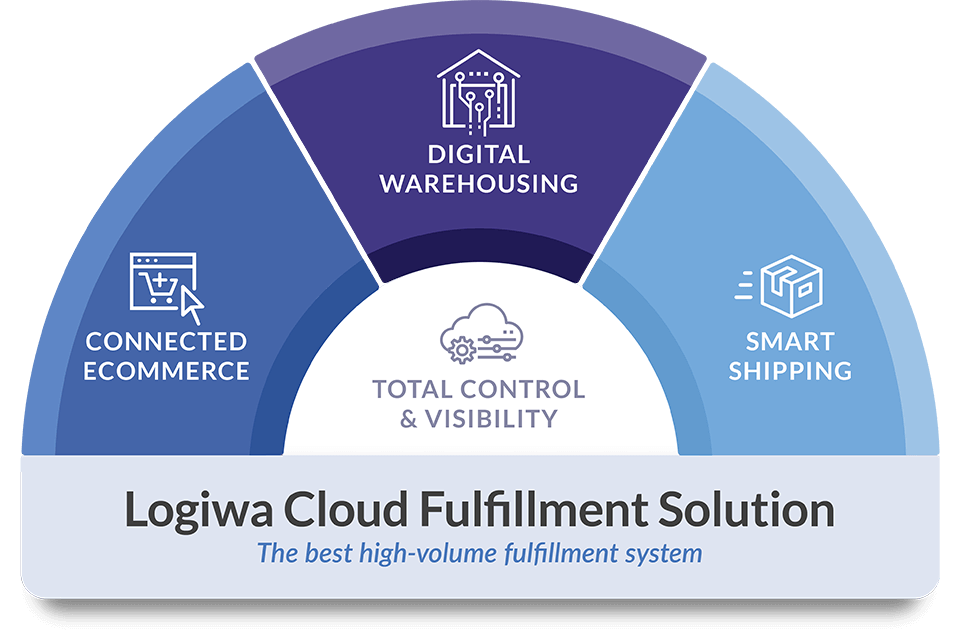 Our ecommerce WMS is part of the Logiwa Cloud Fulfillment Platform built specifically for high-volume B2C and DTC businesses.
The Logiwa Cloud Fulfillment Platform is a fully integrated order fulfillment and ecommerce Warehouse Management System that empowers companies to run a digital fulfillment experience and grow their direct-to-consumer business—without additional headcount.
Logiwa's Ecommerce Warehouse Management System has Everything 3PLs Need to Achieve High-volume Order Fulfillment Success
Check out all we provide, and then imagine all that power running on your mobile devices in a fully digital warehouse as part of your integrated fulfillment network.
WAREHOUSE AND INVENTORY MANAGEMENT
Unlimited Locations/Bins

Inventory and Locations Management

Transfers Between Locations and Warehouses

Instant Counting

Purchase Order Management

Inbound Receiving Management

PO Notification Email Alerts

Returns Management

Safety Stock Reports and Email Alerts

Shipping Management

Pickinging, Packing and Shipping Operations

Backorders and Damaged Products

Carrier Rate Shopping

Shipment Tracking Number Management

Lot/Batch, Expiry Date, and Serial Number Tracking

Pick Face Replenishment
CONNECTIVITY AND INTEGRATIONS
Plug'n Play Store Connections

Plug'n Play Shipment Carrier Connections

Accounting and ERP Integrations

Warehouse Robotic Integrations

Scale Integrations

Open API and EDI Integrations

Webhooks
WAREHOUSE PRODUCTIVITY
Individual Order Picking

Wave/Batch/Cluster Picking

Batch Shipment Label Printing

Pick List and Packing Slip Printing

Kitting/Bundling

Mobile Picking, Receiving, and Transfers

Order Packing Screen

Substitute Products

Customized Screen Layout
REAL-TIME REPORTING
User Performance and History Report

Available To Sales Reports

Safety Stock Reports

Centralized Inventory Reports

Location-based Inventory Reports

Shipment History and Traceability Reports

Receiving and Traceability Reports

Shortage Notifications and Reports

Transaction History and Inventory History Reports
WAREHOUSE OPTIMIZATION
Directed Putaway – Location Suggestion

Pre-defined Picking Jobs (Single Unit, Multi Unit, Pick, Pack)

Walking (Picking) Path Optimization

Put to Wall (Sorting and Consolidation)

Shipment Rule Automation

Package Type Selection Algorithms
3PL MANAGEMENT
Multi-Client Support

Client Portal and Dashboard

Client Based Setup (Packing Slip, Contracts, and Statements) 

Notifications to Clients

Customized New Billing Line

Billing and Contract Management

Third Party Carrier Account Management

Billing Integrations with ERPs

Mark Up Shipment Rate

Custom Branding
SUPPLY CHAIN MANAGEMENT
Order Routing Across Multiple Warehouses

Dropshipping

Consignment Management
Ecommerce Warehouse Management System Pre-integrated with 200+ Ecommerce and Shipping Solutions


Popular Features of Logiwa's Ecommerce WMS
Multi-Channel Order Management
Logiwa WMS consolidates orders, automates routing, and ensures efficient order processing across multiple sales channels with an intuitive interface.
Warehouse Automation
Logiwa WMS supports barcode scanning, RFID technology, and robotics integration, enabling faster and more accurate inventory management.
Real-Time Inventory Tracking
Logiwa WMS provides real-time visibility into stock levels, allowing you to make data-driven decisions and avoid stockouts or overstocking.
Advanced Shipping and Carrier Integrations
Logiwa WMS connects with major shipping carriers, automatically generating labels, tracking numbers, and shipping documents.
More than just a great ecommerce WMS, we're a high-volume fulfillment success company.
We aren't like the other warehouse management and shipping platforms on the market. We respond to you in 7–9 minutes and have more automation superpowers than anyone else.
Up and running in 4 weeks
Our 100% SaaS product is easy to configure and easy to update. You can be up and running in weeks instead of months or years.
Awesome automations
Use our pre-built automation rules or easily build your own to speed up everything from inbound operations to your picking, packing and shipping processes.
9 minute response times
Our technology is great, but what customers love most is our amazing customer support. We actually get back to customer questions in 7–9 minutes!