Building the Future of Fulfillment Excellence
Your source for DTC fulfillment success
The ecommerce landscape has seen unprecedented growth in online shopping over the past few years. As ecommerce transactions increase, direct-to-consumer (DTC) warehousing and fulfillment operations must adapt to meet the rising order volumes and delivery expectations of consumers.
DTC fulfillment excellence requires high levels of speed, accuracy and flexibility to manage complex logistics and consistently meet demand. Unlike a B2B environment, where one customer is shipped 10,000 units, DTC networks may have 10,000 customers ordering one unit each.
DTC fulfillment software solutions are helping operations evolve to handle the scalability and agility required to satisfy today's ecommerce consumers.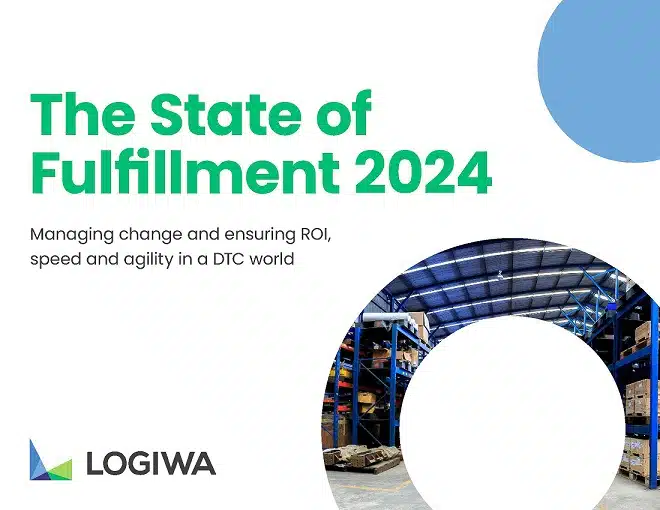 The State of Fulfillment 2024
Managing change and ensuring ROI, speed and agility in a DTC world
Interested in learning more about the challenges facing DTC fulfillment, and what top performers are doing to overcome them? Get the guide to learn how to embrace innovation and customer-centricity to take your DTC fulfillment into the future.
Customer expectations are shifting—have your processes?
The ecommerce sector has grown exponentially, and customers expect more in a click-and-ship economy. To meet this challenge, you'll need to leverage data and cutting-edge tech to automate processes and improve efficiency.
Learn more about adapting to the trends shaping the fulfillment landscape in our blog, "5 Trends Reshaping the Logistics and Fulfillment Landscape".
Where to begin your DTC fulfillment optimization
Changing processes, equipment and software can be a daunting concept, and may involve some upfront investment and additional training.
If you're not sure where to start, you may be able to realize a few quick wins with these strategies:
5 Ways You Can Succeed as a High-Volume DTC Business
How DTC Operations are Keeping Up
Turn analytics into actionable intelligence
High-volume fulfillment operations rely on data. Most operations have at least some leverageable data available, but it may be coming from disparate sources in different formats, making it difficult to use. Effectively analyzing data can help uncover actionable insights to drive more efficient and accurate operations at scale.
Watch "Winning DTC Fulfillment with Analytics" for more information.
Understand how artificial intelligence is changing the game
DTC fulfillment operations face complex supply chain and warehousing challenges, so ensuring flawless delivery experiences can be a daunting task. AI can streamline operations on multiple levels –  from AI-powered picking robots to actionable supply chain analytics- helping you make better decisions and optimize day-to-day operations.
Get the e-book on "The Critical Role of Artificial Intelligence in Warehouse Operations."
Leverage automation for higher productivity at a lower cost
Every shipping warehouse must balance speed and accuracy in addition to meeting higher volumes and competitive fulfillment standards—without causing undue stress to operations. How is that possible? Many DTC operations are meeting these challenges with automation, and seeing lower costs, higher accuracy and faster fulfillment as a result.
Read "Tackling DTC Shipping Warehouse Challenges with Automation" to discover how automation takes on DTC challenges.
Robotics as an extension of your labor force
Implementing robotics has revolutionized many industries and operations, and DTC fulfillment is no exception. Autonomous mobile robots (AMRs) can navigate the warehouse floor, picking and transporting goods while minimizing errors and maximizing productivity. Integrating robotics with a warehouse management system (WMS) can further increase those efficiencies and help overcome common DTC fulfillment challenges.
Learn "Where to Start With WMS Robotics" in our online guide.
Bring it all together with the right WMS
Handle volume with accuracy and speed
A warehouse management system (WMS) integrates analytics, automation, AI, robotics and customer data into a fulfillment powerhouse. The right WMS provides the information and tools to handle higher volumes, optimize picking paths, reduce shipping costs, standardize fulfillment processes and more. 
When their previous WMS couldn't handle their peak season volume, Deliverr knew it was time for a change. After a rigorous evaluation, they implemented Logiwa. Deliverr was able to onboard quickly, enabling them to handle 10x the volume without a hitch.
Discover how "Deliverr Scales Logiwa WMS Across 40 Warehouses in One Year".
What to look for in a WMS
Order fulfillment is a complex affair. It's a multifaceted process that begins from the moment a customer places an order. Hundreds ( even thousands) of orders are picked, packed, and shipped daily—requiring inventory levels, warehouse stock, labor requirements, shipping logistics, returns and exchanges to be managed with care.
This process can quickly turn into a logistical nightmare unless, of course, you have the right warehouse fulfillment software.
Make sure to consider these factors when evaluating WMS software:
Can you access and analyze real-time data to make better decisions?
Is the WMS equipped with AI and machine learning algorithms that can continuously learn and adapt for you? These features take the guesswork out of inventory levels, picking paths, forecasting and more.
Can the system scale easily to support your peak volumes and projected growth? What if you want to add more fulfillment centers or SKUs? Plan for seasonality, flexibility and growth.
How does the system handle software updates and industry innovation? Will you still be using this system in two years, or five, if technology evolves? A cloud-based SaaS system will be more future-proof because it can be continuously updated remotely.
Can the solution eliminate any paper-based processes? Manual, paper-based operations are prone to errors, so a WMS that relies on outdated processes won't be as accurate as a fully digital solution.
Can you easily integrate the WMS with other tools, including automations, robotics and ecommerce platforms? Integrations give WMS solutions accurate real-time data, allowing it to create better processes and help you make better decisions.
Did you know?
Logiwa's SaaS cloud fulfillment platform comes highly connected with pre-built  integrations. From Amazon to Shopify, Locus Robotics, UPS, FedEx and more. And our Integrations Orchestrator ensures we offer the most well-connected fulfillment platform available..
Calculate the ROI of your WMS
Software systems can be expensive in terms of both time and money, but the fact is that a WMS can save your business money—while setting you up for future growth. 
Using the data you already have, you can easily calculate the ROI of a warehouse management system with this simple Excel tool.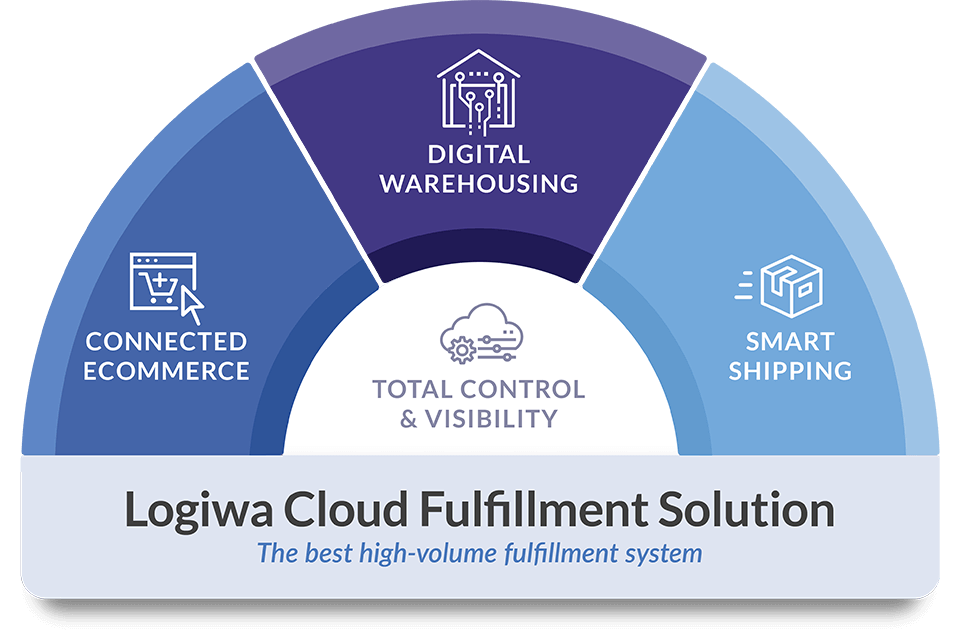 DTC Fulfillment Software Platform
The Logiwa Cloud Fulfillment Platform is a fully integrated Warehouse Management System and order fulfillment system that empowers companies to run a digital fulfillment network and grow their DTC business—without additional headcount.
The Benefits of Logiwa's Warehouse Management Software
Improved Inventory Accuracy and Visibility
Automate inbound logistics and optimize inventory locations in each of your warehouses. Our easy-to-configure directed put-away algorithms let you optimize inventory and improve warehouse efficiency.
Streamlined Order Fulfillment Process
Automate and optimize the order fulfillment process, reduce picking errors, ensure order accuracy, and accelerate delivery time. Smart picking jobs speed up the picking process for identical item orders, single item orders, multi-item orders, and more—while simultaneously applying your first-in-first-out, first-expiry-first-out, or cross-docking inventory management rules.
Real-Time Tracking and Reporting
Get real-time visibility from order placement to customer delivery. Monitor KPIs, track inventory turnover, and generate comprehensive reports to make data-driven decisions that optimize your warehouse efficiency.
Enhanced Warehouse Productivity
Logiwa's smart picking path algorithms dynamically map the best pick-and-pack paths through each warehouse based on proximity, product weight, fragility, order priority, or carrier pick-up time, and make real-time adjustments when exceptions arise. Our customers have reduced walking distance by 30% with walking path optimization, helping them save time and ship more.
See firsthand how Logiwa can help grow your fulfillment network and optimize your high-volume DTC warehouse operations.